[ Updated Feb 21, 2023 ]
6-MINUTE READ · By Tina Arnoldi
If you do not optimize your website for organic searches, your website will decline in the SERPs while your competitors may move up. Organic searches will likely increase this year as people have more ways to search than ever before. We have our desktops, tablets, smartphones, and voice search on home devices.
Although there are basic SEO principles that apply to all business, there are special considerations for local businesses who need to physically see their customers. This includes local stores, lawyers, accountants, dentists and more. These are also the services people want within a few miles of their home or workplace. Below are a few things to remember when optimizing your website for local SEO.
1. Voice search
The top position on Google search query on desktop receives one third of the clicks. However, position one is not high enough with voice search. Voice only has one result – and that is position zero. If you have ever performed a search on a home device, you know it does not provide all the results on the first page. It only provides one answer. As you get your business ready for voice search, include localized keywords.
2. Page speed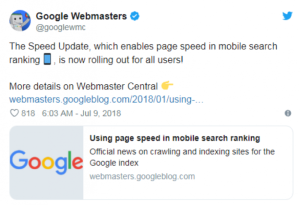 The speed update announced by Google for mobile search rankings was rolled out to everyone in the middle of 2018. Since people do not want to wait more than a millisecond for an answer to an online query and use smartphones to search, page speed is now a ranking factor for mobile searches.  If you do not rank well on mobile searches because your page speed is slow, there could be a negative impact on any searches, including voice. Check your speed with PageSpeed Insights and review Google's suggestions for improvement.
3. Quality content
The value of quality content will never go away and you may need to change the way you think about content as search has evolved.  Test conversational content. People no longer search with only a few keywords. Now they ask questions so you want content that answers those questions. An additional challenge is answering question in the way your audiences asks them. What is the language that they use? This is different than how your team talks about your brand.
Experiment with the word count of content on your site. Although quality content is often found in long-form pieces of a couple thousand words, consider the intent of searchers when it comes to your business. When people want to learn about a topic, quality long form content plays well in search. However, in a local search, people want to solve a problem so long-term content might not be the right way to go. You only have a few seconds to demonstrate you are the solution for them and they will not read long content, especially if it is an on-the-go voice search from a device. (If a pipe burst in your home and was quickly flooding, do you want detailed articles on the best type of pipe to install? Probably not).  
4. Keyword research
Brick-and-mortar businesses rely on traffic in their area. Those searches are indicated by terms that include near me or have the city with the keyword phrase. Keyword research has changed even more now that people search with Amazon Echo or Google Assistant. They want to find something near them so they are searching more conversationally rather than short phrases used when typing.  They use long tail queries in the form of a question or longer problem statement. When optimizing content as mentioned above, incorporate those long tail keywords.
5. Google My Business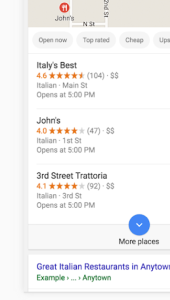 Google+ is dead, but that is separate from Google My Business. The three-pack shown on the first page of Google displays a map and three results for a search query. When it comes to local, you need to be here. If you do not yet have a Google My Business page, it's free and easy to set up. Encourage customers to leave reviews and respond to all of them. (Check out Supermetrics connector for Google My Business data.)
6. Backlinks
With local, you will approach your backlink strategy a little differently. Whether you are local or global, you want high-quality links; not high-quantity links, similar to your content strategy.  Quality over quantity. Seek local directories, such as business associations, event pages, nonprofit sponsorships, or local newspapers to link to your site.
A service such as Yext or Moz Local will help with building links and consistency with your NAP (name, address, phone) information on existing directory listings.  Use a service if you have backlinks from a number of directories that have inconsistent listings. This is a pain but worth the time spent.  
If you have low quality backlinks, either from not knowing better or taking a black-hat approach, you need to clean those up. (Read Google's support file for help on how to disavow.)
7. Localized pages
It is tempting to create multiple websites, with very similar content, to target different geographic regions. But not only is duplicate content confusing for users, it is also confusing for search engines. Creating one great site instead of multiple microsites is the best way to encourage organic growth over time. Rather than separate sites, create localized pages on the same site.
8. Search Console
With any SEO strategy, make friends with the Google Search Console. It offers help for SEO analysts with keywords and reporting, as well as webmasters for the technical aspects of a site. Check it regularly for issues that can impact SEO, like errors in the crawl status or 404 errors which lend to a poor user experience. If your site is not in great shape technically, the best content in the world will not matter.
Now what? TL;DR
Set up a Google My Business page.

Review your existing content

. Is it all the same? Revise it or add new content that answers conversational questions.

Access Search Console to see if there are issues to fix.

Check your page speed. Slow? Speeding it up is a priority.

Do you have backlinks? Disavow the garbage and seek new localized links.
For additional guidance on SEO, view Google's SEO guide.
About Tina Arnoldi
Tina Arnoldi is Analytics and AdWords Qualified and one of the few people in the United States recognized as a Google Developer Expert (GDE) for marketing. Her agency, 360 Internet Strategy, is also a Google Partner. You can learn more about her on LinkedIn.
Turn your marketing data into opportunity
We streamline your marketing data so you can focus on the insights.