Are you wondering how partnership programs can benefit your company? This article will guide you in setting up a partner program for your business. We cover how to start an affiliate program and go over strategies to make your program successful.
Click on the section title to skip to that topic.
1. What is partner marketing?
Partner marketing means collaboration between businesses or individuals to create a marketing strategy that shares resources. It's a type of performance-based marketing that leverages the skills of marketers to acquire and engage users for your brand.
As with any performance-based strategy, partners are compensated based on their results. This means they only get paid for the sales, trials or leads they bring in.
Besides bringing in conversions, partnerships can help you engage with new audiences, generate new content, and create brand awareness.
Before we continue with how to start an affiliate program, let's look at different types of partnership programs.
2. Types of partnership programs
Some common types of partnership programs are:
Affiliate programs
Referral programs
Reseller programs
Affiliate program
An affiliate program is a company's initiative for performance-based marketing. In this model, the partners, or so-called affiliates, get rewarded for each customer they bring in.
Referral program
Referral marketing is a strategy to get more sales through referrals, often generated by current customers.
In contrast to an affiliate program, referral marketing is usually done with subscriptions, coupons or discounts as incentives to attract more customers, whereas affiliate programs typically pay per sale or trial started.

Another big difference is that referral marketing is usually done through word of mouth by current customers and product enthusiasts.
On the other hand, Affiliates are professional marketers who use marketing strategies such as SEO and PPC to generate conversions. You can read more about the differences between a referral program and an affiliate program here.
Reseller program
In the traditional sense, a reseller sells products as if they are his own.
You can think of resellers as official distributors of products or services provided by other companies. The end client purchases services from the reseller.
Resellers also usually provide additional services for the clients and get the products at a discount price from the supplier, maximizing their own profit margin.
Which of these programs fits the best for you depends on the product or service you sell, the market and your business model.
In this article, we focus on how to start an affiliate program.
3. Key players in affiliate marketing
The affiliate marketing model consists of 3 key players:
The affiliate
The merchant
The customer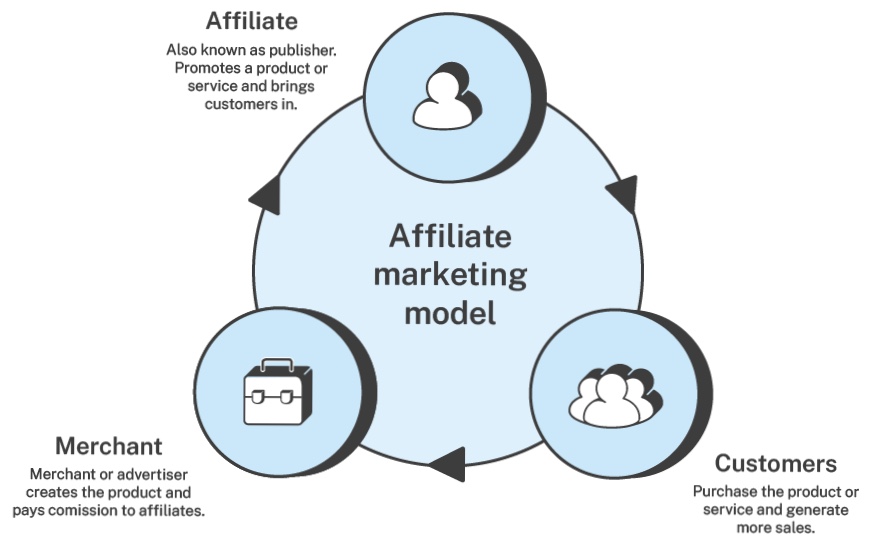 Who are the affiliates?
An affiliate, also called a publisher, is an individual or company that helps promote your products and brand. The affiliates bring in customers in exchange for a commission from you, the merchant.
Affiliates are often experienced marketers, but they can also be product enthusiasts that have an audience to promote your product. Common strategies for affiliates to generate referrals are:
SEO and content creation
Paid advertising
Email marketing
Direct referrals
Affiliates can produce a wide variety of content to promote your business. Some are active on social media platforms like YouTube or Instagram, while others focus on content writing and newsletters.
Content Creators

Publishers that work with SEO and content can help boost brand awareness about your products in organic search and social channels. Quality content also helps inform and educate your potential buyers.
Paid advertising specialists
PPC affiliate marketers can help drive traffic to your site in a short amount of time. Since advertising costs are paid upfront, PPC affiliates work with ROAS (return on ad spend). These marketers are found on affiliate networks but can also be part of in-house affiliate programs.
Email marketers
Email marketing can be part of a paid or organic strategy. The affiliate builds up an email list through websites or social channels. Next, exclusive promotions are sent out as part of newsletters. The offers are usually part of informative or entertaining content.
The great thing about email marketing is that it can be targeted toward readers who are specifically interested in your niche.
What activities can work for your business?
There is a wide variety of activities affiliates can do for your business. What marketing activities would fit best for you depends on your product and company and what results you are aiming at. Are you looking for purchases or trials? Or maybe you're interested in getting more educational content for your products.
Create a list of marketing activities, results and the type of affiliates you're looking for.
Who are the merchants?
The merchant is the business who develops and sells products or services. The business provides the affiliates with a revenue-sharing model to reward the affiliate for conversions.
Affiliate marketing can work for merchants in all sorts of sectors. Whether you have a SaaS company or are active in e-commerce, an in-house affiliate program can boost your sales.
Often the merchant works with affiliate management software to house all the transactions, affiliate details and marketing materials. The software can include an affiliate dashboard, where the affiliate can track their clicks and conversions.
Who are the customers?
Customers purchase products and services from your business. The affiliates have a relationship with your potential customers. Potential customers can, for example, be the affiliates website visitors, followers on social media or email subscribers.
Some affiliates have a more personal relationship with their audience, while other affiliates, such as PPC focused marketers, simply lead the customer to the merchant by advertising.
4. Why affiliate marketing?
So why should you start affiliate marketing for your business?
An affiliate program can help your brand achieve maximum exposure on the digital landscape. Affiliates nudge your potential customer your way, no matter where they are in the marketing funnel.
Your partners can reach more people in more ways than you can on your own.
Let's look at the classic marketing model "AIDA." This model is well known for describing the customer's journey from awareness to purchase.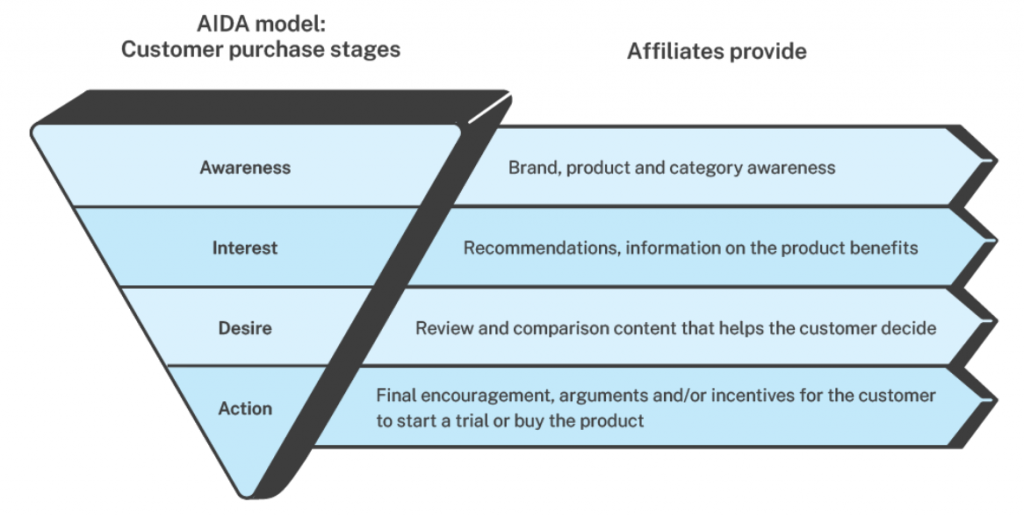 Now, let's have a look at how affiliates can have a role in each stage.
Awareness stage
In the awareness stage, the customer is exploring a niche and products on a more broad level. They don't have the intent to purchase yet and are just getting familiar with topics related to your niche.
Here the affiliate helps boost your presence, and future customers might get the first glimpse of your brand.

Interest stage
Next, the customer goes into the interest stage. Here, the customer has more knowledge about your product category, and they might be looking for information and solutions.
In this stage, the affiliate comes in as a third-party recommendation; a trusted provider of information on how your products work and what your company stands for.
Desire stage
When the customer arrives at the desired stage of the marketing funnel, they already know they want a solution for their problem.
They are looking for information that helps them choose between multiple companies. Or they want to learn more in-depth what a particular company has to offer.
For customers in this stage, the affiliate offers comparison articles, reviews and information. Pros and cons are provided as well as how the product can work for them.
Action stage
One of the most critical stages of the customer purchase funnel is the action stage.

The customer has gathered enough information to decide to buy the product. In this phase, the customer might use keywords such as "buy", "get", or "test" to get some final information.
Affiliates can offer the final push for clients to buy your products. Review and comparison articles are valuable in this stage, so are discount codes and final endorsements for your product.
Scale your digital presence
The content and activities affiliates bring to your marketing strategy affect every stage of the prospect's purchase funnel. The quantity and quality of promotions you can get from affiliates might not be something you can produce solely with an in-house marketing team.
Having an army of skilled marketers to help sell your brand can have an enormous impact on your internet presence. New audiences will hear about your brand, and you will get organic traffic from multiple new sources.
5. In-house affiliate program vs networks
As a company, you can choose to set up your own in-house partner program or work with partners indirectly through networks. There are several pros and cons for working with an in-house program vs networks.
Affiliate networks
If you work with networks, you post your offers to a group of readily available affiliates that are part of the networks. You pay the network a share for managing all the transactions internally and displaying your offer. So this means you need to pay the affiliate as well as the network.
The network contains offers from many different companies and niches, and the affiliates are free to promote multiple offers from various merchants.
The good part about networks is that you don't have to go through the trouble of recruiting affiliates. The downside, however, is that you don't know the affiliates.
When running an offer through an affiliate network, you can set up the main criteria but, it's less transparent how referrals are generated. It is therefore also less clear how the affiliates represent your brand.
In-house affiliate programs
in-house affiliate programs are run by the merchants themselves. The process of recruiting affiliates, communication, and handling transactions is handled internally by the program managers. This is why an in-house affiliate program takes more company resources than an affiliate network.
The good thing about an in-house affiliate program is that you have greater control over how your brand is represented. Within your program, the affiliates only promote the products of your company. You have a more personal connection with the affiliates, and other collaborations may result from the partnership.
On top of this, you don't have to pay a middle man's fee to the network, and you're not dependent on a third-party platform to grow your affiliate activities.  

Besides running an in-house affiliate program yourself, you can hire an expert affiliate marketing agency to do it for you. This is a good option if you don't have the expertise and resources in your own team.

Still not sure whether you should start an in-house affiliate program or work with a network? Read more here.
6. Affiliate program set-up
So you decided to start your own in-house affiliate program. Now the first step is to discuss the following with relevant departments inside your company.
Resources for the program
Reward model for the affiliate
Third-party software vs own management system
Technical integration for purchases and commission attribution
Hiring affiliate managers
Depending on the size of your company, it's a good idea to have one or more dedicated affiliate managers run the program.
Running an in-house program takes time. There are lots of processes to make the program successful. Don't underestimate the amount of time it takes to set up and run the program.
Decide if you will run the program yourself or if you need to start recruiting.
Reward model
Compare multiple reward models of affiliate programs in your niche to decide what would be a fair and attractive commission model. You want to make sure your commission is industry standard or higher. Top affiliates interested in well-paying affiliate programs.
We discuss different commission structures in section 9.
Management software
When it comes to in-house affiliate program management, there are two ways to approach affiliate management software. Either go with one of the software solutions readily available on the market or build your own in-house software. Both have pros and cons, so it's essential to plan and think about ROI.
If you are just starting, it might make sense to find a solution that provides you with basic functionality and ability to scale. Third-party software can be relatively cheap compared to building your own platform.
If you're running several partner programs simultaneously, such as an affiliate and reseller program, you might want to look for a solution that will enable you to track the performance of all your programs with the same dashboard.
Once you scale, it might make sense to switch to a more robust solution or to think about building the affiliate tracking software in-house. Building a solution yourself enables customization and helps avoid paying extra for clicks, transactions, payment processing fees and other hidden costs that usually come on top of the sum you'll need to pay for the software itself.
It's important to weigh your options at every stage and choose the solution that will help you scale and provide you with decent ROI.
You can check out our list of popular affiliate management software here.
Technical integration
Whether you decide to go for third-party software or not, you need technical assistance to link all the transactions. Discuss who will take care of implementing the affiliate attribution and how it will be done.
Also, discuss scenarios when a transaction is counted as an affiliate sale and when it's not. Will there be a refund window? And what about transactions you need to assign to affiliates later on?
It's good to start discussing technical implementations early on, as there will be adjustments needed along the way.
7. How to recruit affiliates
Recruiting new affiliates is one of the most time-consuming tasks when managing an affiliate program. That's why it's crucial to have a clear strategy.
Most affiliate programs gain the majority of their sales from only 10% to 20% of their affiliates. This means that, in some ways, recruiting the right affiliates is a numbers game.
You want to recruit expert affiliates in your niche, but there is no guarantee which affiliate will bring in sales. That's why you also want to focus on the number of marketers you get on board.

Let's look at four effective strategies to recruit affiliates.
Approach your own customers
Reach out to influencers, experts and educators
Find competitors affiliates
Paid advertising
Approach your own customers
Perhaps the easiest strategy to recruit new affiliates is to approach your current customers.
The great thing is, current customers are already familiar with your products. This means you can skip the product introduction part.
Your customers already know the value of your products. And if they are happy with your solution, recommending your brand to others might come naturally. Since they already know your products, it also makes it easier to explain your products to others.
To filter out potential affiliates from your customer base, a so-called NPS survey can come in handy. An NPS survey or "Net Promoter Score" survey is designed to check how satisfied your customers are with your products and if they are willing to recommend them to others.
Run the survey and reach out to the highest scoring customers. Offer them a partnership.
Other approaches are to send out email campaigns to current customers or ask them to join your affiliate program in onboarding calls.
Reach out to influencers, experts and educators
Influencers can help you reach new audiences that are interested in your product category. Reach out to them to get them on board.
Dive into social media groups, communities, forums and educational platforms. Find the experts your target group listens to. Check their follower base and what kind of content they create.
For influencers, some criteria to keep in mind are:
Industry relevance and brand fit
Number of followers
Social media engagement
Website traffic
Domain authority
Next, you write them a personalized message to invite them to your affiliate program. Introduce your product and make it clear why you think they would be interested in a partnership. Make sure to send follow-up emails to those who have not responded.

Once you're in conversation with a potential affiliate, you can offer extras such as a free product or discount code to get them on board. You can read more about working with influencers as part of your affiliate marketing strategy here.
Besides influencers, many other affiliates can help grow your business, such as technology partners, email marketers, PPC affiliates, coupon websites, and educators. We broke down the most common types of affiliates and how to find them in this article.
Outreach is hard work, and many of your emails won't get a reply. Luckily, many online tools are available to help you browse potential partners and gather email addresses for outreach. Try to automate the process as much as possible while still adding a personal touch to your emails.
Find competitors affiliates
Do any of your competitors have an affiliate program? If so, you might be interested to know who their affiliates are.
Backlink research allows you to have a peek into your competitor's connections and affiliates. Use a tool like SEMrush, Ahrefs, or Mangools to do a backlink analysis of your competitor's website.
Download a backlink report and start filtering the links on domain authority and the number of backlinks provided to the competitor's site. Check the links and see if there are suitable partners for your affiliate program.
Paid advertising
Paid advertising can be an effective strategy to increase sign-ups on your affiliate page.
Experiment with search ads on Google and try out social ads on platforms like Twitter and Instagram.
Choose platforms where your ideal affiliate would hang out and link your ads to your social accounts. Keep a close eye on what kind of affiliates sign up through the ad campaigns.
Find more ways to recruit affiliates here.
8. Affiliate sign-up and onboarding
After you find affiliates who want to join your program, how do you make sure to give them a great start?
Let's look at the process of signing up and onboarding.

Sign up and approval
After outreach and recruiting, your sign-up form is the last hurdle to get partners on board. Only ask for essential information and make the form as compact as possible.
Besides basic information such as name, address, and company, you might want to ask:
Website and social profiles
Tax information
Payment method and details
Country
Your sign-up form also serves as a gateway to filter out unwanted affiliates. This initial information gives you the ability to approve or disapprove your affiliate to the program.
You can either choose to pre-approve sign-ups and screen them later or check each affiliate before letting them in the program.
It is also possible to segment your affiliates by the type of activities they do. For example, if you have an affiliate program in the health niche, you might want to split between marketers and health professionals. You can make this categorization on your landing page or in your sign-up form.
Finally, you should always include the terms and conditions of your program (more on this in the section "Program compliance and fraud detection").
Welcome your affiliates
After the affiliate is approved, you want to wish them a warm welcome to the program.
Good communication with your affiliates is crucial for the success of your program. So, you want to have a great start.
If you have many affiliates joining your program, an automated welcome email helps you save time. A personal email, however, will be more engaging and will give you a higher response rate.
In the email, you explain the next steps of the sign-up process.
Are you providing any materials? Do you have an onboarding guide?
Make sure your affiliate gets to know precisely how the program works and how they can ask questions.
You can also invite the affiliate for an onboarding call or provide them with an onboarding video.
Provide materials
Whether you're recruiting experienced affiliates or marketers who just started as an affiliate, give them thorough instructions on how your program works.
An affiliate guidebook or "how to get started" tutorial will shed light on your program. It should include when and how sales are tracked and to what data the affiliate has access.
Besides basic materials on the program and how to navigate the affiliates dashboard, you might also want to provide other information.
This can be information on how to use your products and what your company stands for. You should also provide ready-to-use banners and materials for the affiliate's campaigns.
Materials you can provide to the affiliate:
Tutorials and guides on how to use your products
A deck with your company's value proposition
Customer case studies
Marketing materials such as banners, videos and email templates.
Follow up and activate
After you send out welcome emails and materials, make sure to follow up with your affiliates. Regularly check in with them and show interest in their business.
Explore other collaboration opportunities and show them support. Ask them about their needs and open the door to receive feedback to improve the program.
9. Commission structures
When it comes to paying your affiliates, there are several commission structures to choose from.
You can offer your affiliates:

A percentage of the sale
A flat fee
Recurring commissions
Product credits
You can take the purchase amount of the referral and give a percentage of this as commission to the affiliates. Or you can provide a flat fee for every purchase made or trial started.
If you have an established product or service, you can also reward your affiliates with product credits. This might work if you decide to recruit your own customers as affiliates.
Another option is to pay your affiliates a recurring commission for each referral they bring in. This means that as long as the referral stays a customer, the affiliate receives commissions when they repurchase a product.
Recurring commissions in the SaaS industry vary from 15 to 25%, with the occasional odd one out that offers higher or lower than that. Compare commission percentages in your niche and check out the programs of your competitors.
In general, you don't want to offer a commission rate much lower than that of similar programs in your niche. This will make recruiting affiliates more difficult.
Choosing the right commission structure should be based on the types of activities and results you want to get from your affiliates. This ties closely with what kind of traffic sources you allow the affiliates to use.
Calculating your profit margin
When deciding on the right commission model and commission percentage, it's important to calculate the estimated profit for each referral your partners bring in.
Your profit margin can be calculated by finding out your customers' lifetime value. This can be done with internal metrics such as churn rate and average revenue per user. We go more in-depth about this in section 12.
Affiliate programs have the great benefit of "no cure, no pay."You only pay affiliates for the desired results, usually sales.

Although there are other upfront costs for running an affiliate program, such as hiring an affiliate manager, buying a software subscription and investing in marketing tools and campaigns for recruiting affiliates; The profit margin is, in general, still higher than other marketing channels.
Should I choose recurring commissions or one-time payouts?
Nowadays, recurring commission has become the standard for SaaS companies. When you offer subscription-based products, affiliates expect to receive commissions on upcoming sales from the same referral.
Recurring commissions make it more attractive for affiliates to spend time and sometimes money on marketing campaigns to drive traffic and sales to your company.
For non-subscription based products, the standard is still a one-time percentage of the sale.
Let's look at some common affiliate commission structures.
Categorized tier payouts
This commission structure allows you to categorize your affiliates into different groups.
For this structure, you determine the payout per category. You can, for example, choose to categorize your partners by the quality of referrals they bring in, the type of marketing activity they do, or the product category they focus on.
The advantage of this structure is that you can group and reward your affiliates based on their performance. This means you can reward better performing affiliates with higher payouts.
Scaling payouts
Scaling payouts help incentivize partners to get more referrals by increasing the commission for a certain amount of sales.
For example, partners who bring in less than 20 referrals per month receive 20% commission. But partners who bring in 20 referrals or more receive 30% commission.
This means extra motivation for affiliates to try and get a higher commission percentage.
Two-tier payouts
Besides having structures to reward affiliates for sales, you can also reward bringing in new affiliates.
This so-called two-tier structure means you offer the affiliate a share of the new partners' sales.
For example, partner A brings in partner B to the program. Partner A gets 10% commission on his own referrals but now also receives 5% commission for the referrals from partner B.
A two-tier structure can be a smart move to grow your affiliate program and get more partners on board. It is usually done for less established affiliate programs to help bring new affiliates on board.
More about tiered commission structures can be found here.
Temporary incentives
Once your affiliate program is up and running, you can occasionally boost your sales by providing temporary rewards for your affiliates.
Some examples of temporary incentives are:
Holiday related higher commissions
Rewards for selling new products
Rewards for creating content
Temporary incentives can be done in the form of a contest. Check out a complete guide on running a successful affiliate content.
10. Program compliance and fraud detection
To ensure a successful affiliate program, rules and policies need to be put in place.
These policies help to protect your brand and align expectations between the partners and the company.
Create and update partnership policies
Strive for comprehensive and transparent policies that cover both your partners and the brand responsibilities.
Topics that should be covered in your agreements include:
Approved and not approved traffic sources
Use of the company's trademark and materials
The use of discount codes
Providing potential customers truthful information on, e.g. prices and the use of affiliate tracking
The following policies and agreements are standard:
Privacy policy
Terms and conditions
Cookie policy
Data processing agreement
Paid and organic search policies
Your privacy policy and terms of conditions should contain your legal issues as well as the matters mentioned above. Your cookie policy is there to give insight into cookie tracking and affiliate attribution.
The data processing agreement is a legal agreement to ensure that your company is GDPR compliant. In other words, that you have consent to process data.
Paid and organic search policies are there to ensure the partners generate traffic fairly and transparently.
Discount codes are a common strategy used in affiliate marketing. A discount is a way for the affiliate to offer extra value to their audience. The code may convince doubtful buyers to take the offer and buy the product.
Your strategy for handing out discount codes should be well thought out. You can choose to limit the use of discount codes by only allowing private distribution. In that case, the affiliate can only share the code in private groups and one-on-one communications. Or you can enable coupon codes to be publicly searchable.
If you choose private discount codes, there's a risk the codes may leak on the internet and become public. Therefore, you want to check coupon codes from time to time on the web and keep track of any unusual activity, such as discounted mass purchases.
Paid and organic search
Brands and partners often compete for the same traffic, and you want to clarify what counts as valid traffic for conversions.
After deciding if you allow paid traffic or not, it's good to dive a little deeper into what exactly you allow. Your policy might include restrictions on using brand keywords, direct linking and the use of trademarks in ad text.
For organic search, you might want to restrict the use of black hat techniques to drive traffic to your website. This can include so-called "cloaking", which is the use of misleading URLs to customers. Or keyword stuffing, where the affiliate creates unnatural looking content to rank higher in Google.
Organic and paid search compliance can be part of your Terms and Conditions.
Besides these policies, you might want to remind partners of your company's Terms of Service and other agreements.
Communicate updates clearly and timely, and make sure your affiliates can find your policies.
Dealing with fraud
Keep your program clean from unwanted activities and invalid referrals by proactively handling fraud.
Self-referral is one of the most common ways to cheat in affiliate programs. A potential client might be looking for an extra discount, then comes across your partner program and signs up in the hope of receiving cashback in the form of commission.
Every affiliate program should have a strategy in place to detect self-referrals. One way to do this is to compare affiliate sign-up information with the referral's customer information.
To protect your brand and business, you need to make sure there are processes in place to detect possible fraud. You also need to have the data to be able to prove it.
Standard practices are to detect abnormalities in traffic volumes, conversion rates and other metrics.
You also want to have transparency on the traffic sources used by the affiliates. Any unusual metrics or activities can signal a non-compliant partner.
There are also several external tools available to help you with fraud detection. These often work with a combination of ad and search engine technology and fraud criteria and data you provide.
Non-compliant affiliates will search for new ways to gain fraudulent commissions, so fraud detection needs to be updated regularly.
Violation of your policies or fraud can be handled by reiterating the rules through email.
Repeated violation of the rules should result in termination of the partnership. You can learn more about how to protect your affiliate program from fraud here.
11. Payment processing
The processing of payments is something you want to set up as smoothly and reliably as possible.
Paying timely and accurately helps build the relationship with affiliates. You want to pick a regular day of the week, month or quarter on which the affiliate can expect to receive their commissions.
Most affiliates prefer to get paid frequently rather than wait several months to collect their earnings.
The following stages are important before paying the affiliate:

Refund window
If your company offers customers a refund in a determined time frame, you want to adjust your payments to that.
To avoid paying affiliates for refunded purchases, add this time frame to the pending commissions.
Payment methods
What payment methods you can use depend on the software you use and your company's preference. Some standard methods are Stripe, Paypal and wire transfer.
Make sure to collect all the necessary payment information in your sign up form.
Payment Threshold
Most affiliate programs work with a payment threshold. This means your affiliate needs to earn a certain amount of money before their commissions are paid. This eliminates the need to transfer a large number of small payments.
Communicate the threshold to new affiliates so they know when to expect payouts.
12. Measure and improve your success
How do you measure the success of your affiliate program?
"Key performance indicators (KPIs) can help you track the progress of your program. These metrics can help you analyse certain aspects of your program and help you adjust your strategy for success.
It is also important to compare the affiliate channel to other channels in your company.
Let's zoom into three key metrics to measure the success of your affiliate program.
1. Traffic numbers
The quantity of traffic generated from affiliates helps to get an idea of the impact of your program compared to other channels.
It is also a great metric to check the growth or decline of your program. If you keep recruiting affiliates, but the total volume of traffic plateau's or declines, you might want to dive deeper into what causes this.
Maybe some of your well-performing affiliates became inactive, or you implemented some changes. Use this number to adjust your strategy.
2. Lifetime value of referred customers
The lifetime value of a customer is a prediction of the total amount of money a customer will bring to the company before they stop buying the product. This value is based on a forecast of how long you can retain your customers.
To make an accurate calculation, you need to take into account your company's churn rate, average revenue per user (ARPU) and profit margin.

Once you have your best estimates, you can use the above formula to calculate the customer lifetime value.
The customer lifetime value will tell you how much profit an average referral brings in. It is also an important number to forecast your program's profitability.
3. Percentage of active affiliates
It is great to get many affiliates on board, but you will soon see that only a small percentage of them bring in sales.
Rather than looking at the number of affiliates your program has, look at the percentage of active affiliates.
Define what it means to be an active affiliate and keep track of this number over time. This percentage gives you insight into the quality of affiliates you have on board.
It also gives you information about your recruiting strategies. You can recruit many affiliates, but the ones that bring value to your company are the ones that matter.
Check out more affiliate marketing KPIs and how to analyze them here.
How to start an affiliate program – conclusion
Developing a successful affiliate program takes time and research. Hopefully, this guide helps answer your questions on how to start an affiliate program for your business.
If you have a SaaS company, we have a guide for you on SaaS affiliate marketing. Or read this article on different affiliate marketing strategies for B2B.

Also, check out other affiliate related articles on our affiliate blog section.
---
About Hetty Korsten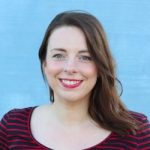 Hetty Korsten is a Partner Marketing Lead at Supermetrics. She has worked for fast-growing SaaS startups in Copenhagen and Helsinki. Currently, she's growing the in-house partner program at Supermetrics. Feel free to connect with her on LinkedIn.
Turn your marketing data into opportunity
We streamline your marketing data so you can focus on the insights.