This article covers the two main types of content that you'll need to make money with affiliate marketing, regardless of your niche. We also go through the three main aspects of keyword research and share tips for link building, which is necessary for improving your domain rating and ranking for keywords.
While there are multiple types of affiliate partners and ways of generating affiliate revenue, here we'll focus on content-based affiliate marketing. This mostly refers to promoting affiliate products on websites, blogs, and video-sharing platforms such as YouTube. For more about content-based affiliate strategies, check our SEO affiliate marketing article.
Guides and tutorials
Guides and tutorials have an informational intent. People who search for guides and tutorials on search engines are looking for detailed information on a topic. Both guides and tutorials should provide in-depth information. But tutorials are usually in the form of step-by-step instructions or walkthroughs, whereas guides can cover more generic topics and offer introductions to them.
This makes tutorials more product-oriented, although the intent is always mostly informational. The keywords for tutorials are therefore more likely to involve brand names. Those who search for a brand name + tutorial might be in the awareness or interest stage of the funnel, or they could've already purchased the product. Guides are more strictly about awareness. But you can also mention a product as part of the solution your guide offers to your audience's problem.
No matter what stage of the sales funnel your visitors are in, or whether they have zero purchase intent and are only looking for information, guides and tutorials are useful for generating traffic and building your authority. Generic keywords have a much higher search volume than branded keywords. So, if you're in it for the long-term, you will need both. Building a brand around your affiliate website is easier if not all of your content is written for profit only.
Guide keyword example
Let's take an example. To find relevant keywords in your chosen niche, you'll most likely use the keyword research feature of an SEO tool such as Ahrefs or Semrush. Here, we have the SERP results for "seo analytics reporting," which is a relevant keyword for promoting Supermetrics: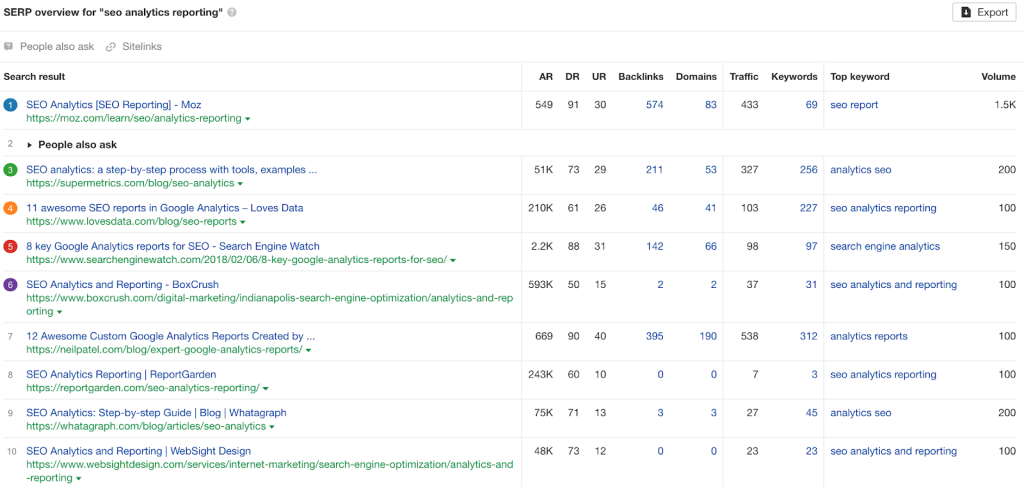 These search results are a mixture of companies selling their own products and services and affiliate websites promoting the products and services of others through affiliate links. 5 of the results have a high number of referring domains and backlinks pointing to them, which makes them difficult to compete with. But outranking the remaining 5 results on the first page seems quite feasible. 2 of them have no referring domains or backlinks at all. To get a better understanding of your ranking ability, compare also their domain and page authority to yours.
On Ahrefs, you can see the domain rating of each website in the search results. All of them have a DR of at least 50, which means that your rating shouldn't be lower than that. This is useful information, which is unfortunately missing from the keyword overview on Semrush.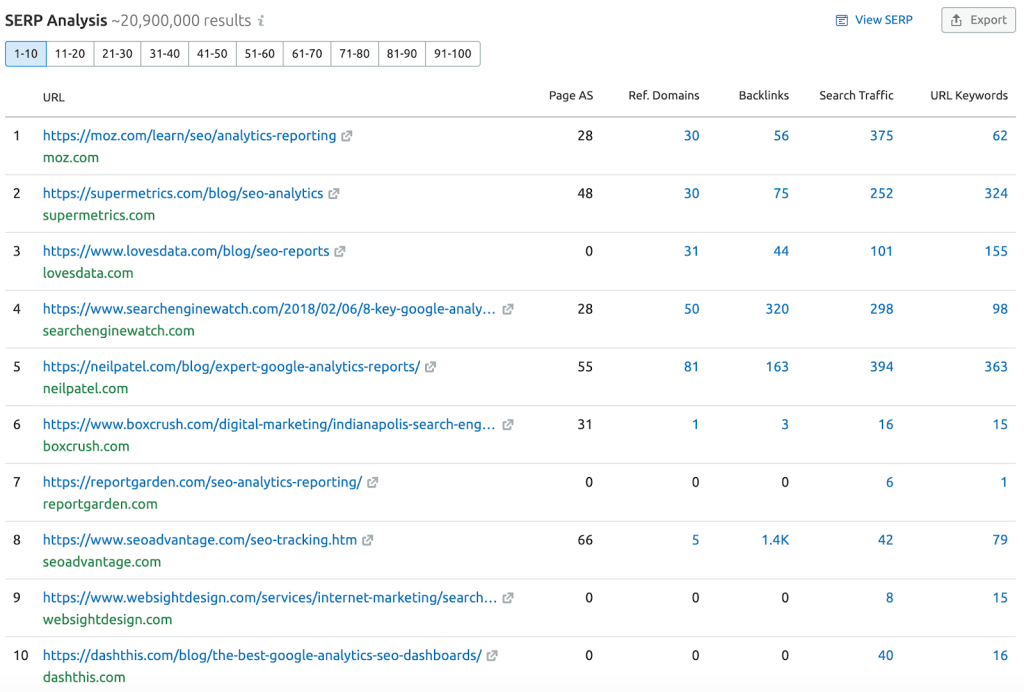 To identify more promising keywords, Semrush has a feature called Keyword Magic Tool, which gives you useful keyword suggestions. On Ahrefs, the same feature is called Keyword ideas.
Reviews and comparisons
Keywords for reviews and comparisons have transactional intent. Most people who use such keywords usually have at least some level of purchase intent, although they might need more convincing or spend more time on evaluating different alternatives. These are the keywords that drive actual affiliate revenue.
The reason why buyers might want to visit a third-party website for reviews before making a purchase decision is because they're looking for reliable and authentic feedback that not only highlights the strengths of the product but also pinpoints its potential weaknesses.
Review keywords cover search queries that start, for example, with "best" or "top," followed by a word describing the product. A typical example could be "best website builders" or "best ecommerce platforms." They can also include branded keywords + "review" or a brand name vs. another brand name in case of a comparison.
Review keyword example
To give an example, an affiliate promoting reporting tools could target a keyword such as "best reporting software" when creating a review article. The SERP overview would look like this: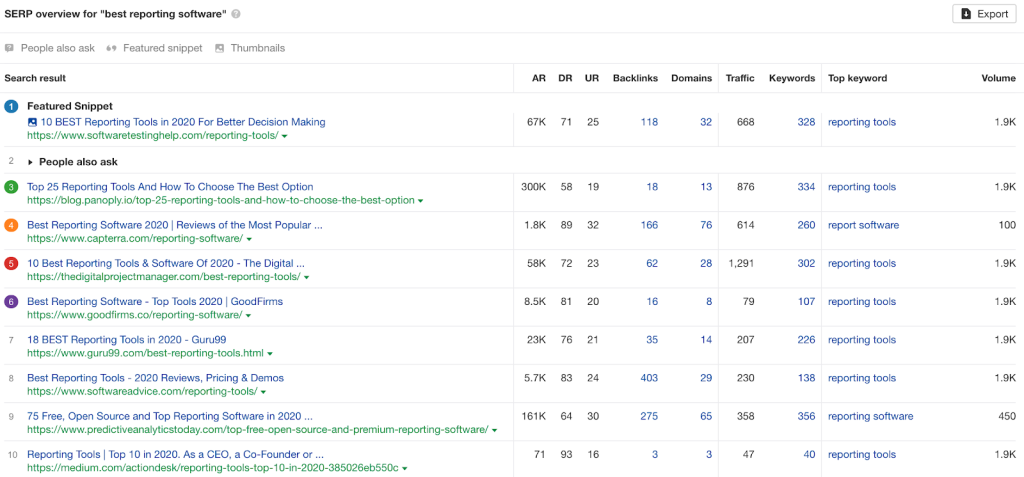 There are many affiliate websites in the search results and not so many software companies who sell their own products. By looking at the keyword difficulty score and the numbers of referring domains and backlinks, we see that there's a high competition for this keyword among affiliates. Whether it makes sense to compete against them depends on your own domain rating and ability to get links for your content.
When you choose keywords, it's better to be realistic about your chances of ranking on the first page. High-quality content can only take you so far. And without a consistent link building strategy, your growth potential is rather limited. So, if you're just starting out, start small.
Keyword research: intent, search volume, and keyword difficulty
After choosing your niche, keyword research is about figuring out the pain points of your target audience. Look for both generic and branded keywords and identify the most promising topics.
Choose your affiliate products carefully
Your ability to leverage branded keywords that bring sales obviously depends on which affiliate offers you choose to promote. In general, you should be paying attention not only to the commission rate and whether the commissions are recurring or one-time but also to the product price, market demand, and brand reputation. Check more tips on finding the right affiliate program in our previous article.
You can also always check what other affiliates in the same niche are doing. Insert their domain on Semrush or Ahrefs and take a look at their top pages. See what offers they're promoting in their review articles. The ones at the top of the list are usually the biggest moneymakers.

Search intent
To evaluate the potential of a topic, the most important consideration is the intent. Without purchase intent, you can still provide informational value through guides and tutorials, for example. But for people to visit your website and purchase the product within your affiliate link's cookie life, they need to have at least some purchase intent to begin with. And the best way to target these people is to choose review and comparison keywords, both branded and generic. With branded keywords, you're specifically targeting bottom of the funnel traffic with high intent.
Search volume and keyword difficulty
The other two keyword considerations along with intent are search volume and keyword difficulty. Your job is to balance all three so that the end result will bring you affiliate revenue.
Different types of content have varying levels of intent, volume, and competition. For example, guide keywords can have minimal purchase intent but a high volume and difficulty score. If you manage to rank your guide at the top of the search results, you might not generate any sales but you end up building traffic and authority. And you could collect sign-ups to your newsletter. In the long term, the traffic and authority will help you rank higher for all keywords.
Review keywords, especially those with brand names, tend to have lower search volume but higher purchase intent. Their difficulty score depends partly on how well known the brand is. Market leaders usually have many top affiliates, which makes it competitive to rank for those keywords. And because your affiliate revenue relies on these keywords, it's useful to choose products whose market is not saturated and where you can expect growing long-term demand.
On the other hand, it's easier to drive conversions for a well-known brand. If the brand offers free trials for its products, like in many SaaS companies, that also makes your job a lot easier.
For affiliate marketers just setting out on their journey, the number one obstacle is their inability to drive that high-converting traffic to their website in the first place. And the solution is a consistent, long-term link building strategy that will allow you to rank for the right keywords.
Link building
We saw already in the SERP analysis examples that ranking at the top of the search results requires backlinks and domain authority. There are occasional exceptions to the difficulty score, with low-volume keywords sometimes being hard to rank for and high-volume keywords being less competitive than expected. As a general rule, however, we can say that there's a strong correlation between being able to rank for high-volume keywords and having a high domain authority. And the key strategy for improving your authority score and ranking is link building.
So, what's the best way to drive backlinks to an affiliate website? Ideally, your content is so good that it earns links organically just because it becomes an authority people refer to.
But to be realistic, you also need to build links if you want to scale your website. Unlike the brand you're promoting, your affiliate website cannot rely on the authority of your product.
What you need are those quick working relationships people had to establish during the American westward expansion until the frontier reached the Pacific. In link building, you can apply the reciprocity principle to establish those relationships.
Establish a link building community
Treat your affiliate website like a startup and your link collaborators as your business partners. Set up a network or community with your collaborators, where you can build backlinks with other relevant websites and agree on guest post collaborations. As long as the content behind those links actually adds value to the article and the links are not used excessively, reciprocal links are beneficial for you.
Start by collecting a list of potential collaborators and reach out to them. Just make sure their content is relevant and complements your own content. Creating templates for your outreach messages, both for email and social media, is a good way to speed up the process. While the quality of those collaborations is your priority, it's also very much a numbers game.
You could create a community on any social media platform, where you can find the right people, whether it's Facebook, LinkedIn, or Slack, for example. Or join an existing one. The advantage of having a community is that there's no need to contact the same people one by one when you want to cooperate with them again. All members in the community can feel free to suggest link or content collaboration when they have new articles in the pipeline.
To keep things professional, you could set up some principles or criteria for people who want to join the community. Restrict it to select niches and allow only reciprocity-based collaboration with no paid promotions, for example. Since it's all based on mutual trust, be sure to evaluate everyone's content carefully and encourage them to build mutually beneficial relationships.
Conclusion
With the two main content types described above, you're already off to a good start as an affiliate marketer. You need guides and tutorials for traffic and authority and reviews and comparisons are what will bring you actual affiliate revenue.
By investing in keyword research and considering intent, volume, and difficulty, you'll be able to narrow down your topics and cherry-pick only the most promising keywords – those with the right intent and which you have a realistic chance of ranking for.
Check who's on the first page for your targeted keywords to know who you're up against. Then create superior content and collaborate with other websites to build links that improve your authority and ranking.
If you want to learn the basics of affiliate marketing, check our Ultimate Guide. And join our Supermetrics affiliate program to earn 20% recurring commissions from each sale.
---
About Johannes Rastas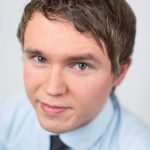 A Partner Marketing Manager at Supermetrics, Johannes focuses on expanding the Supermetrics partner program and collaborating with their existing partners. He also works with SEO and content on a daily basis. Feel free to contact him on LinkedIn.
Turn your marketing data into opportunity
We streamline your marketing data so you can focus on the insights.