All businesses want to establish a strong brand that drives more traffic and conversions. But how to generate branded traffic before your website has any authority? Prior to the stage where you can rely on a high share of branded search, you need to focus on generic search queries.
Consumers who are in the research stage of the buying cycle are more likely to use generic keywords. And you want them to know about your existence when they become more familiar with the available products that match their search intent and move toward the conversion stage. This is where they can start searching for specific brand names and comparing products.
In this article, you will find actionable techniques to target website traffic that brings you actual conversions. As an affiliate marketer, conversions are how you get paid, so obviously that should be the primary focus of your content strategy.
Navigate this post from the menu below:
Search volume vs. purchase intent
A common feature shared by most affiliate websites is that the majority of their traffic comes from only a handful of posts. This is why publishing more frequently is not an ideal strategy for growing organic traffic to your affiliate website. What you need instead is great content that matches searchers' intent.
Another observation when it comes to conversions is that posts with the highest volume of traffic often don't have the highest conversion rates, as we can see from our analytics example below.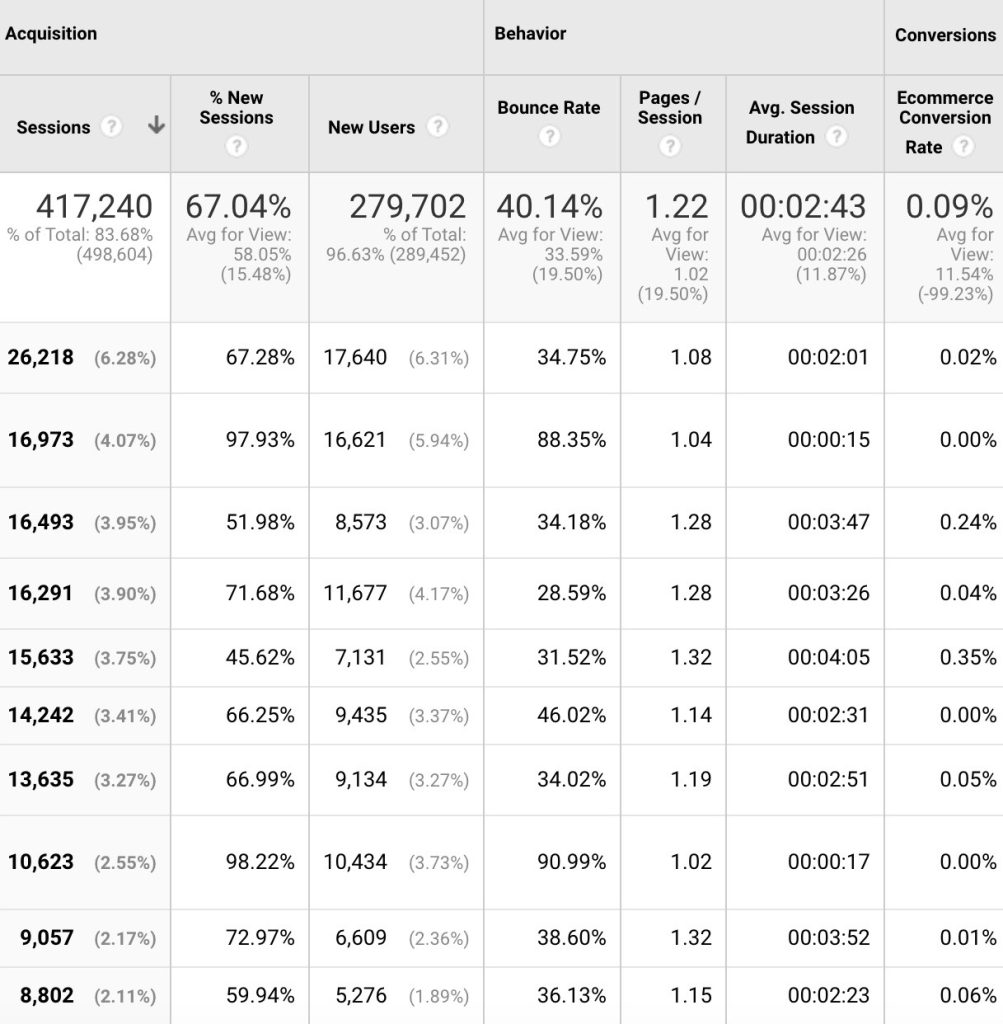 The blog category that drives the highest traffic has a conversion rate of 0.02%, whereas the category that ranks no. 5 has a 0.35% conversion rate. This difference derives from the targeted keywords which have more purchase intent in the category with a higher conversion rate. The other common feature of these high-converting articles is that they're strongly product-focused.
We're all familiar with the AIDA model where the top of the funnel is about awareness and interest. The keywords used to target consumers in this stage usually have a high search volume but their purchase intent is low. In contrast, there are fewer potential customers for the search queries in the middle and bottom of the funnel but their purchase intent is much higher.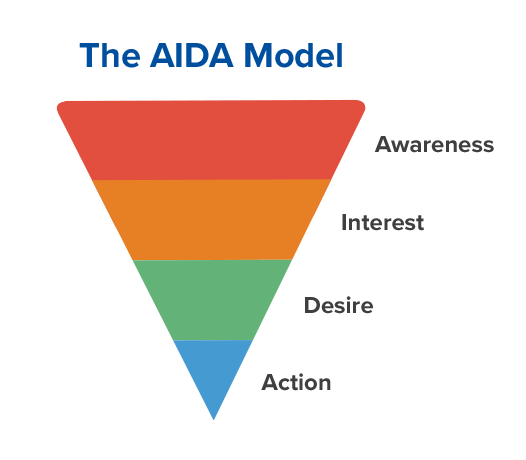 Keyword research
Search volume, keyword difficulty and business value comprise the three main factors that you should evaluate before going forward with any content topics for your affiliate website or blog.
Here business value refers to conversion potential. And the conversion potential of your targeted keywords is dependent on search intent. To get conversions, go for the low-hanging keywords that are easier to rank for by targeting lower-volume and higher-intent queries. High-volume keywords tend to be saturated with competition, which makes them less attractive.
In the example below, I used the SEMrush tool to compare the keyword difficulty of two queries. The first query "what is seo" has a high search volume (18,100) but its difficulty is also very high (77.68). The second one has a much lower volume (260) but it's easier to rank for (58.95), although not easy, either.

A quick glance at the SERP analysis showed us that the first page results for "what is seo" have an extremely high number of referring domains and backlinks, as we could expect based on the keyword difficulty score. It simply makes no sense to even try to rank for this query, especially for an affiliate website. These listed websites are highly popular and hard to compete with.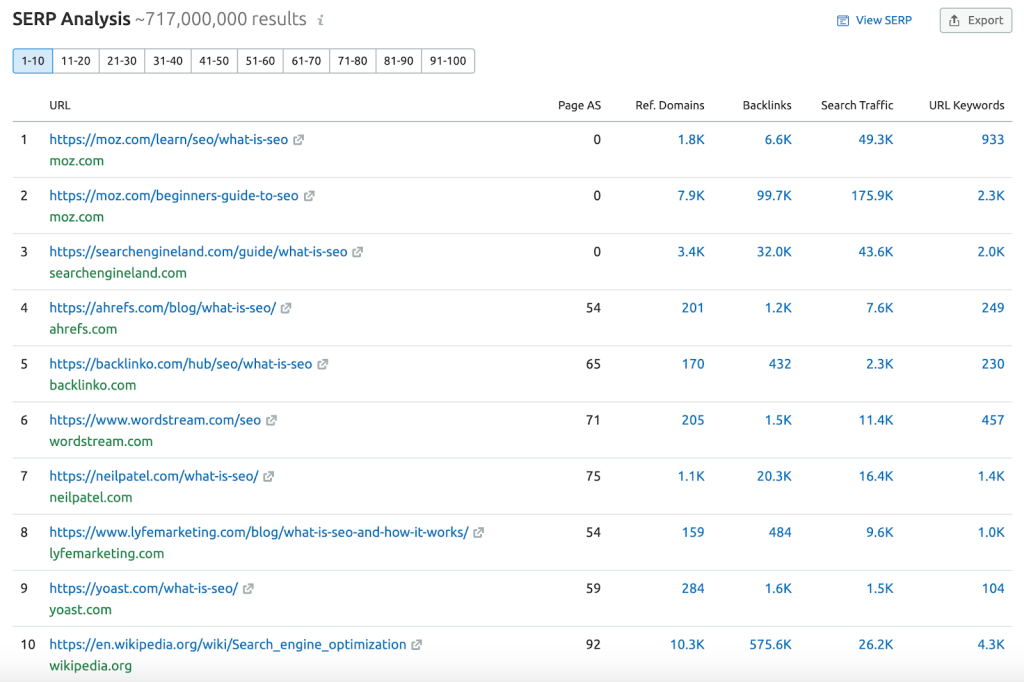 When we ran the same analysis for "seo report template," we could see that apart from the top three results, the rest of the first page results have only a minimal number of referring domains and backlinks. This means that it would be much easier to rank high for this keyword on Google.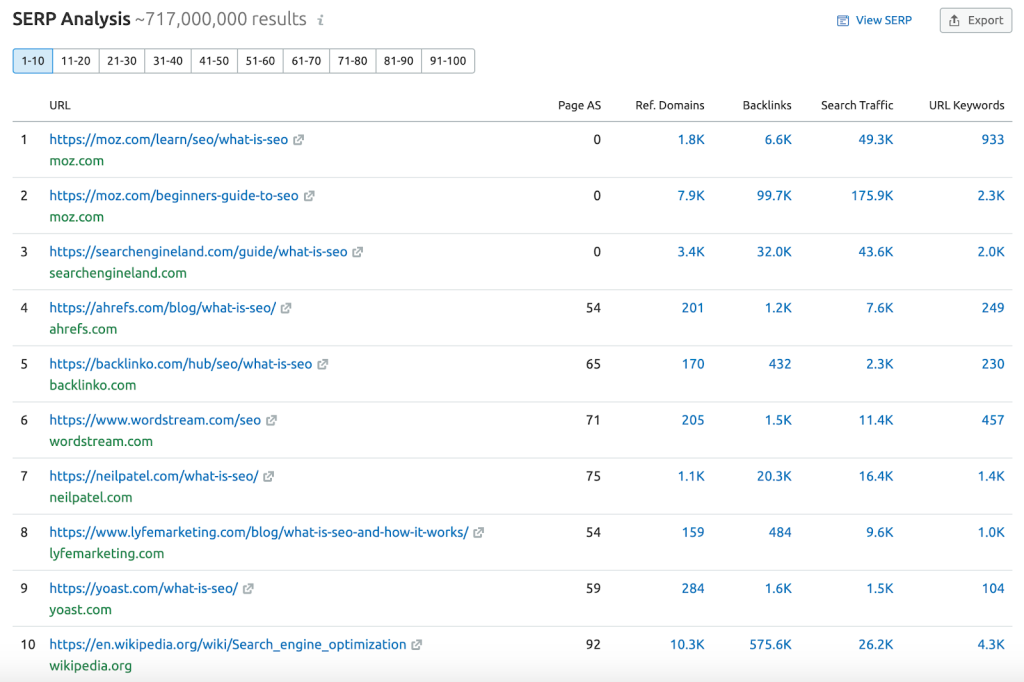 From a conversion point of view, "seo report template" is also a more optimal keyword than "what is seo." If you're an affiliate who is promoting SEO tools for marketers, it's more likely that SEO professionals are searching for report templates than reading about the basics of SEO. Targeting people who want to learn the basics of SEO is unlikely to lead to any conversions.
Running a traffic analysis of your competitors' websites can reveal useful information about the traffic potential of different content ideas. You can see their top pages and the share of organic traffic but you have to use your own judgment to evaluate the search intent of those keywords.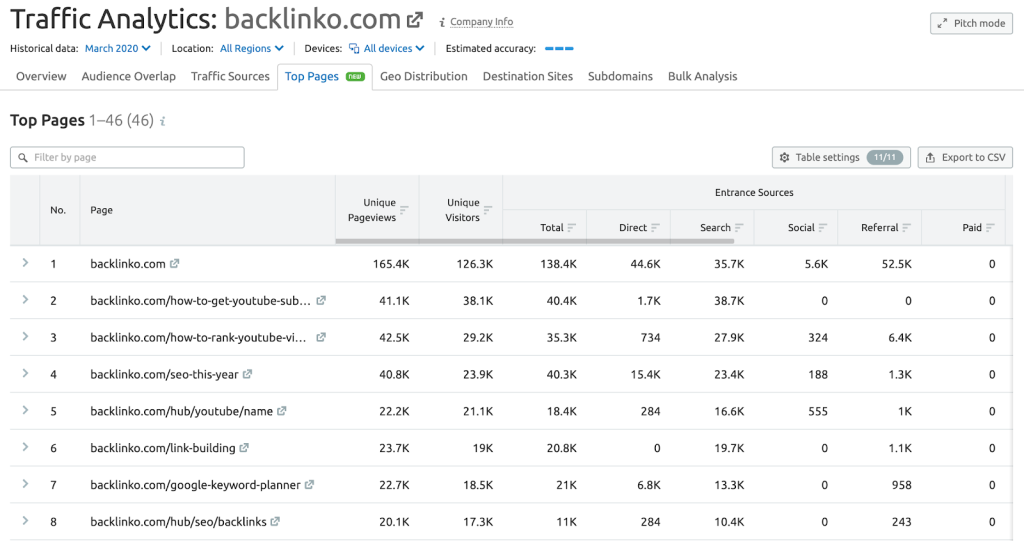 Intent-driven content strategy
As an affiliate marketer, your main goal is not to generate traffic to your affiliate website but to drive affiliate sales. A traffic-driven content strategy where you target high-volume keywords is good for impressions and clicks. But since this is not how you earn commissions, it hardly pays off for you to focus on top-of-funnel traffic. Even more so if you promote valuable items such as SaaS products.
How to create high-converting SEO traffic to your affiliate website?
You need to be willing to sacrifice high search volume at the expense of more relevant queries.
Everything starts with knowing your target audience. To squeeze the maximum benefit, you need to understand your prospects' search behavior, for example, what problems do they have, what gives them value, and how do they describe the products that you promote to them.
If you already have an article, think about how you would describe to your friends what it's about. The terms that you would use in your description determine what queries your article should rank for.
To understand search intent, you have to put yourself in the shoes of those who would search for that keyword. What are they actually looking for and hoping to find? Just more information on a specific topic, comparing different solutions, or are they already looking to make a purchase.
4 types of search intent
The most common intents that search engine users have can be grouped into four categories:
Informational: Users who have an informational intent either have a specific question in mind and want to find an answer, or they're simply looking for more information on the topic.
Commercial: Users with commercial intent have the interest to buy and they search the web for research. Since with these keywords you will target potential customers, they're good for conversions. If you see paid ads in the search results, the keyword likely falls into this category.
Transactional: Users whose intent is transactional are more targeted people who are ready to make a purchase. They can still browse to find the best product but they have already decided to buy. These keywords tend to be more specific and often describe the product features.
Navigational: Users who type in a company or brand name perform a navigational search. They already know the company or product and simply want to find the link to the correct site. Since people with navigational intent are usually not looking for affiliate landing pages, these keywords shouldn't be your focus.
Which intent to focus on?
It's worth pointing out that since your goal as an affiliate is to convert people into customers, the only way you can is by providing value to them. And for this, you also need informational keywords. But the key is not to focus entirely on informational intent because those visitors are notoriously difficult to convert into paying customers. So, the conclusion is that you need both.
In the commercial and transactional intent category, you're not limited to "buy now" keywords. You can also cover product keywords such as "review" and "comparison" or product lists such as "best" and "top." These users have a high conversion potential, even if they need convincing.
In general, long-tail high-intent keywords are ideal because they're more specific and more likely to satisfy the search intent of all users who searched for that keyword on Google. Always remember to also check the top results of your targeted keywords and analyze their content. They rank high for a reason, and in most cases, their content delivers what users are looking for.
How to optimize your articles?
When it comes to optimizing for keywords, keep in mind that your actual content is the primary determinant of your success in the search results. If you have the expertise in the topics that you cover and you have done your research, you're already off to a good start with content optimization.
It has become less important in SEO to include your primary keyword around your content. In fact, the top-ranking pages rarely even repeat the ranking keyword at all. Google is advanced enough to understand relevant phrases and synonyms and include them in the search results.
And that's why intent is so important. When you optimize for intent, you're going to use relevant phrases, closely related words, and synonyms organically anyway. But that doesn't mean you cannot benefit from including your focus keyword in your URL, title, headline, and body text.
Once your article is published, you can extract the maximum search traffic by analyzing the keywords that your article already ranks for and inserting them naturally in sections where you haven't mentioned them. You may also carry out a keyword gap analysis by looking at competing pages and identifying keywords that those pages rank for but your page doesn't.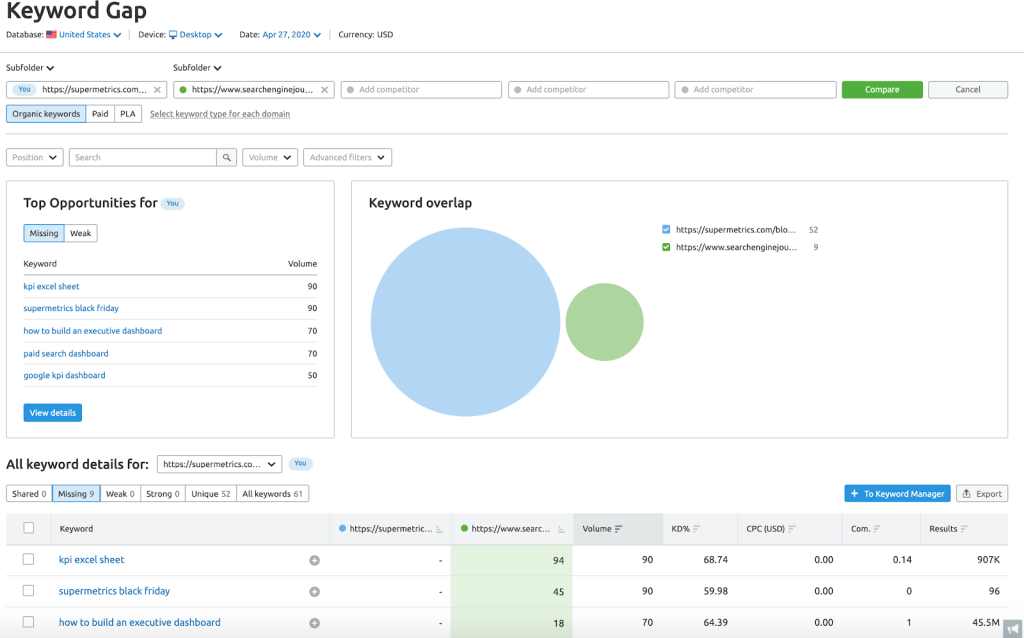 Once you discover the most promising keywords from your competitors, you can dedicate a few additional paragraphs discussing the topics of those keywords that complement your article.
You can then also conduct further research into other popular search queries related to your focus keyword and expand your article with the knowledge you acquire about those topics.
Finally, it's worth turning to your existing content and performing an organic traffic audit on your blog. This is useful for a number of reasons. For example, some of your published articles might have garnered valuable backlinks but could be simply targeting the wrong keywords. And many of your competitors don't update their content, even though fresh content tends to rank better.
Perform the same analysis for each published article on your blog and create a group of those articles that actually bring you organic traffic. The rest you can either remove altogether if they're outdated and bring no traffic, or merge if you have multiple articles on the same topic.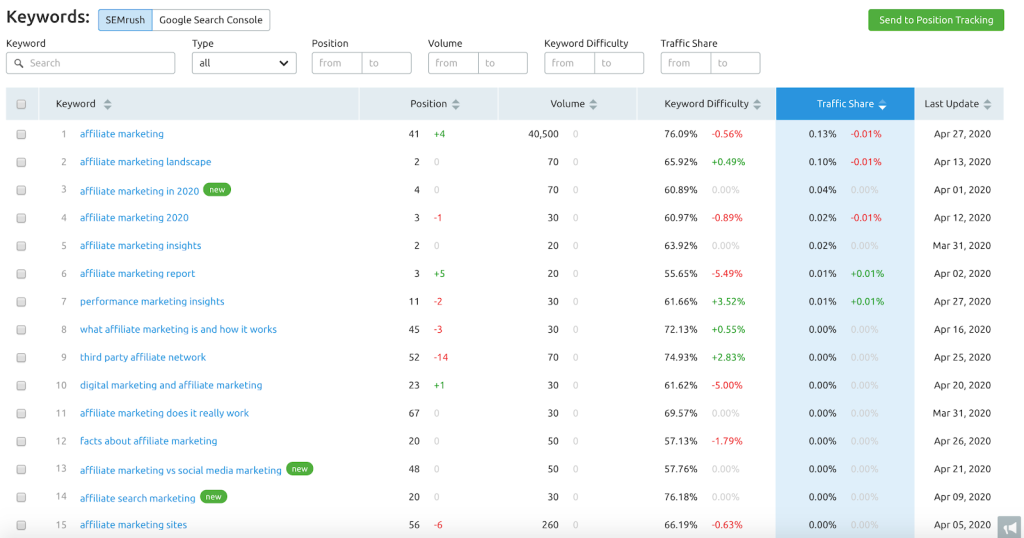 The articles that bring traffic to your affiliate website you can update and optimize for new promising keywords you haven't used yet, for example, those offered in the organic traffic audit you undertook previously.
Conclusion
With these techniques, you can move towards an intent-driven approach to your affiliate strategy. When you create content that matches the intent of your target audience, you're more likely to see an increase in your organic traffic and conversions. Squeeze the maximum traffic out of your existing content and identify topics with the right intent and you will attract sales.
Find more ways to drive quality affiliate traffic with these affiliate marketing strategies. And join our Supermetrics partner program to earn 20% recurring commissions from each sale.
---
About Johannes Rastas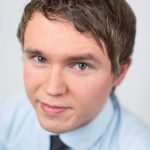 A Partner Marketing Manager at Supermetrics, Johannes focuses on expanding the Supermetrics partner program and collaborating with their existing partners. He also works with SEO and content on a daily basis. Feel free to contact him on LinkedIn.
Turn your marketing data into opportunity
We streamline your marketing data so you can focus on the insights.