Apr 6, 2022
Freelance affiliate marketing: a quick guide
11-MINUTE READ | By Johannes Rastas
[ Updated Jan 16, 2023 ]
Can freelance marketing consultants use affiliate marketing to build an additional stream of income? Let's find out. To add some practical insights into the topic, I collaborated with four Supermetrics affiliate partners who shared their experience with freelance affiliate marketing.
Why freelancers should consider affiliate marketing
Being a freelance marketing consultant offers an opportunity to build long-term client relationships based on mutual trust. And this client trust is the cornerstone of successful affiliate marketing. Why would your client invest in a tool that you recommend, knowing that you probably earn a commission from the referral? The only reason for them to do so is because they trust your expertise. You've delivered good results before, so you must know what you're talking about.
Choosing the right product to promote often comes naturally to you after you've acquainted yourself with a tool that offers certain benefits. Sharing how that tool could benefit your client's business is how most freelance consultants make affiliate referrals.
As you'll see in the insights shared by our collaborating affiliate partners, the commissions are a welcome bonus for most but nothing more than that. Being able to provide a better service for their clients is what drives freelancers to affiliate marketing.
If you think about the skillset of a freelance marketing consultant, it's not only the experience and knowledge you've acquired that constitutes your skills. It's also your expertise in using the right tools. As a freelancer, you can not only refer affiliate products to your clients but also help them implement those tools. Thereby, you both help your client's project succeed and benefit yourself from the additional billable service hours.
How to get started with freelance affiliate marketing
The starting point for most freelancers is to find a product that matches their clients' needs. And obviously, not all clients share the same needs. And not all products have an affiliate program.
That's why most freelancers are driven to affiliate programs organically. It usually starts by using the product first, then identifying those clients who would benefit from using it. And if the product has an affiliate program, there's that bonus of establishing a new source of income from the commissions.
But freelancers are by no means limited to only recommending products to their clients directly. Other affiliate marketing channels such as publishing blog content, creating email campaigns, promoting tools on social media, or embedding affiliate links into YouTube videos are also popular ways for freelancers to do affiliate marketing.
But in every channel, it's your audience or client base whose needs determine which products you should be promoting. So, only recommend products that add value to your proposals and help your clients. By being overly active with your promotions, you risk losing valuable client relationships.
What affiliate marketing channels to use as a freelancer
Here's a quick summary of how you can promote affiliate products:
Recommend to your clients directly
This is the most popular way for freelancers to make referrals. Check if the tools you're already using have affiliate programs and identify clients who could benefit from those tools. If you can match the tool with one of your clients, then join the program and introduce the tool to your client.

Pro tip: If you don't want to share referral links with your clients, many programs also allow you to refer clients via email by contacting their affiliate team. So, you still get your commission, even without the referral link tracking. Your commission will be attached manually in that case.
Create product reviews and tutorials on your website
Not everyone wants to take the content route. Producing detailed reviews and tutorials optimized for organic search is plenty of work. And that's time away from your other freelancing activities. But it's also a good complementary channel for making affiliate sales. So, you might want to give it a thought and decide if it makes sense in your case.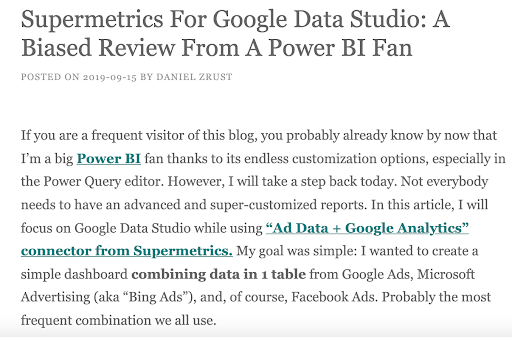 Pro tip: Start with keyword research and check how competitive the relevant product-related keywords are in your niche. If your website has a low authority score and you're not planning to spend any time on SEO, blog content might not be the best choice.
Build an email list and create email campaigns
Building an email list implies that you produce content on your website. You can add a sign-up form and encourage your blog visitors to subscribe to your email list. But avoid intrusive popups at all costs—they're a page experience signal to Google and damage your visitors' experience. Examples of good content for email campaigns include exclusive items such as ebooks and discount codes.

Pro tip: You could also send a monthly newsletter to your client base. But if you have active projects with those clients, a more personal recommendation goes a long way. A newsletter might be an option for past clients that you have no active communication with.
Post links to affiliate marketing content on social media
Social media platforms are a good complementary channel for affiliate marketing. Even if you don't have a huge audience on any social platform, you can still promote relevant reviews, comparisons, and tutorials to your followers. You can also share your work, for example, reports and dashboards you've built with a tool like Supermetrics, and link to your tutorial article on your website.
Pro tip: While it's possible to share your referral link directly in a social media post, for example, on Twitter, a more common strategy is to post a link to a blog article, which includes a referral link to the product. This adds an extra step to the funnel, but you provide value first, and your post appears less promotional.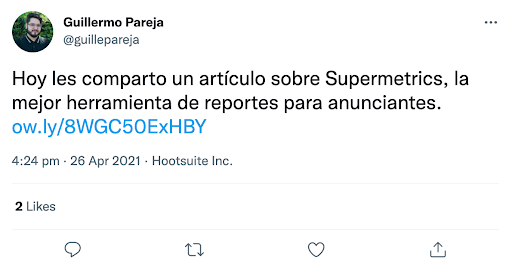 Produce video content on YouTube
Another good complementary channel for affiliate marketing is YouTube. In many niches, Google Search is so saturated with competition that ranking on page one for the relevant keywords isn't always feasible. YouTube presents an opportunity for building additional traffic to your website and sharing your referral link.
Pro tip: You can repurpose your old blog articles and turn them into YouTube tutorials or product reviews. And you may both link to your website and share your referral link in the video description. Or, if you have a discount code, you can also mention it verbally in the video.
Insights from affiliate marketing freelancers
Let's see what four Supermetrics partners have to say about promoting affiliate offers as freelance marketing consultants.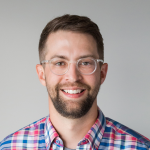 Nick Pierno, Digital Marketing Consultant at Nick Pierno
"I've been running small affiliate promotions for several years through my personal website, where I list and discuss my favorite digital marketing tools, and other dedicated websites, where I use SEO/content marketing to attract traffic and leads.
While it's never been a primary focus for me, and I've never seen life-changing revenues from it, my small investments into affiliate marketing from years ago have turned into several well-appreciated passive income streams. Sort of like planting a sapling and coming back years later to see a tree fruiting tasty apples. Makes me really want to do some more planting!
The best time to start might have been 10 years ago, but the next best time is now."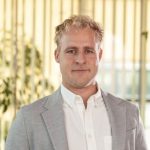 Gašper Anderle, Founder of Epidemic
"I've been amongst the best-rated freelancers on Upwork for Google Data Studio. Me joining the Supermetrics affiliate program came completely organically as I already preferred using Supermetrics for connecting the data. So, I have naturally been recommending the solution to my clients.
The main reason for me to use Supermetrics is the reliability since I know that my clients won't have any problems. The wide number of data sources helps too. There was almost never a case where we had to hack something together to build the full report a client wanted. The affiliate program was a good bonus that I could add to my income from freelancing."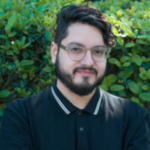 Guillermo Pareja, Digital Marketing Consultant at GuillermoPareja.com
"Affiliate marketing is a great way for digital marketing freelancers to earn additional steady income. It can become a really good revenue stream in addition to your consulting fees or monthly retainers from clients.
Starting can be challenging if you're new to affiliate marketing. But the easiest way is to check if the tools you already use have partner programs and join them. It's much easier to promote the tools you use and love! That's how I joined the Supermetrics partner program.
You can find partner programs for almost any kind of tool. From CRMs to landing page builders, website hosting providers, and everything in between.
When it comes to getting referrals, I mostly rely on the following sources:
Content: If you have a blog or a strong social media presence, you can leverage them to publish content and promote your affiliate links. Make the content useful and not overly promotional. Tutorial-type content works great.
Clients: When I'm making a new marketing consulting service proposal for a potential client, I always check if some of the tools I'm partnered with are good fits to recommend.
Only recommend tools that will add value to your proposal and help your client with their main goal. Don't risk your reputation.
Depending on the complexity of implementation, sometimes I offer free implementation for the tool if they use my affiliate link.
Colleagues: If people constantly ask you for advice, you can recommend tools that will help them by sending your affiliate link.
Affiliate marketing has been a game-changer for me. It's a revenue stream that takes only a bit of time and work to implement but adds value to my existing services."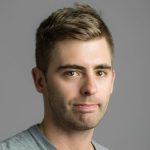 Daniel Zrust, App Solutions Architect and Founder of Excel in PPC
"Back when I became an affiliate of Supermetrics, I had already been a heavy user of their Google Sheets product. I just wanted to see whether I can generate a little bit of extra revenue while writing about something I like and helping my website visitors solve their reporting problems. It turns out it was not a bad idea—it's been working quite well. What was the hardest part? To start. Once you get your first article out to the world, the next article is much easier to produce."
Final thoughts
Affiliate marketing presents an opportunity for freelancers to add value to their existing services and establish a new source of revenue. Choosing the right tools to promote should come naturally when you start by looking into the tools you're already using.
The most popular way of earning affiliate commissions for freelance consultants is to recommend tools directly to their clients. Other complementary channels for promoting those tools include blog content such as product reviews and tutorials, building an email list and creating email campaigns, and sharing affiliate marketing content on social media and YouTube.
For most freelance marketing consultants, affiliate marketing is a good source of extra income, but it's very far from any get-rich-quick scheme. It's not about finding the programs with the highest commissions. Rather it's about recommending the tools you're already familiar with and can stand behind to those who would benefit from them. Maintaining the trust and good relationships you've built with your clients is what matters the most.
If you want to learn more about the basics of affiliate marketing, make sure to check our Ultimate guide.
---
About Johannes Rastas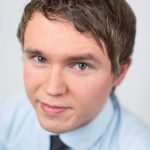 A Partner Marketing Manager at Supermetrics, Johannes focuses on expanding the Supermetrics partner program and collaborating with their existing partners. He also works with SEO and content on a daily basis. Feel free to contact him on LinkedIn.
Turn your marketing data into opportunity
We streamline your marketing data so you can focus on the insights.