Jul 21, 2020
How to find niches using Google Trends – affiliate marketing niche research
7-MINUTE READ | By Hetty Korsten
[ Updated Jan 17, 2023 ]
Want to discover new opportunities for affiliate marketing? Wondering how to do affiliate marketing niche research? In this guide, we'll show you how to find niches using Google Trends.
We will cover:
trending vs evergreen niches
how to discover niches using Google Trends
how to compare affiliate products with Google Trends
Affiliate marketing niche research and Google Trends
Google Trends is a tool developed by Google, that helps analyze the popularity of top search queries in Google Search. It takes various factors like location, language, and time (e.g. days and weeks) into consideration.
It can give us a glimpse of where a niche is going, and whether demand in that market is rising or not. The interesting part of Google Trends is that it can show you if a market is trending or evergreen. It can also give you keyword and product ideas for your affiliate promotion.
How to find a niche worthy of your efforts: trending vs evergreen
New niches pop up all the time, but many die out after a fleeting period of public interest. For affiliate marketing, both trending and evergreen niches can work. Just be aware that not all niches are here to stay and that the niche you pick is in sync with your long- or short-term goals.
If you plan to leverage organic traffic to your affiliate site, you should focus on topics that have consistent interest over time. Gaining organic traffic is a long-term game and you don't want to waste your SEO efforts on a topic that suddenly drops off the interest radar.
On the other hand, if your promotions are focused on quick results such as paid advertising, you may want to go for a trendy topic, for as long as the interest lasts. If you can find a trending niche and pair it with the right affiliate offer, you can perhaps make good money. For this method to work, you need experience with paid advertisement and it's crucial to catch the trend in its early stages.
How to find niches using Google Trends
Whether you are looking for an evergreen topic or a more trendy niche for your affiliate promotions, here's how to find a niche that suits you.
Step 1: Go to Google Trends and research an industry
Start by doing a general search in Google Trends with a keyword or brand name in the industry you want to explore. Don't worry about the exact keyword, the point is to collect information and start digging into several niches along the way.
You can research on search "term" or "topic". Topic is only available for more popular, umbrella terms in a sector. Search terms can be any string of words used in Google Search.
Let's say you're interested in exploring the digital marketing niche. We can start out by checking the overall interest of people in digital marketing related topics.
Here, we have taken 'search engine optimization' as a topic to explore.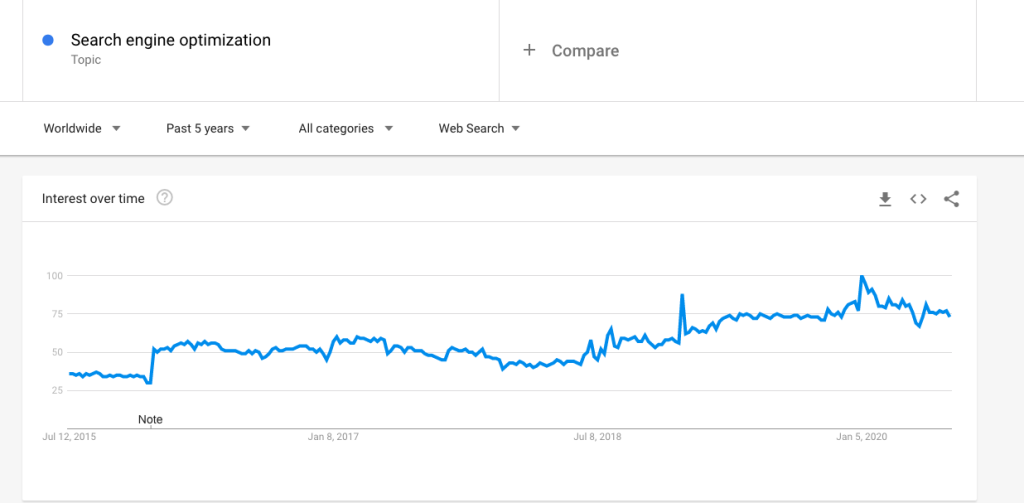 We can see that from 2015 till now, there is an increasing interest in the topic "search engine optimization." In this example, we look at the interest worldwide, so we can also see a breakdown of interest according to geography.
This first glance will give you an idea whether the interest in your topic is on the rise or decreasing in demand.
Interest over time is displayed on a scale of 0 to 100, where 100 shows the peak popularity for the term. A value of 50 means half as much popularity and a value of 0 means there was not enough data to provide you with information.
If we scroll down, we also see a field with Related Topics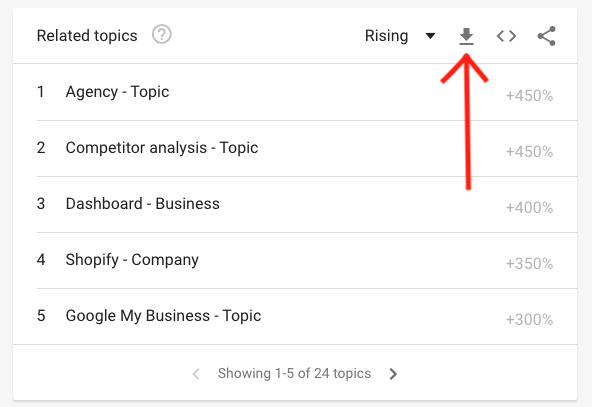 Click the download button to get the full list of related topic suggestions. This is a great way to get initial product and topic ideas related to that niche. Pay attention to the keywords that had a significant growth of interest in the last years.
Often, you can already find brand names in this list. Keep those aside to check if they have an affiliate program.
Let's do another search in the digital marketing niche. This time, let's research a tool by search term.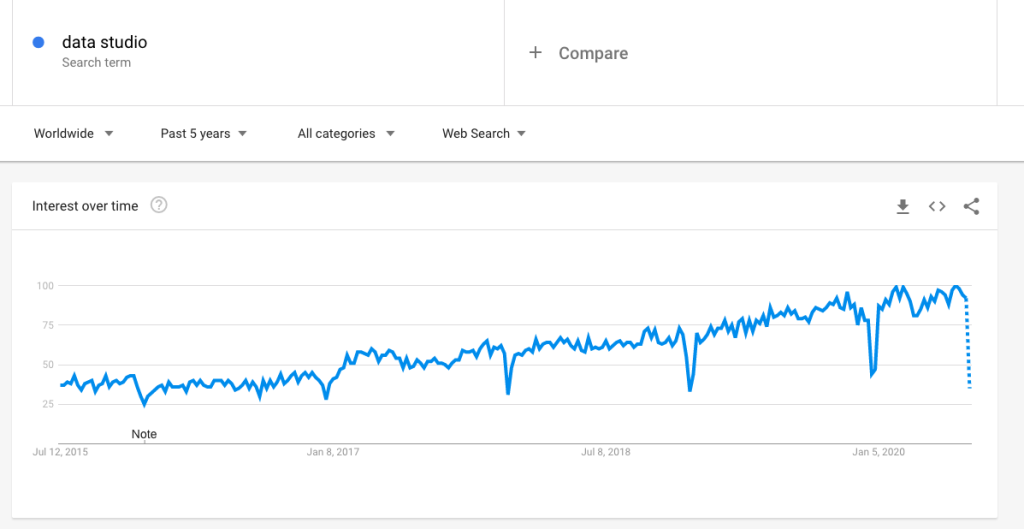 Here, we can see the interest over time for the search term "data studio." The interest has been rising steadily over the past years.
Let's again download the related topics report and look at the related queries report. You can filter both Related Topics and Related Queries by "Top" (the most searched terms) or by "Rising" (the biggest increase in searches for this topic or query).
From the two reports, check out the "Rising" section. This will show us promising related keywords and topics.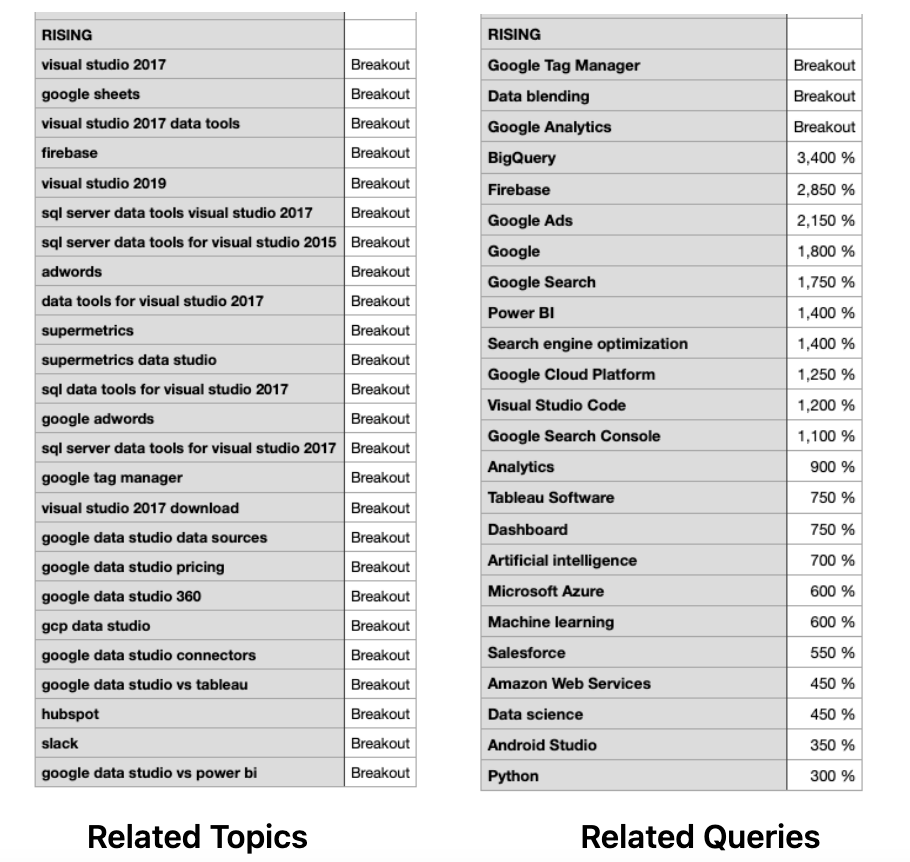 Each "Rising" search term shows the percentage of growth compared to the previous period. "Breakout" means this term grew by more than 5,000%. We can find several tools in this list that can be interesting for affiliate promotion. Change the date range and download the reports again to compare specific time frames.
The related queries show terms that the "data studio" audience also searched for. These ideas can be used to create content that fits your audience's interests.
Do this for several topics and tools inside your industry of focus. Collect the topics with the highest growth of interest and the tool and brand names you want to check for affiliate programs.
Step 2: Compare trends of competing products
With the compare function in Google Trends, you can check the interest of a brand compared to a competing product in the same space. This information can be useful to determine where to put your SEO efforts on your affiliate website.
Let's compare the interest of Supermetrics, a tool to pull data from different sources to platforms such as Google Data Studio, with another competing tool in the reporting automation space, Klipfolio.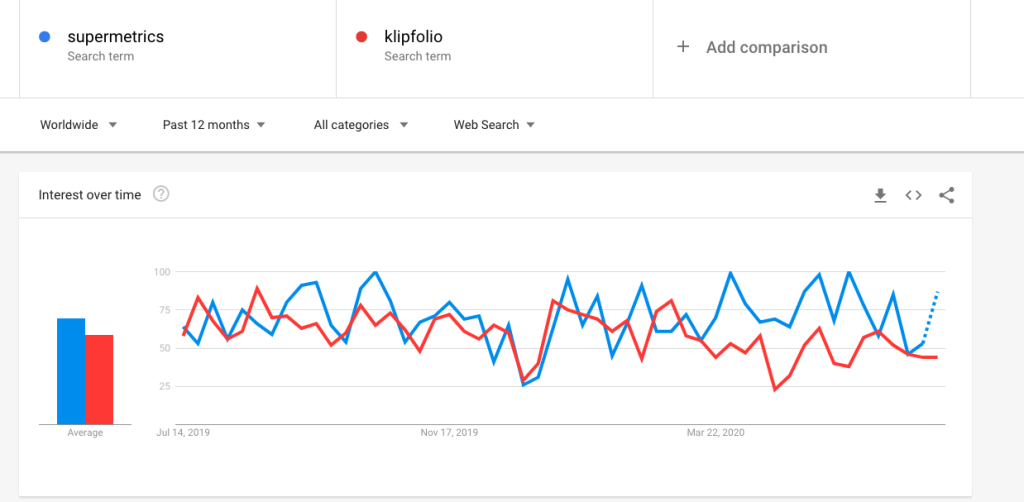 Here, we compare the interest of these two brands over the last 12 months. In the left column, you can find the average interest in both products within this time period. This is valuable information when scoping your SEO efforts for certain brands and products.
Underneath this graph, we can also find the interest based on region.


This is especially interesting if you want to optimize your affiliate campaigns for a specific country and language. You can select your target country and find the interest of a brand locally. You can also filter this information down to the city and other subregions.
Step 3: Check tools and brands for affiliate programs
Now, you have an idea about how to find a niche with interest from the public. Next, it's time to do a little more research. You want to find out what opportunities you have for affiliate promotions in that niche. Take your list of tools and brands and check out their affiliate programs.
Gain information and find out:
How many affiliate programs are available in this niche?
What commission structure does the affiliate program offer?
Does the program offer a one-time commission or recurring payments?
What is the average product price and how much commission can you expect from 1 referral?
It's also important to check your website competition in that niche. Try to avoid niches that are saturated with competition.
Continue your affiliate marketing niche research and:
Find out how many searches there are for several keywords in your niche.
Check the competition for keywords in keyword tools such as Ahrefs, SEMrush, or Ubersuggest.
Pro tip: start using our Google Trends connector
If you're a Supermetrics user, you can start using our Google Trends connector, which has some additional features and allows you to access all relevant keyword trend data directly on Google Sheets, Data Studio, or Excel. You can also try the Google Trends connector for free with a 14-day trial.
With the connector, you can find related topics, inspect the popularity of each keyword by geolocation, and compare up to 50 search terms at once. This allows users to do more powerful searches with our GT connector and overcome the limitations of the Google Trends web UI, which restricts the number of search terms compared to 5.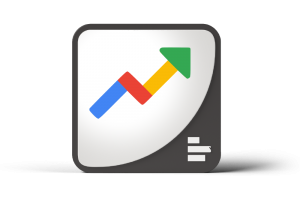 Once you have found an interesting niche, decide on your promotional channels and learn how to prepare your blog for affiliate marketing. Also, check these 5 affiliate dashboards to help you track your affiliate sales.
Hopefully, this guide will help you find promising niches using Google Trends and give a boost to your affiliate marketing niche research.
Google Trends is not only a great tool for niche discovery. It can continuously help you find upcoming trends and grow your affiliate marketing business.
You can learn more expert affiliate marketing strategies here. And join our Supermetrics partner program to earn 20% recurring commissions from each sale.
---
About Hetty Korsten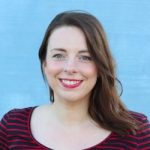 Hetty Korsten is a Partner Marketing Manager at Supermetrics. She has worked for fast-growing SaaS startups in Copenhagen and Helsinki. Currently she's growing the in-house partner program at Supermetrics. Feel free to connect with her on LinkedIn.
Turn your marketing data into opportunity
We streamline your marketing data so you can focus on the insights.