This is the second post in our affiliate interview series where some of our top affiliates introduce their daily routines and explain how they got started in the industry. This time, we have Josh Cottrell who explains about his experience with data visualization and how that led him to other exciting ventures including affiliate marketing.
Please tell us a little bit about yourself.
Hi! My name's Josh Cottrell. For the past ten years, I've been doing the startup grind and managing data-focused products. I've had some amazing opportunities to work with brands like Google, Apple, Lego, Gatorade and Microsoft. Back in 2016, one of the startups I co-founded was acquired and I spent the following years travelling while I consulted remotely on data visualization, marketing reporting, and comp intel projects. Now, I'm back to startups and building systems to process and analyze complex system 1 data.
What does your typical day look like?
My day job is Head of Product at a fast-paced startup. Much of what we build requires visualizing and managing new and highly complex type of data that hasn't been available until quite recently.
In my free time, I love finding creative ways to push the limits of the design features in Google Data Studio and Excel. That means building big bold dashboards that don't just look like a spreadsheet with boring charts.
How did you get started with data visualization?
Like many people out there, I got started with Excel. I worked at a co-working space to help pay my way through college and one of the members at the space was an Excel expert. He opened up my mind to all the creative ways you could process, analyze and visualize data. Years later, my first serious startup required me to build a ton of visualizations and forced me to put in the hours needed to start translating a data table into a compelling visual.
And what about affiliate marketing?
I'm no expert on affiliate marketing. My philosophy has always been that a bit of passive income is a win and if it's enough to buy my friends a round of beer on the weekends then that's what I consider a major success!
What was your biggest failure and how did you recover from it?
My first startup was a children's e-book publishing platform. It was me and a group of animation pros from Pixar, and at the time, it seemed like it would be the future of children's books. Pixar got acquired by Disney which lead to some big changes in the policies around employees working on outside projects like ours. After some legal tangling, we essentially had to accept that we would lose more than half our team. It just wasn't worth continuing at that point, so we had to shut down. As a first-time founder, this felt like the end of the world (turns out it wasn't). In the end, the skills I learned propelled me into a ton of amazing projects, and I was way ahead of the curve when I started my next business.
When and what was your first big break that made you realize you're on the right path?
Funny enough, it was not going through an acquisition. It actually came far earlier. When I went off to college, I started catching the startup bug. I would connect with any local entrepreneurs that were willing to chat with me and just hustled like crazy to find an opportunity. Within one year, three things happened in sequence: I got an email from Steve Jobs, I convinced the co-founder of Netflix to sit down with me and chat, and then I got offered an internship in Singapore. I wasn't qualified for any of these things but putting in the hours to connect with as many interesting people as possible paid off big time.
What was the most innovative thing you have done in terms of data visualization?
I'm really proud of my early design work with Data Studio. I feel like I got to make my mark and help push the design standard a little bit higher. I also have pushed hard to encourage folks in the data visualization community to prioritize visual design and consider how people understand and interact with their visualization work.
An example of Josh's Supermetrics template design: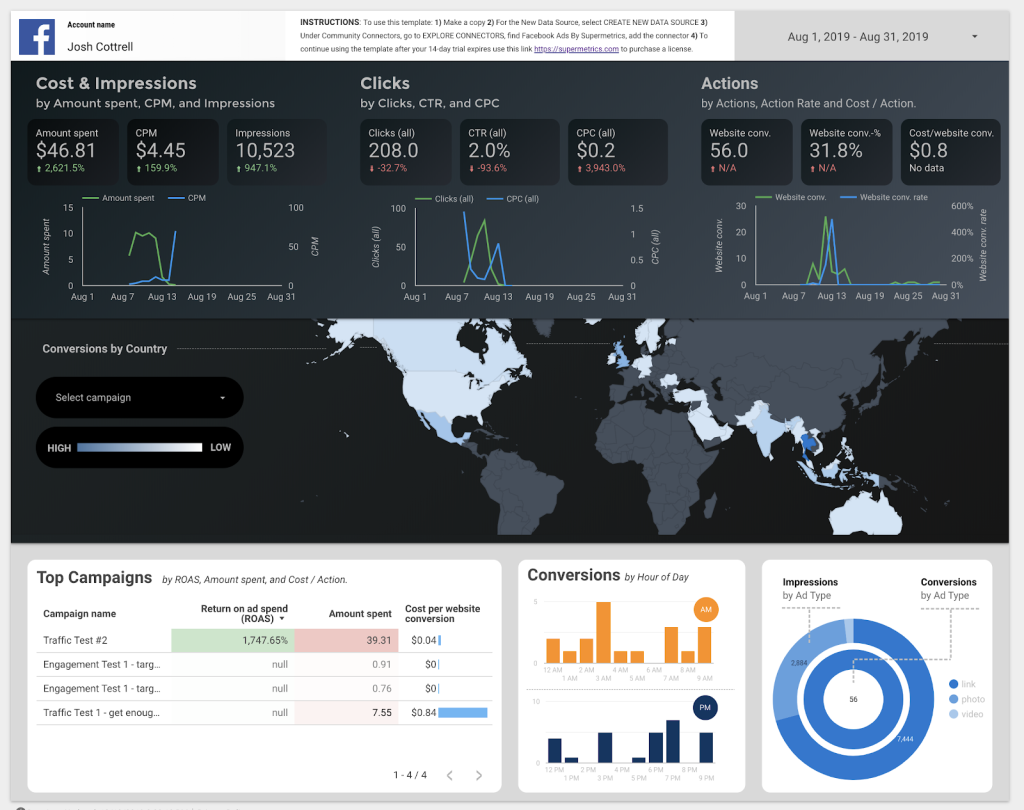 How do you measure success?
My freedom to do meaningful work.
Which decisions or actions you took would you say were fundamental to your success?
I adhere to a philosophy that I call default-to-action. If I run into a challenge or roadblock, I don't just stop. Instead, I consider what information is available to me, think critically, and continue forward in the best way I can think of. I don't wait for permission or instructions. I just focus on doing my best.
That also plays into the idea of developing meta-skills. Essentially, I believe that taking any action or doing any kind of project will teach you skills that apply to every other element of your life. That's true, even if it turns out what you're doing isn't "right." Folks that just keep active, keep trying new things, and don't overthink things tend to go much farther than those that worry too much about optimization.
What are you currently working on?
I'm currently working on a set of templates for Excel and Data Studio that make it incredibly easy to build visually stunning reports. The Excel templates are already available and people seem to be having a lot of fun with them. I'm also ramping up my competitive intelligence services which enable brands to get quick daily/weekly snapshot of their competitor's news coverage, press releases, price changes, AB tests, and more.
What tools do you find helpful in your work at this stage?
I am a huge advocate for Data Studio. It's an incredible visualization system and it's free. Every marketer, SEO specialist, etc. should learn how to use it.
What is the coolest, yet undervalued tool you use on a regular basis?
I believe the most undervalued tool on earth is Excel. It's so much more than a way to manage spreadsheets. You can build incredibly powerful tools and visualizations using it. Case and point: I built this using Excel's standard features (no VBA and no plugins, just normal shapes and charts):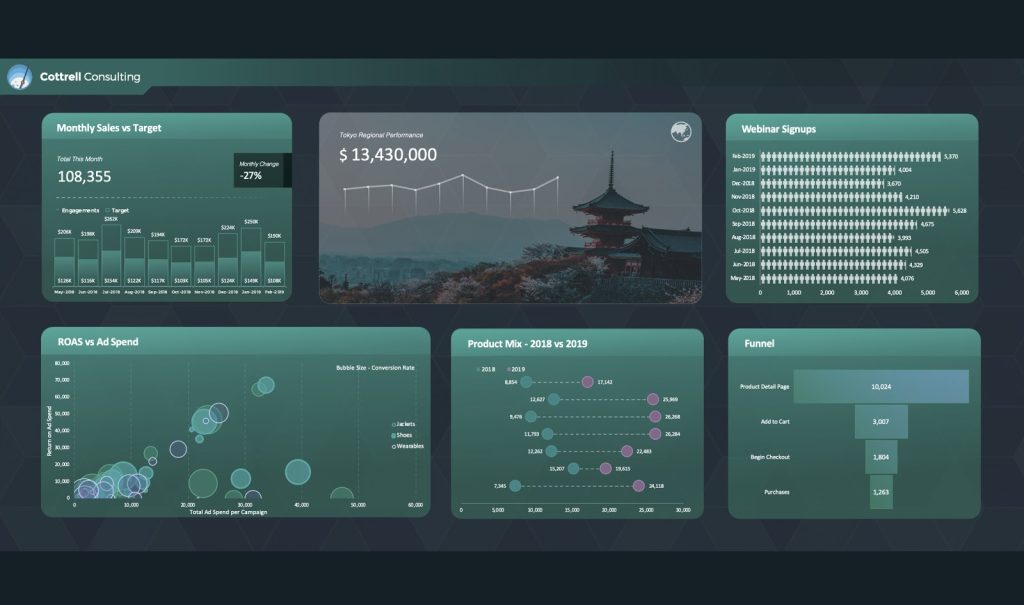 Did you do anything special during COVID-19 lockdown?
I had just returned to the U.S. when COVID-19 started spreading. My partner and I were staying with our family and then everything went into lockdown. So I've literally been stuck in close quarters with my in-laws for months… it has been an exercise in patience and lifestyle design. I'm incredibly excited to be able to move and have been learning everything I can about real estate/rental markets in the U.S.
What do you enjoy doing in your spare time?
I'm a big hiker and try to get out into the mountains as often as possible. That has been a little tricky because they shut down many of our trails, so instead I've started building electric bikes. That started me down a path towards electric vehicles and has led to an obsession with the projects coming out of Tesla.
What advice would you give to someone who wants to get started with dashboards?
Start building now. Don't wait. Just get on to Data Studio or Excel and try to replicate the coolest dashboard you can find. Get as close as possible to a carbon copy and don't give up when you run into a problem. Once you feel like you understand the basic underlying principles, then start to learn about data warehousing and get acquainted with SQL. You'll be up and running in no time.
What was the most interesting thing you read or watched recently?
Microsoft Design has been releasing some amazing content about their design process and the principles behind their work. Everyone should check them out.
What are your favorite books?
Unfortunately, nothing related to data viz or affiliate marketing. My favorite genre is art crime and my absolute favorite book in the genre would have to be Drawn to Trouble by Eric Hebborn. Eric was an incredibly cool man with an amazing life story. I can't believe there isn't a movie about his adventures duping art experts.
If you could pick any person in the world to collaborate with, who would it be and why?
Easy question to answer. It would have to be Federica Fragapane. Her data visualizations are works of art.
What would you like to be remembered for?
Teaching data professionals to be a little more human and encouraging them to understand the inherent value in our irrational human tendencies.
Where do you see yourself several years from now?
Hopefully settled down somewhere with my partner, working on meaningful projects sometimes and cooking food from my garden other times. Nothing fancy.
Learn more about the affiliate industry by checking these affiliate marketing trends. And join our Supermetrics partner program to earn 20% recurring commissions from each sale.
---
About Johannes Rastas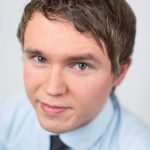 A Partner Marketing Manager at Supermetrics, Johannes focuses on expanding the Supermetrics partner program and collaborating with their existing partners. He also works with SEO and content on a daily basis. Feel free to contact him on LinkedIn.
Turn your marketing data into opportunity
We streamline your marketing data so you can focus on the insights.