This year's Affiliate Summit Europe (ASEURO) was organized remotely for the first time. Registration was entirely free and it gave participants access to all speakers' presentations, roundtable discussions, expert workshops, and chat rooms. You could even attend a morning yoga session, poker tournament or pub quiz if you really wanted to make the most of your experience.
One of the key benefits of attending an event that's hosted on a digital platform and run by sponsors is that you have a low barrier to participation. According to ASEURO, there were over 4,000 active users, which made it a great networking opportunity for affiliate managers and affiliates alike. The recordings also enabled you to tune in whenever allowed by your schedule.
From our partner program's perspective, there were two goals for our participation: networking with potential affiliate partners and other partner managers and learning new actionable strategies from the industry leaders. In this article, we will try to both evaluate the event in relation to these goals and point out the most useful insights from the sessions we attended.
Networking with other marketers
In terms of networking, the platform had a chat in the sidebar where all participants could interact with each other and post questions for the speakers. There was also a separate chat room for discussions and a search feature where you could look for other attendees and send them networking requests. You could also add filters and search for specific types of affiliates, for example bloggers or influencers.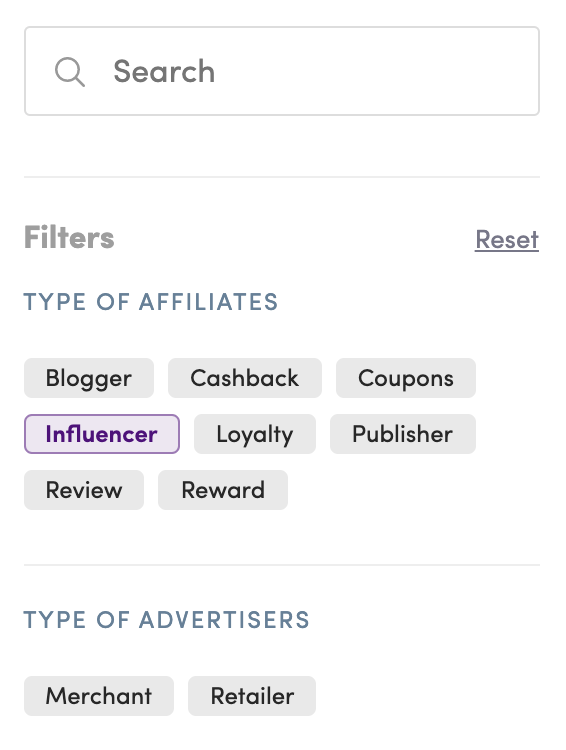 The value of the networking aspect obviously depends on who is attending the affiliate summit. Based on our experience, many of the contact requests came from people selling leads and traffic. This is not so useful for most partner programs since that's not how partners are paid. It's of course easier to sell leads and traffic than conversions but if these people truly could bring in quality traffic, they shouldn't have any problem with the conversion-based model.
Attending the sessions
With regards to the speakers, the affiliate summit actually had a 100% female speaker line-up this time.
A general issue with industry events like this is that you cannot offer actionable insights that apply to all niches. Affiliate marketing covers such a wide range of niche markets that any all-encompassing advice becomes so general that it's nothing new or useful for anyone. And when more specific strategies are explained, it may not have any utility in your own niche.
Despite this common problem, the summit was well-organized and we did manage to extract some value from it. We will now go into more detail about individual sessions and present our key takeaways.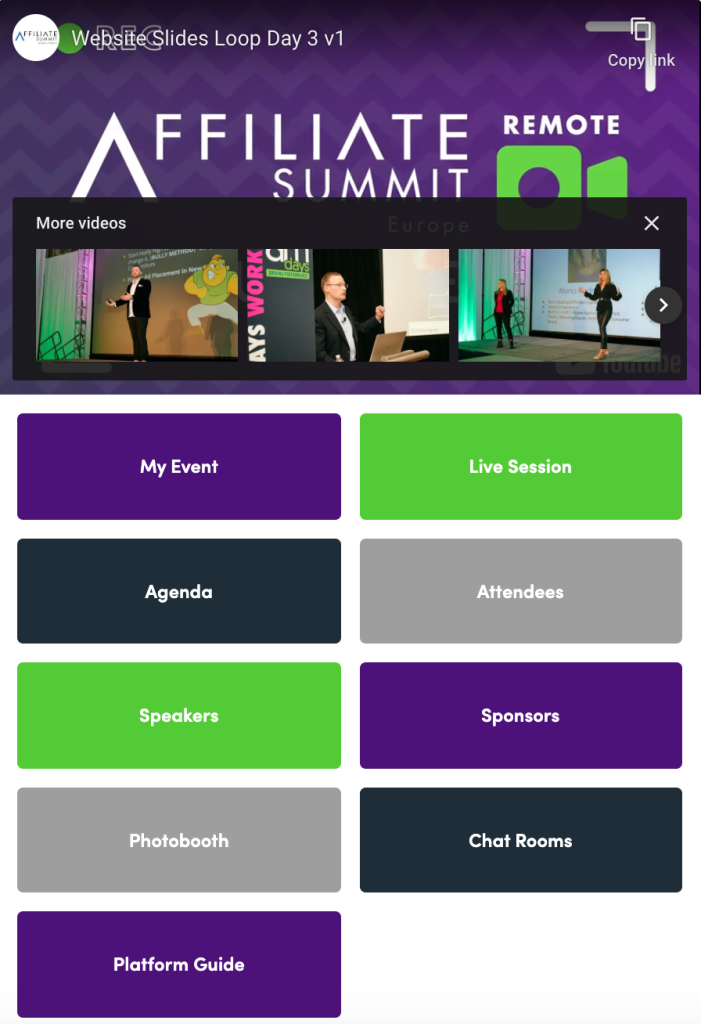 Our takeaways of the affiliate summit
We divided the insights into 4 categories according to their perspectives and topics:
Affiliate marketing for businesses
The first keynote speaker was Holly Tucker, an entrepreneur and the founder of Notonthehighstreet and Holly & Co. Through the success story of her own business, she recommended affiliate marketing as a lifeline for small businesses who shouldn't put all eggs in one basket. For long-term success, it's necessary to diversify your revenue stream and concentrate on a few things that you know actually work. On our blog, we've also outlined a more comprehensive list of benefits of affiliate marketing for SaaS, specifically.
Driving full-price sales
When moving from the general to more specific advice, we could mention Ami Spencer, COO at Webgains, who presented her three strategies for driving full-price from the affiliate channel. According to her, it's time to stop treating affiliate marketing only as a discount sales channel. Instead, businesses should drive full-price sales by shifting their focus to products for those customers who can afford to spend. Even high-end products can thrive if they're adapted to new trends. In terms of affiliate marketing, this means activating those promising affiliates who can drive full-price sales, i.e. your most influential affiliates. With regards to content, affiliates who can produce long-tail content are ideal for full-price sales. They aren't focused on discounts and are good at explaining your product's relevance to consumers.
Affiliate marketing from SEO perspective
Given that SEO has such a crucial role in affiliate marketing, or in marketing overall, there were several sessions dedicated to the topic. Even a separate SEO drop-in clinic was organized where attendees were given a chance to ask specific SEO-related questions from the experts.
One of the SEO-focused sessions was held by Hannah Thorpe, Director of Growth Strategy at Found, where she advised marketers to stop treating SEO as a performance channel. What she suggested instead was to use SEO for attention. This is related to the changes in PageRank, in particular to the growth of featured snippets and zero click. Because this trend is reducing clicks in most cases, as concluded in our article about featured snippets, it makes sense that the way SEO is used as a marketing tool also adapts to the changing environment.
Moving higher up the funnel
This also affects the goals that you set for your SEO. Instead of going for the traffic and conversions, you might want to shift your focus higher up the funnel to brand awareness and impressions. One way to build brand awareness is to talk about your competitors. Your prospects will anyway compare your offering to those of your competitors, so making it clear why yours is better is a good strategy to attract attention and persuade buyers. When you're explicit about what features make your product better, it also adds to your brand trust.
And since SEO cannot exist in a vacuum, it's important to integrate it with other channels. For example, if there are keywords that you don't rank for organically, try bidding on them on ad platforms. Also, look at your conversion funnel. Find cases where your organic channel leads to conversions and see how it integrates with other channels.
In terms of attribution, affiliate managers were also recommended to look beyond first and last click. While it's obvious that affiliates not only bring sales but also contribute to building awareness, paying them for traffic and impressions is not such an optimal strategy for most businesses that already have an established brand. Perhaps this could work for new businesses in the early stages of their brand building.
"Time well spent" is another concept that should encourage marketers to measure user behavior and make sure users can easily navigate through their websites and find what they're looking for. This comes down to understanding users' intent and catering to each segment's needs.
Managing an affiliate program
Affiliate marketing is an ongoing process that requires, for example, searching for and recruiting new partners, establishing connections, monitoring affiliates' performance, preventing fraud, and running marketing campaigns. We selected three talks about affiliate program management that inspired us the most.
Leveraging automation
"Automation is revolutionizing the digital marketing world." In her talk, Daisy-Blue Tinne, Agency Development Director from Impact, connected with three representatives of advertiser brands to discuss how automation changed the way they communicate with potential partners and manage existing relationships. Since affiliate marketing is built around partnerships, managers still choose more traditional methods for onboarding new affiliates—introductory calls.

Automation tools are widely used for recruiting and searching for potential leads, initial outreach, and staying in contact with existing partners. As most affiliate programs are led by one or two managers only, this helps with managing time and focusing on what really matters. While saving your time, automation also requires some groundwork from your side as a manager.
Optimizing affiliate channel strategy
April Roberts, Partnerships Manager at MandM Direct, shared several ideas on how to optimize an affiliate channel and how they did it as a brand. Firstly, she emphasized the importance of aligning your affiliate strategy across all markets and bringing it in-house. This is because direct relations with your partners is your key to success.

Another part of optimizing an affiliate strategy relates to automation and data centralization on the company level. Having all data stored in one place allows you to automate reporting and focus on the strategy and partnerships.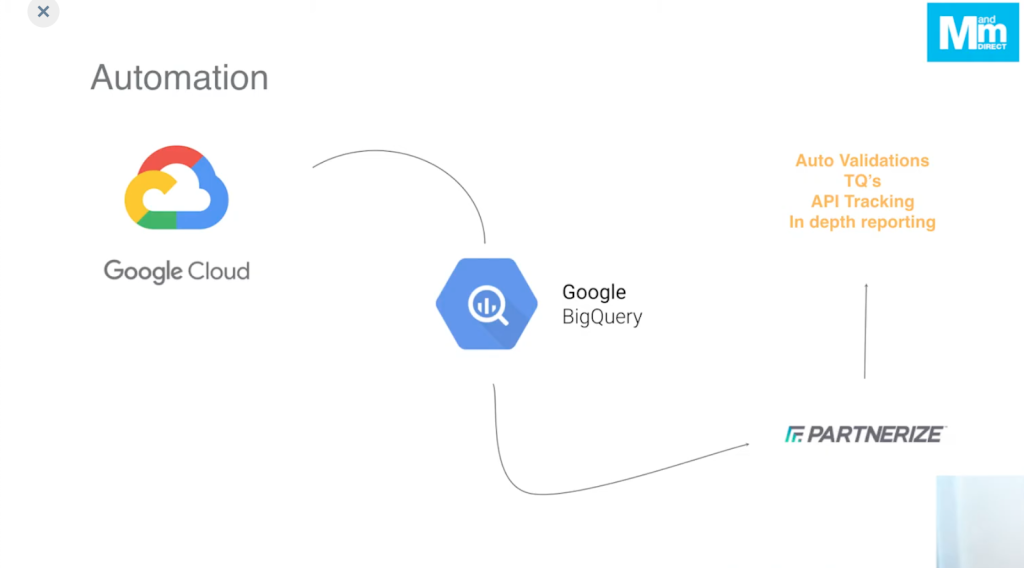 Choosing the right attribution model was also critical to MandM Direct's success. There is no right answer as to which model you should choose. It depends on your business needs and requirements of your analytics. Your attribution model should help you determine the true incremental value of your affiliate channel.

Last but not least, consider introducing influencer strategy into your partner program and moving from traditional affiliate marketing to partnering with strong brands.
All these aspects are worth evaluating for affiliate managers who want to optimize and grow their affiliate program.
Driving incremental revenue
Georgia Gier, VP of customer success at BrandVerity, also discussed how to ensure you are driving incremental revenue with your affiliate marketing efforts. Paid search abuse, unauthorized coupon codes, and front websites are only some examples that can lead to non-incremental revenue. And the risk of generating non-incremental revenue from the affiliate marketing channel is that your customers' journey becomes confusing and you end up damaging the affiliate industry as a whole. So, here is what you should do to mitigate the risks:
understand your customer journey;
review every affiliate who signs up and do not leave your program open to everyone;
look for abnormalities in conversions and traffic;
develop a consistent partner agreement and review it annually; and
reach out to a partner if rules are violated and don't hesitate to give them a second chance.
Affiliate marketing during a downturn
In her keynote speech about data-driven opportunities and recommendations for affiliate marketers post COVID-19, Amber Spears, Co-Founder of East 5th Avenue, outlined the strategy of "swimming with your customer's current focus." As part of this downturn strategy, agencies are advised to move more toward low-ticket and project-based as well as getting paid for performance. This also means that if your offers are not a good fit for the current market, it's better to put them on hold and re-release those that address customers' current needs.
Niches that have been and still are booming include health, wealth, and self-education. For example, the health and wellness offers of Clickbank's affiliates are up 140% this year. And due to the looming economic crisis, people are also concerned about their finances. This has resulted in a search traffic spike for investments. With so many people laid off, especially in the U.S., it's also not surprising that online courses and training resources are doing so well.
Even when people and businesses are cutting their spending, it's important to maintain communication with your audience or network. This relates to your long-term goals. Continue to engage people by organizing, for example, webinars, trainings, podcasts, and campaigns to make sure that they remember you after the economy eventually recovers. This is also an ideal opportunity to add new people to your email lists. And you need to balance all of this on top of those shorter-term goals such as the low-ticket offers that bring you revenue right now.
Conclusion
While most of the sessions had a stronger focus on the affiliate management side, the affiliate summit gave quite a thorough overview of the affiliate marketing industry as a whole. A lot of attention was given to the impact of the pandemic and the best ways to deal with it. And for those who wanted more niche-specific insights, the roundtable discussions were a good option. Especially for affiliates who are just starting out, there was plenty of useful industry knowledge shared.
For more industry insights, take a look at these affiliate marketing trends. And join our Supermetrics partner program to earn 20% recurring commissions from each sale.
---
About Svetlana Gryaznova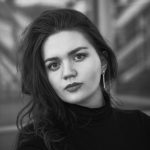 Svetlana is a Partner Marketing Manager at Supermetrics. By combining both her engineering and business education background, Svetlana has worked in several startups across Europe. At the moment, she is applying her knowledge and skills to help grow the Supermetrics partner program. Feel free to connect with her on LinkedIn.
About Johannes Rastas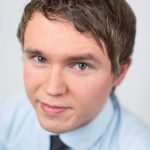 A Partner Marketing Manager at Supermetrics, Johannes focuses on expanding the Supermetrics partner program and collaborating with their existing partners. He also works with SEO and content on a daily basis. Feel free to contact him on LinkedIn.
Turn your marketing data into opportunity
We streamline your marketing data so you can focus on the insights.