Running a successful affiliate program that drives more sales for your product or service always demands an active recruitment strategy. Even though it's more about the quality than quantity of your affiliates, especially in B2B, there are no sales without the right people. So, how can you recruit those top affiliates who drive more than 90% of your total affiliate sales?
On the B2B side, you need to recruit affiliates who can attract business buyers and who are familiar with the longer sales cycles. These people are experienced professionals. For you to get their attention, you must personalize your message and do your research properly.
If you want to read more about B2B affiliate marketing, you may check our earlier post about the different strategies to do affiliate marketing for B2B.
It is recruitment that is the most time-consuming and labor-intensive part of managing an affiliate program. First, you need to decide which segments you want to target and collect a list of potential affiliates. Then, you can personalize your pitch and reach out to them. And if you're lucky and manage to convert them, you should also follow up with them every now and then.
Your ideal affiliate makes recurring sales. And such affiliates usually have many affiliate offers to promote. There is, however, a limited number of products they can promote. Most affiliates prefer to promote only 1–10 products. This is why it's good to remind them about the existence of your program. Top affiliates are notoriously busy and hard to reach.
Make sure that your offer can somehow stand out from the competing offers. It also helps if you have a product that is actually worth promoting.
Given the nature of affiliate recruitment, optimizing this process as much as possible usually pays off. Here are 8 strategies to help you recruit top-selling affiliates for your business:

1. Take a look at your customer base
This is the most obvious and straightforward way to recruit affiliates. It's also the foundation of every referral program. The difference is that in an affiliate program, it's only one of the many ways to reach out to partners.
What makes your existing customers ideal affiliates is that they're already familiar with your product. And better yet, if they're satisfied customers, they're also more likely to join your affiliate program. As users, they can provide more authentic and valuable content about your products which is more likely to lead to conversions.
To filter out unsatisfied customers from your outreach list, you can carry out surveys and measure your NPS. That way, you will be targeting only the most ideal customer segment for your affiliate program.
You may also consider automating the process by adding a link to the affiliate program on the order confirmation page. Or you can promote the program to your customers on social media and send newsletters to them after their purchase.
2. Reach out to influencers
Influencers are opinion leaders whose words are respected within their communities. Your job is to find out who these people are in your niche and approach them. The more influential they are, based on their traffic or number of followers, the harder they are to reach. This is why you need to personalize your message as much as possible and make sure that your offer has value to them. It should also stand out from competitors.
You can offer added value to influencers by giving them a free licence to your product or by providing a discount code that their followers can use. While discount codes are a good incentive for affiliates to make sales, it's worth having some restrictions. You don't want them to leak out online and take away a chunk of your organic traffic. Or worse yet, damage your reputation and reduce the value of your products for all customers.
The safest way to use discount codes is by allowing your affiliates to deliver them only through word-of-mouth, email newsletters, or direct message to their followers.
Check our influencer affiliate marketing article to learn more about partnering with influencers.
3. Analyze your competitors
The use of this technique depends on your place in the market. If you're an underdog who is competing with bigger players, it's crucial to know how your competitors are doing it. And even as a market leader, you're able to benefit from competitor insights. There can always be a segment or outreach strategy that you have not considered before.
The easiest way is to identify your main competitors and look into their backlinks. This way, you will find out who their affiliates are and how those affiliates are promoting them. After the backlink analysis, you can reach out to those same affiliates. To catch their attention, you should present a compelling argument why your affiliate program is better.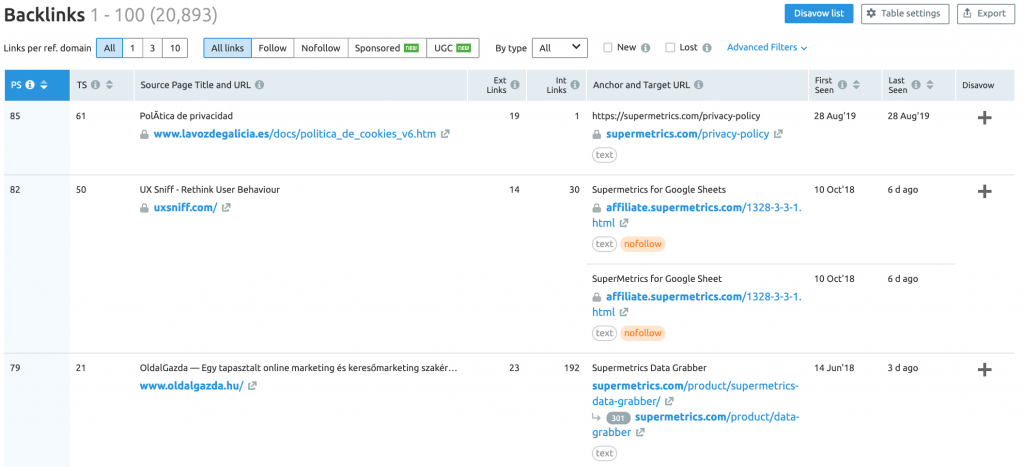 4. Optimize your affiliate landing page
While not a direct outreach technique as such, optimizing your landing page has a positive impact on the organic traffic of your affiliate page. You should perform a keyword analysis and identify the keywords in your niche with the highest traffic. Make sure to invest enough resources in your backlink strategy, too.
When you reach out to people through email campaigns or on social media, you share a backlink to your affiliate landing page. Visitors should be able to find all necessary information about your affiliate program on this page. That is, without having to open any subsequent pages. Take a look at the landing page of our partner program for reference.
Here you should also include a CTA button for potential affiliates to join your affiliate program. Try to have as few steps on your conversion path as possible. Each additional step decreases your conversion rate.
To optimize your landing page for both search engines and visitors, you need well-written content first and foremost. In addition to answering all questions from potential affiliates, you need to pay attention to your content structure and in-page navigation.
5. Increase traffic through paid ads
Paid ads are an effective strategy to increase traffic to your affiliate landing page and drive conversions. With paid ads, you get more instant results and it requires less effort than email outreach, SEO or link building.
And you don't have to limit yourself to Google Ads only. You might also consider paid ads on social media, for example LinkedIn Ads and Facebook Ads.
Choosing the right platform depends on your target audience. Once you have identified your target segments and affiliate personas, you will have some insights about how to reach them. Tailor your ad campaigns for each segment and keyword group separately.
Since you main goal is to convert your visitors into affiliates, the objective of your paid ads campaigns should be conversions. However, don't get blinded by PPC and CPC too much. The most important metric is your ROI. It's more useful to know how much return you get on your ad spend than how much you're paying for each conversion or click.
6. Activate your affiliates
While not a recruitment strategy in itself, it's a good practice to follow up with your affiliates on a regular basis. In particular, those who haven't been active since sign up. You might also want to consider organizing motivational contests that give an additional incentive for your affiliates.
Successful affiliates are usually not limiting themselves to your program only. Even after conversion, you're still competing with other affiliate programs in the same niche. That's why it's important to remind them of your affiliate program and convince them to focus their limited resources on your program.
Follow-ups provide an opportunity to keep your affiliates up to date on the most recent updates and product launches. If they're running a website or blog with a decent amount of traffic, you can also suggest content-related collaboration, for example. That way, you're able to both earn backlinks and drive more traffic and sales.
Some affiliates on the B2B side also appreciate scheduled calls. While these calls can be time-consuming to have and organize, it makes your affiliates appear more like business partners. You can offer these calls at least to your top affiliates.
7. Attend marketing conferences and events
Marketing conferences and events are good for establishing a more personal contact. Keep in mind that networking is more efficient when you're attending the right event. This doesn't necessarily have to be an affiliate conference but any event in your industry where you can meet potential new affiliates will do.
These events are also ideal for fostering your existing affiliate relationships. And they put you in direct contact with the industry people and update you on the latest trends. You receive insights from top influencers that you can apply to your affiliate program strategy.
While most of these conferences are not free, you can always weigh the costs against the benefits. How many new affiliates can you recruit by attending these events and how much sales do those affiliates bring? Also, how much more successful can your campaigns be after you apply that top influencer advice to your strategy?
8. Get listed in affiliate program directories
Not all affiliate program directories are worth your time and money. Before getting in touch with them, check their traffic and domain authority. Some of them could also ask for a backlink instead of a fee for getting listed. You have to evaluate the feasibility of these requirements on a case-by-case basis.
In general, directories are not as popular as they were in the past. But it doesn't mean that they are useless. The right directories can offer you additional exposure and bring in new affiliates. The need for a place where affiliates and affiliate programs can come together hasn't disappeared anywhere.
These affiliate recruitment strategies should help you grow your affiliate base and gain more exposure to your program. Try to think of your affiliates as business partners who become an extension of your brand. Their success contributes to the success of your affiliate platform and vice versa.
When reaching out to people, bear in mind that not all of them consider themselves as potential affiliates. But they probably wouldn't mind earning some passive income by referring your product to their network of contacts.
With that in mind, it's a good strategy to talk about partnership or cooperation instead of affiliate program when you're in contact with people who are not so familiar with affiliate programs.
In case you're interested in reading more about setting up an affiliate program check out our article on how to start an affiliate program. And join our Supermetrics partner program to earn 20% recurring commissions from each sale.
About Johannes Rastas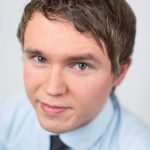 A Partner Marketing Manager at Supermetrics, Johannes focuses on expanding the Supermetrics partner program and collaborating with their existing partners. He also works with SEO and content on a daily basis. Feel free to contact him on LinkedIn.
Turn your marketing data into opportunity
We streamline your marketing data so you can focus on the insights.