Sep 22, 2020
Affiliate marketing without a website
7-MINUTE READ | By Johannes Rastas
[ Updated Aug 11, 2023 ]
Getting started with affiliate marketing usually means building your own affiliate landing page. While it's recommended for reasons such as branding and analytics, there are also ways to earn affiliate commissions without a website. As long as you know how to convince leads to click on your links and make a purchase on your merchant's website, you can make a profit.
As an affiliate marketer, you need to deliver the right offer to the right audience at the right time. This comes down to choosing an affiliate offer in a niche that you're specialized in and finding a traffic source for promoting that offer. In this post, we will cover the following affiliate marketing channels that can generate traffic and conversions for you without having to create any website:
Social media
Email list
Video-sharing platforms
Forums
Content-publishing communities
Guest posting
Social media
Promoting affiliate offers on social media requires that you have an online presence. And affiliate marketing is not a way to build that presence. Rather it's for reaping the benefits after you've already done the hard work of building an audience. It's a way to monetize your online presence. But your audience should always come first. Without it, there's nothing to monetize.
Not all social media platforms match with each affiliate offer. For example, Instagram and Pinterest are more suitable platforms for ecommerce and B2C products, especially in niches such as fashion, fitness, and health, where images play an important role in driving purchase decisions. More business-oriented social networks such as LinkedIn and Twitter can lend themselves to B2B products. Take this into account when planning your social media strategy.
Apart from the platform, it's your followers whose interests determine what you should promote. A loyal audience expects value and relevance from your posts, whether they contain affiliate promotions or not. Transparency goes a long way, whether you cloak your affiliate links or not.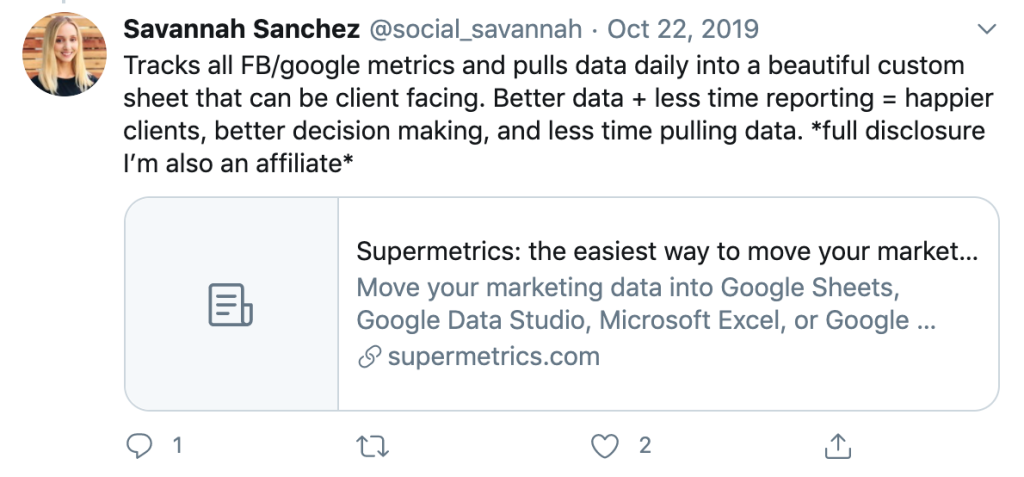 Email list
Similar to writing posts on social media, your emails should engage the people who are subscribed to your email list. The main challenge, however, is to create that list in the first place. You need an audience that comprises a targeted segment for the affiliate offer you're promoting.
Simply buying an email list doesn't cut it. You would be missing out on the targeting aspect of it. Without a website, you can create a sign-up form hosted on a trusted third-party website. To drive traffic to your sign-up form, you may use other channels such as social media. But for people to provide their email address is asking more than just a click on a link. You need a compelling offer in return, for example, selling an ebook on your website, or another useful guide or resource.
Once you have a steady number of email subscribers, start to plan regular campaigns. When crafting your emails, stick to the same rules that apply to writing effective social media posts and blog articles. Avoid clickbaits, false promises, and sales pitches. Always have useful content to share. Don't withhold it until the end of the email. Otherwise, you risk losing potential referrals.

And don't try to sell. Especially in B2B, focus more on educating your audience with actionable tips and materials that give them direct benefit. Forget quick wins and be direct and concise.
Video-sharing platforms
YouTube is probably the first website that comes to mind when thinking about video sharing. And indeed, it's the second largest search engine after Google, leaving behind Bing and Yahoo. YouTube's 2 billion monthly active users make it an ideal platform for affiliate marketers, especially for those without their own website.
Whenever you see someone on YouTube reviewing or comparing products and recommending you to click the link in the description, that's affiliate marketing taking place. And because YouTube is owned by Google, it's not uncommon to see relevant YouTube videos ranking high for search queries on Google, too.
The requirement for unique, quality content remains the same on video-sharing platforms. To maximize your visibility, you also need to leverage keywords in your titles and descriptions. And even details such as video thumbnails matter and can affect your CTR on YouTube.
Create your content around the products you promote and offer special perks for your audience, if possible. While affiliate links are generally not frowned upon on YouTube, keep in mind that YouTube has its own moderators and it's wise to avoid any reason for getting your channel flagged by users. So, disclose your affiliate partnerships, in the description or in the video itself.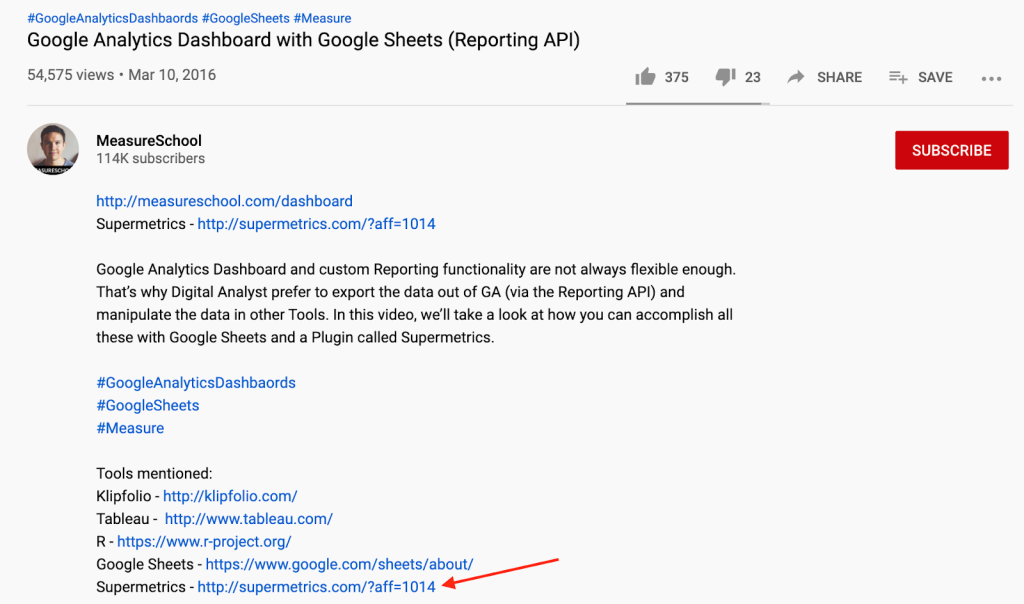 Forums
When it comes to forums, you can either choose a more general forum with multiple topic categories or a more niche forum focused around one specific topic. In most cases, it makes sense to target users on the largest forums possible so that you can maximize your reach.
Whatever forum you choose, go through the forum guidelines carefully before posting any affiliate links. You will have to start by building relationships with other users to establish trust. That's why it's better to leave out your affiliate links from the first posts and focus on providing value. In forums, value means offering helpful, non-promotional advice that builds your authority.
In most popular forums such as Quora and Reddit, direct linking to affiliate offers is considered spammy. While on Reddit, for example, different subreddits can have their own policies, other users will always react negatively to promotional content that doesn't offer any value. That's why it's better to do it indirectly, for example by linking to your YouTube channel, social media channel, or posts on other websites where you link to the affiliate offer directly.
Some forums also allow you to include an affiliate link in your profile or signature. But because of all the restrictions mentioned, forums are at best a good complementary channel for affiliate marketing. But you shouldn't depend on them as the only channel.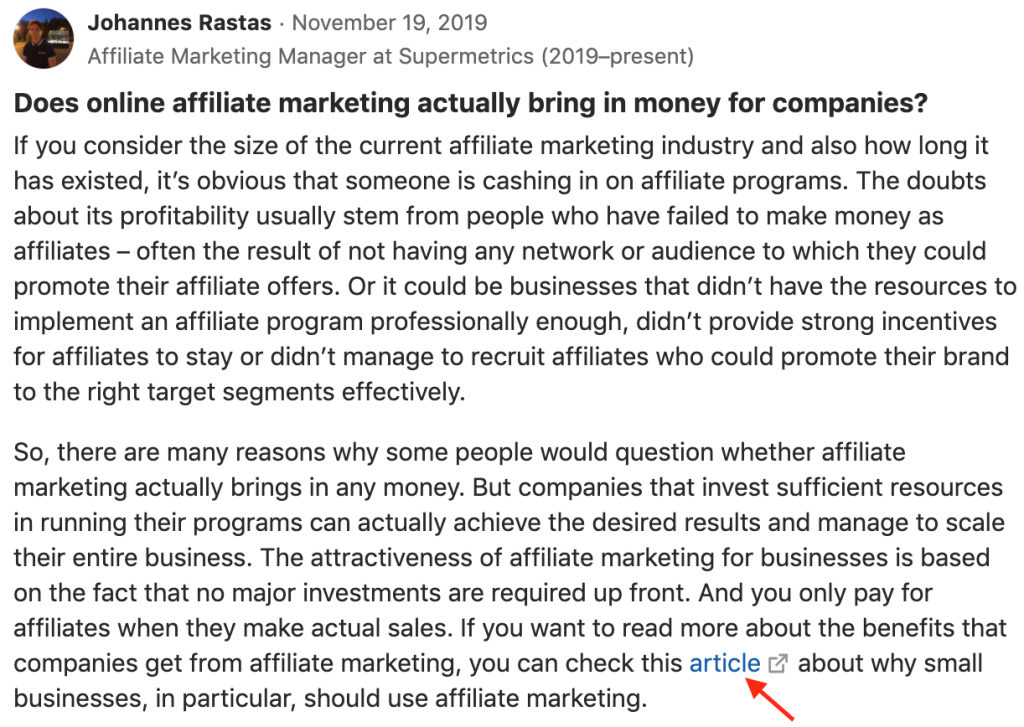 Check our post affiliate marketing on Quora to read more about affiliate marketing and forums.
Content-publishing communities
The reason why free content-publishing communities such as Medium are so popular is because they are open to everyone who wants to publish content online to a wide audience.
Medium has around 100 million monthly active readers and a domain authority of 94 (according to Ahrefs' website authority checker). As an affiliate marketer, you can benefit from the built-in audience and authority by publishing content on Medium instead of building your own website.
Affiliate links are allowed on Medium. So, you can actually link directly to your affiliate offers. Just be sure to disclose all affiliate partnerships to your readers. And avoid stuffing your posts with too many affiliate links. It pays off to make your articles as reader-friendly as possible since readers are the ones who determine the popularity of your content in the community.
If your Medium articles are of high quality and cover topics with decent search traffic, you will have a good chance of ranking high for those keywords and generating some affiliate revenue.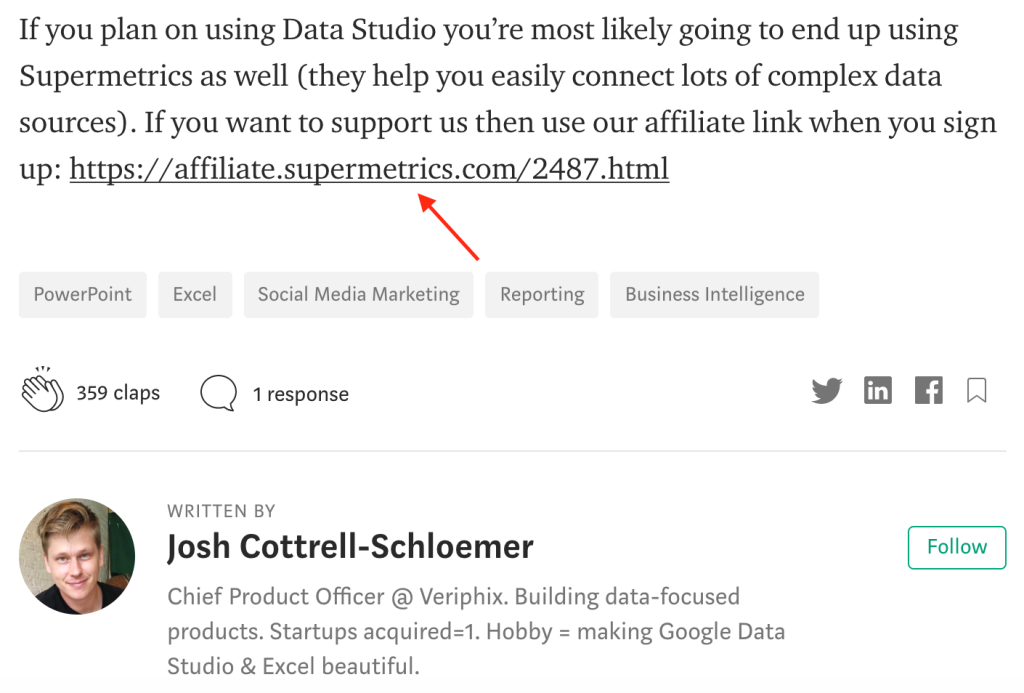 Take a look at our article affiliate marketing on Medium for more details about using Medium.
Guest posting
Linking directly to an affiliate offer as a guest writer is not allowed on most websites, at least not on those worth guest posting in the first place. This is why guest posting can work only as a complementary channel in affiliate marketing. Ideally, you would use these opportunities to build authority for your own website. But in the case of having no website to link to, you may still direct quality traffic to your YouTube channel or social media where you have your affiliate links.
One of the main advantages of guest posting is that you're building your personal brand. Those who appreciate your content can then become part of your audience on other channels that you use. To make affiliate marketing worth your time, it requires at least some level of branding, and guest posting is a good strategy in moving towards that goal.
All guest post links should be relevant to the topic. So, before pitching any articles, make sure that you have related content on another channel, for example YouTube or social media, that you can link to.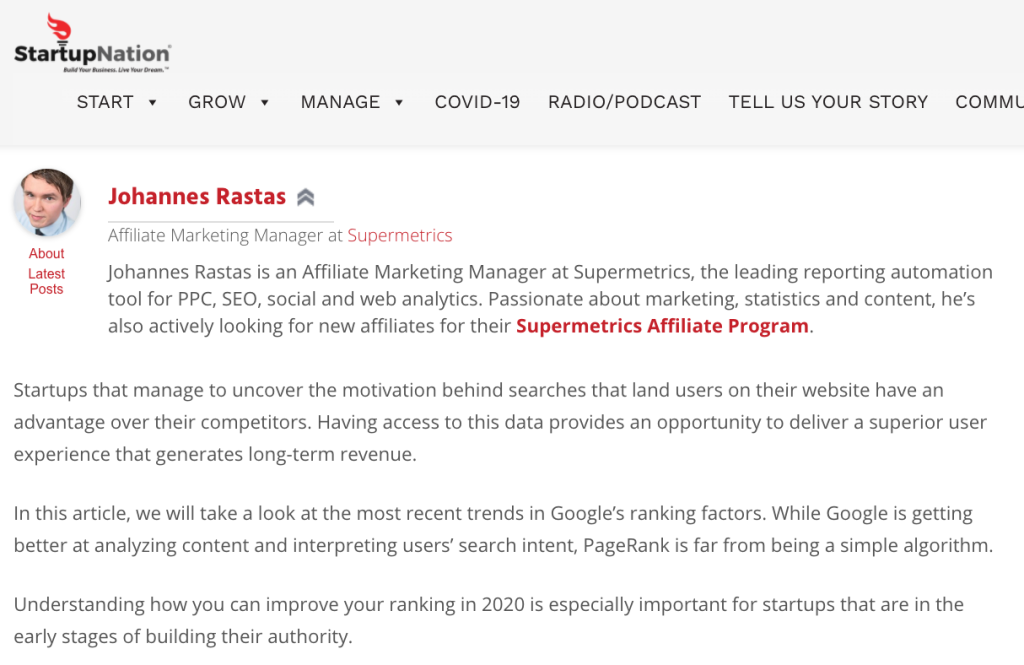 Conclusion
There you have it. We listed 6 alternative channels for affiliate marketing that you can use without having to build a website of your own. Success in affiliate marketing doesn't have so much to do with any particular channel. What you do need is useful content that serves the interests of your target segments.
Understanding which channels give the best results requires constant testing and optimization. And in the long term, you might also want to invest in your own website if you plan to make a substantial share of your revenue from affiliate marketing.
If you want to read more about the fundamentals of affiliate marketing, take a look at our Ultimate guide to affiliate marketing. And join our Supermetrics partner program to earn 20% recurring commissions from each sale.
---
About Johannes Rastas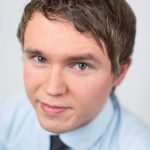 A Partner Marketing Manager at Supermetrics, Johannes focuses on expanding the Supermetrics partner program and collaborating with their existing partners. He also works with SEO and content on a daily basis. Feel free to contact him on LinkedIn.
Turn your marketing data into opportunity
We streamline your marketing data so you can focus on the insights.