Can you do affiliate marketing on Twitter? Well, that's what we're going to find out. Instead of simply promoting Twitter as a promising marketing channel for driving affiliate sales, let's take a more realistic look at this topic and try to evaluate whether it's a viable path for anyone's customer journey.
Would you click an affiliate link on a Twitter post and purchase the product within 90 days before the cookie expires? Does it really matter if the link is on your blog, website, or Twitter account? Isn't it all about targeting and product-audience fit?
While I'm not an affiliate marketer myself, I have access to a large affiliate base as an affiliate manager. And we obviously monitor our affiliate program's sales data as closely as possible. What I can say with certainty is that we have affiliates who use Twitter to promote our products to their audience. And some of these affiliates have earned thousands of dollars in affiliate commissions from us. However, it's worth mentioning that these people also use other social channels and have their own websites and agencies. So, they don't rely on Twitter alone.
Is Twitter still relevant in 2021?
While Twitter's growth has plateaued, it still has around 330 million users. And what's more important from a conversion perspective is who's actually using it. TikTok has experienced a huge increase in popularity recently but its largest user segment would never buy SaaS tools. That's why Twitter still wins over when it comes to affiliate marketing, at least in the SaaS niche.
Twitter is best used as a complementary channel that can drive a share of your affiliate revenue. But like every marketing channel, your Twitter needs to have an effective strategy in place.
This post will not discuss Twitter Ads, which is more related to PPC strategies than using Twitter as a social media marketing channel. However, given that Twitter Ads seem to have a higher CTR and lower CPC than for example Facebook Ads, it might be worth trying it out. That is, if you're willing to invest money up front to promote the affiliate offers on your landing page.
Strategies to use Twitter for affiliate marketing
Let's narrow it down to 3 key steps that are necessary for every Twitter marketer.
Targeting and gaining relevant followers
As in all marketing channels, you need qualified traffic to make sales. On Twitter, this means gaining enough relevant followers interested in your content and the affiliate products that you promote. Needless to say, you cannot buy such an audience. You must go the organic route.
If you're new to affiliate marketing, I would strongly suggest building a website audience first. On Twitter, even the character limit alone makes it impossible to build that audience from scratch.
Once your website starts to generate enough traffic, some of your visitors will surely be more open to following you on Twitter. Make sure your bio is aligned with the brand you've developed for your website and remember to add a link to it.
If you already have an active Twitter account, try to choose your affiliate products carefully so that they match the needs of your followers as much as possible.
Staying active and engaging with other users
To both stay active and gain relevant followers, you can start to follow users who publish content that's similar to yours. Choose a keyword that's relevant to your affiliate product and find users who post regularly on that topic. Then, follow those people and engage with them by liking, commenting, and sharing their tweets.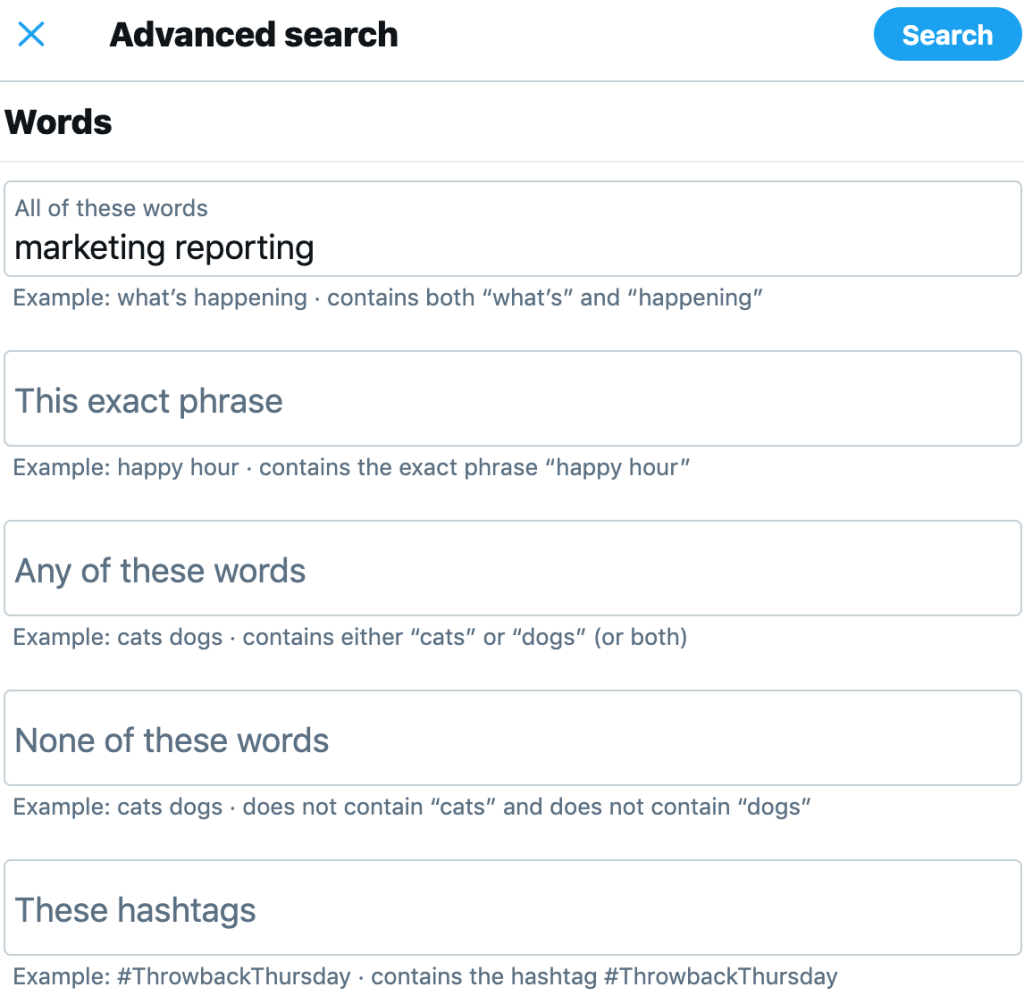 Your goal is to make yourself visible to their followers. Additionally, you may check who's engaging with their posts and follow and engage with those users as well. And in case other users in your niche carry out similar searches, make sure to use hashtags so that your own posts will appear in the search results. Twitter also allows you to send direct messages to other users, which is a good way to build a closer relationship and agree on collaborations with them.
But gaining followers through engagement and content organically can only take you so far.
The best way to scale your engagement rate and acquire more followers is to apply the reciprocity principle. This means contacting other users and agreeing to engage each other's posts on a regular basis. This you can do by sending direct messages to people in your niche or by establishing or joining a community of marketers who boost each other's content on social media. This is an effective way to build your presence online and it works for any channel.
If you're also selling your own products or services on top of your affiliate promotions, you could create campaigns around them on Twitter. For example, this could be a contest or giveaway that encourages people to engage with your posts or click your affiliate link. Whether you can promote a discount code for your affiliate offer should be agreed with the affiliate managers.
Posting relevant content
Targeting and engaging the right audience obviously depends on the content of your posts, too. Different social platforms have different requirements for posting frequency. Twitter is a dynamic channel where new posts appear fast and old ones are sunk into oblivion at the same rate. According to Moz, the median lifespan of a tweet is only 18 minutes. So, timing is everything.
But how do you create fresh and original content and keep up with this posting frequency?
You can start by creating a content calendar, where you write down your topics, post types, and dates. By creating and scheduling the posts in advance, you also ensure a consistent output.
Content repurposing is another useful technique, which saves you from the trouble of creating new posts from scratch. Your blog articles or content on other social platforms such as YouTube are ideal source material for repurposing. Share excerpts or key points of them on your Twitter.
You can also become a content curator by sharing content from other users or relevant articles from other websites. Just remember to have a balance and publish personal content as well.
How to use your affiliate link on Twitter (with examples)
The best way to explain how affiliate links might be used on Twitter is to show it with examples. Here we have two Supermetrics affiliate partners promoting our products to their Twitter followers: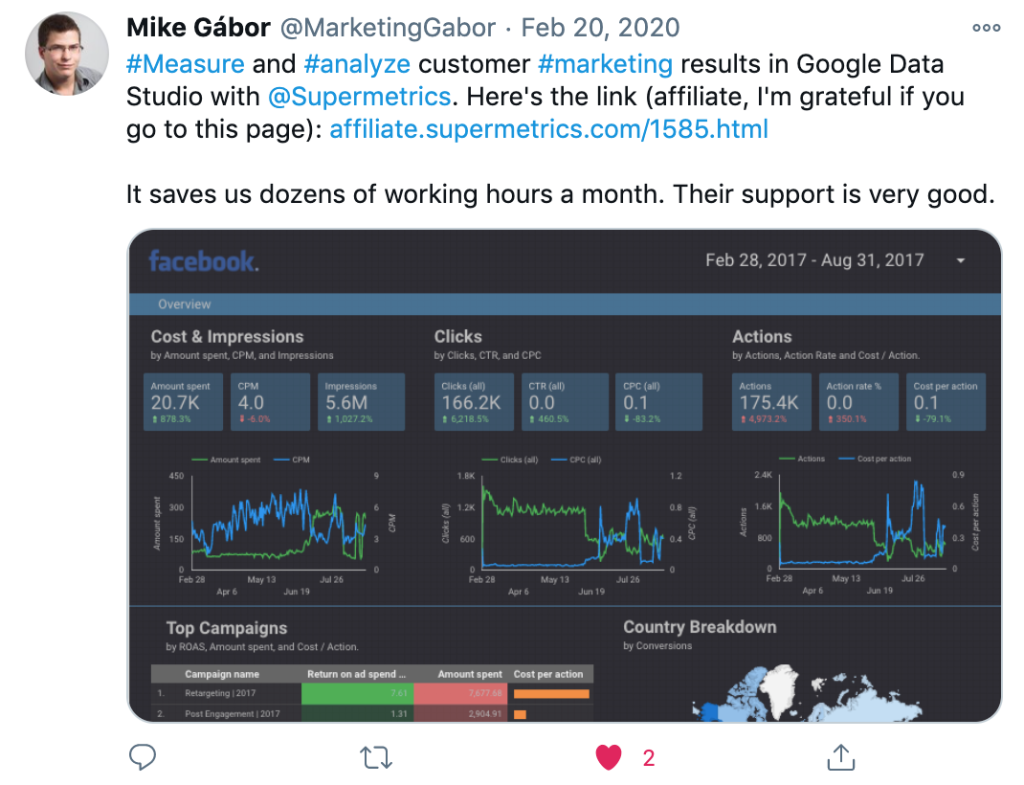 In both cases, the affiliate link is visible and not cloaked. In the second example, the affiliate has even included a short disclosure, which informs his audience that he's using an affiliate link. This is a good practice that creates transparency and helps his audience make informed decisions.
Both examples also include an image of the affiliate product — a Google Sheets report in the first example and a Google Data Studio dashboard in the second.
By showing that you use the product yourself, you add credibility to the post. So, for example if you're using our tool for Google Data Studio, you could share the most visually appealing dashboard you've built. Or you could summarize what features are especially important to you.
While most affiliate programs provide access to banners, text descriptions, and other marketing materials, try to add some personal touch to your post and avoid being overly promotional.
How to monitor the performance of your Twitter posts
This article wouldn't be complete without explaining how to monitor your Twitter performance.
At Supermetrics, we have three Twitter connectors: Twitter Premium, Twitter Public Data, and Twitter Ads. As an affiliate marketer promoting your affiliate offers on Twitter, you're most likely interested in our Twitter Premium connector. It allows you to analyze all of your organic activities on Twitter and compare them with the performance of other social networks on one platform.
By analyzing your tweet engagement, impressions, retweets, and hashtag performance, for example, you can understand better what kind of messaging resonates best with your audience.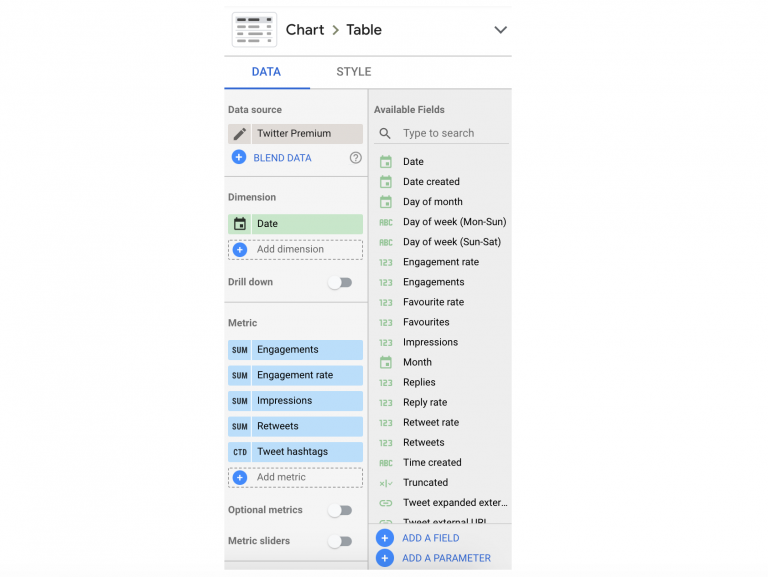 Then, adjust your Twitter strategy accordingly to optimize the performance of each new post.
If you're using Data Studio, you could try our free dashboard template for Twitter Premium. You will get a good overview of your organic performance on Twitter with all the relevant metrics.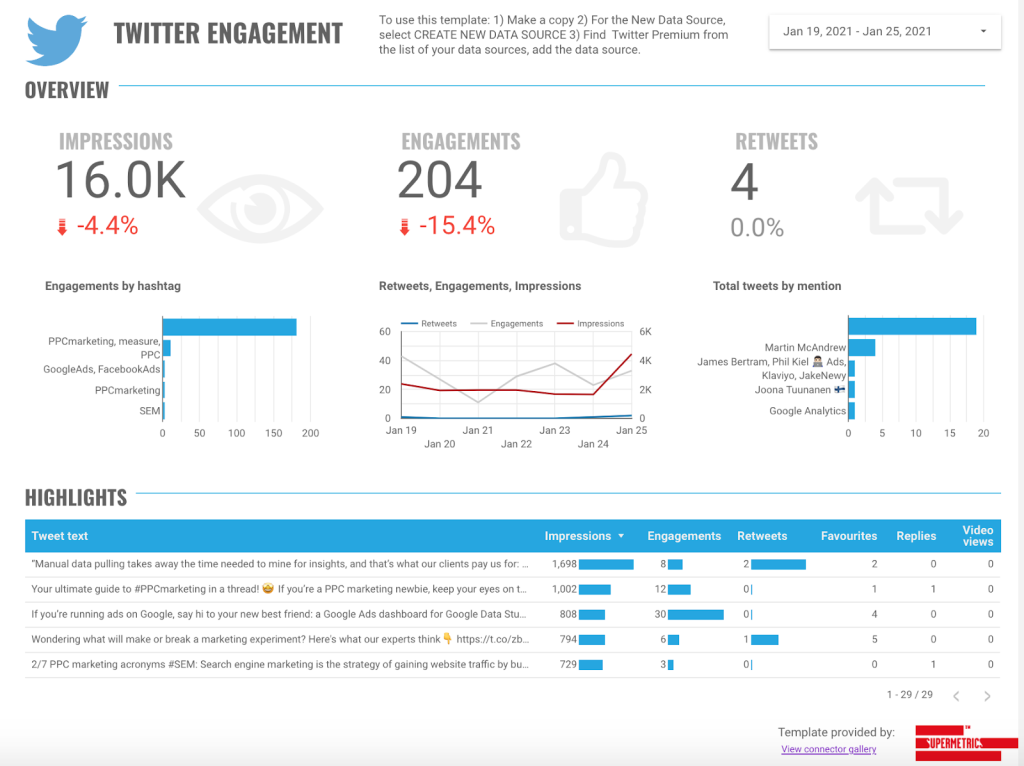 At the top, you have impressions, engagements, and retweets. And below are your most engaging hashtags, a time series of these metrics, and total tweets by mention. In the highlights section, you can also see your top-performing tweets by impressions alongside other metrics.
Conclusion
We can at least say that if you're willing to invest enough effort in targeting relevant followers, engaging with other users, and posting relevant content, you can manage to leverage Twitter for affiliate marketing sales. The fast-paced nature of Twitter means that you should monitor your performance continuously and make necessary adjustments based on available data.
Be transparent with the use of affiliate links and make sure to add a personal touch to your promotions. Only by showing your own use of the product, you can convince others. But unless you're a Twitter influencer, don't rely on one channel alone and use Twitter only to complement your affiliate marketing efforts on other platforms.
For more affiliate marketing tips, check our post about boosting affiliate conversions. And join our Supermetrics partner program to earn 20% recurring commissions from each sale.
---
About Johannes Rastas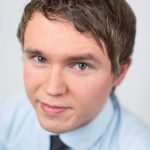 A Partner Marketing Manager at Supermetrics, Johannes focuses on expanding the Supermetrics partner program and collaborating with their existing partners. He also works with SEO and content on a daily basis. Feel free to contact him on LinkedIn.
Turn your marketing data into opportunity
We streamline your marketing data so you can focus on the insights.