Wondering how to do affiliate marketing on Quora? This guide will show you how to find traffic opportunities for your website. We will also cover how to promote affiliate links on Quora.
What is Quora
Quora is a question and answer website founded in 2009. It's a place where anybody can ask a question and get answers from community members.
Over the years, some of the answers on this platform were created by politicians, celebrities, and successful entrepreneurs. Quora grew to a popular resource and now has a massive amount of members and visitors, which can be leveraged to get more traffic to your website.
Affiliate marketing on Quora
Direct linking to affiliate offers is not allowed. Answers with affiliate links are considered spam and will be deleted. Posting direct affiliate links can get your account suspended and might even get your account banned.
That doesn't mean you can't promote your affiliate offers, it just has to be done indirectly.
Instead, direct your readers to a blog post or page that contains your affiliate promotions.
This is an efficient method of promoting your affiliate links without risking a ban.
The benefits of affiliate marketing on Quora
Here are the main benefits of writing on Quora to promote your affiliate business:
Showcase your expertise and become an authoritative voice
If you're running an affiliate website, your goal is likely to establish yourself and your website as an authority in your niche.
Quora is a great platform to demonstrate your expertise. The questions and answers format is perfect for giving advice on real life problems. As your number of followers increases, so does your reach. This will make it easier to achieve success in affiliate marketing on Quora.
Quora boosts your long-term organic traffic
As the platform grows, so does your organic traffic. Every day, more questions are covered by Quora and pop up in Google's search rankings.

The great thing is, you only need to create a good useful answer once, and you will keep receiving traffic from that source in the future.
In time, you will collect upvotes from your growing group of followers. Every time your answer gets upvoted, your content shows up in the upvoter's feed. That means the exposure of your answers will keep increasing.
Not all questions will attract views. But if you choose questions wisely, you can reap the benefits of Quora as a long-term organic traffic source.
Get published on major websites that source content from Quora
Some major websites like Forbes, source content from Quora to publish on their own website.
If you write a great answer and it gets picked up by a large site, this is great news for getting extra traffic to your blog.
How to promote affiliate links on Quora
So, how to promote affiliate links on Quora without breaking the rules? Let's start with creating a great profile.
Step 1. Generate traffic with a strong profile
If you want to stand out in the sea of Quora users, you need to put some effort into optimizing your profile.
Your headline and profile text is important because it shows the reader your credibility to answer questions in your field. Your profile bio shows up on all the answers you write.
Traffic to your profile will increase as you answer more questions. From your profile, you want lead people to your affiliate website.
A good profile and bio describes your expertise, experience and interests. It also highlights what you help people with.
Here is an example of a great profile by Esteban Martinez (marketing director at Addicted 2 PPC).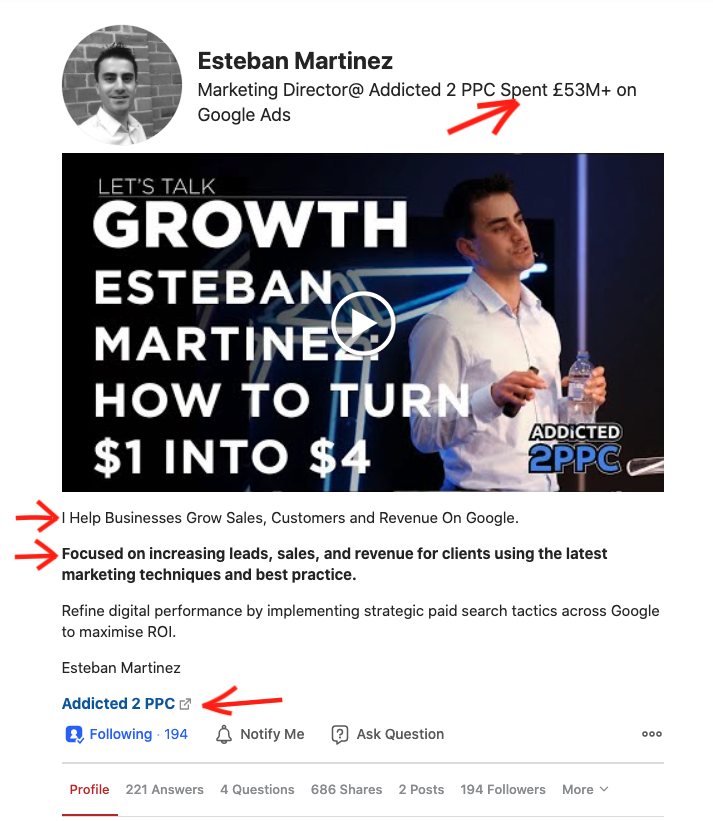 In the main headline, his experience is made clear by demonstrating the amount of ad spent his company has worked with.
Next, he states what he helps people with. Some parts of his profile are formatted bold, to focus on his expertise and interest. We can also find a hyperlink to his agency website.
It only takes a few seconds to understand his field of work, and as you can see, it's even possible to add a video introduction to your profile.
This summary section is only visible when somebody clicks on your name and visits your extended profile page. Different formats are supported and you can create, for example, bullet points and sections in italic.
This is also the place where you add your affiliate website link. You can insert your website name as an anchor text or mention interesting articles you want to highlight to the viewer.
You can expand your profile information with:
Interesting professional stories and achievements.
Publications and collaborations in your field.
Your social media profiles and other web pages.
Step 2. Find popular questions that match your niche
Now it's time to browse topics inside your niche and find the questions that get views and drive traffic.
In this example, we're looking for popular questions in the marketing niche. Start off by finding a topic inside that niche.

To demonstrate this, I selected: Topic: Search Engine Optimization (SEO).
Inside this topic, we can see it has 1.3 million followers.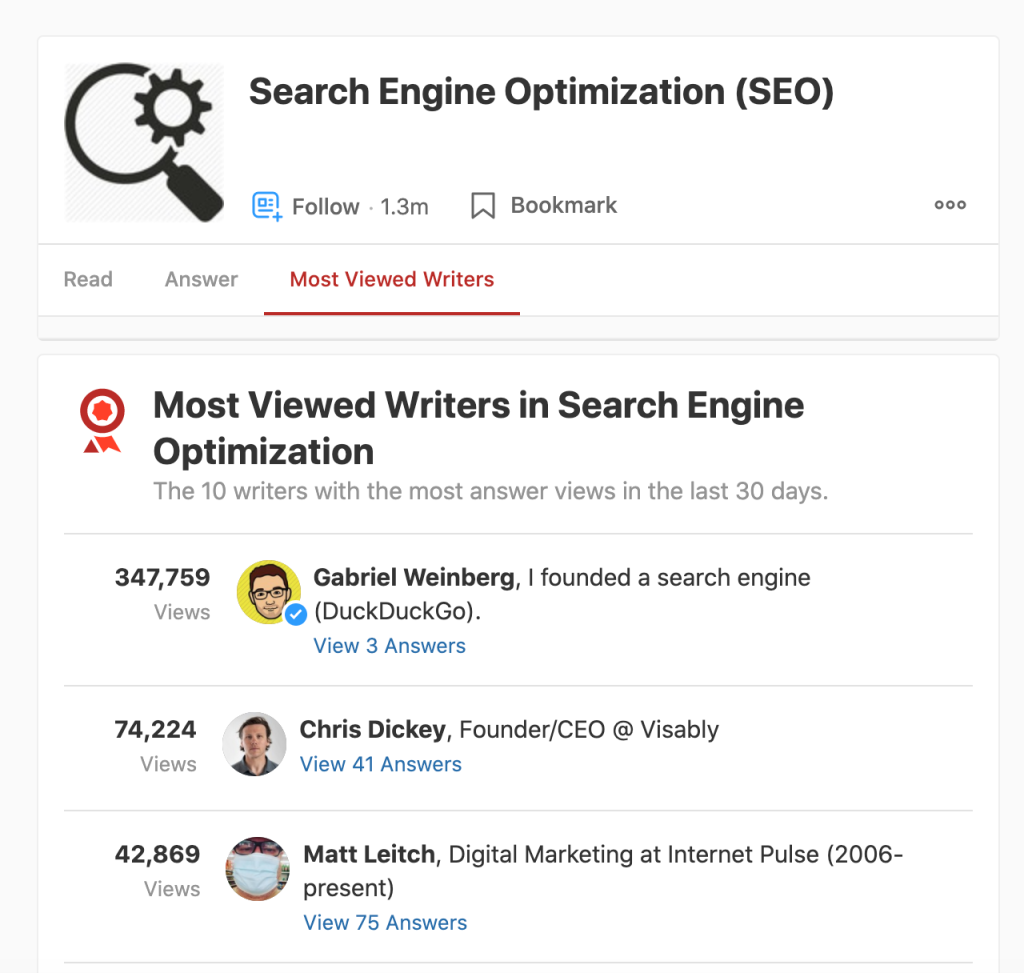 If you browse "read," you get a selection of questions inside the topic. This list often contains popular questions on the topic, as you will notice by the large amount of upvotes they have.
The "answer" tab will show you recently posted questions that need an answer. You can find out how many people are interested in knowing this answer by checking the number of people who clicked the "follow" button.
And lastly, we can see the most viewed writers on the topic. Underneath the writer's bio, click "view answers." Choose a popular writer in your niche topic.
Now, we can zoom into some of the writer's most viewed answers. Filter the questions by "all time views" to put the most popular ones on top.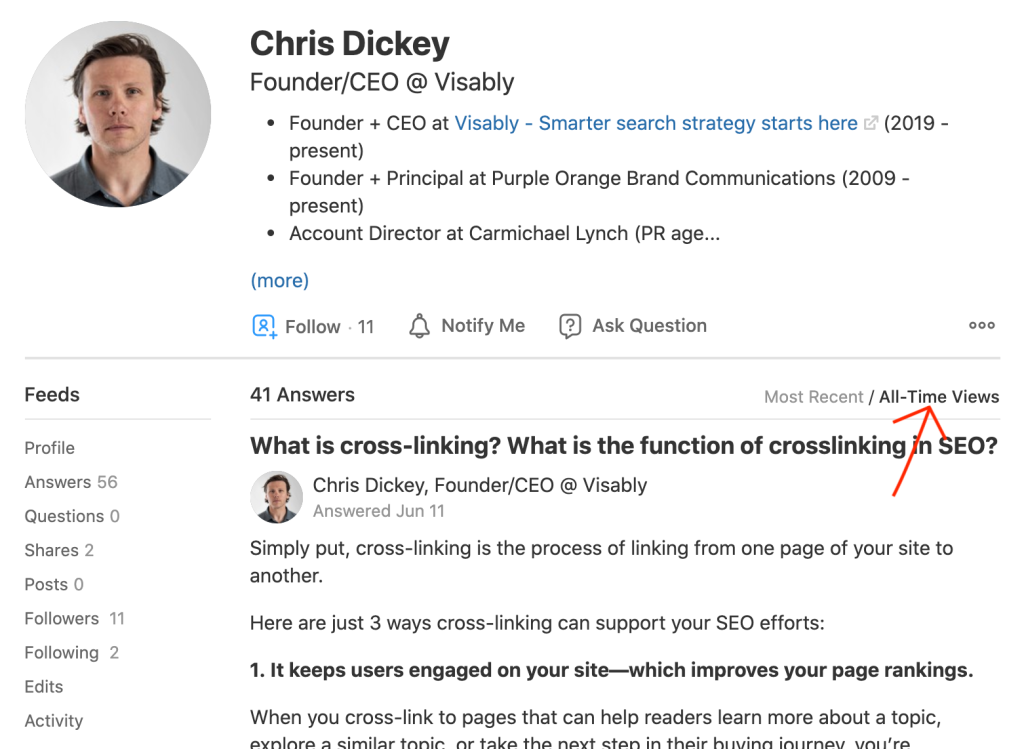 We find that the question "What is cross-linking? What is the function of crosslinking in SEO?" lands on the top. And if we open the question and scroll to the bottom, we indeed find it has over 90K views.

This method is great for finding questions that get a lot of exposure inside a niche.
Select the ones that match your current affiliate content or get ideas to produce new content. Always make sure linking to your affiliate content is relevant.
Track relevant topics and new questions
You can also find new questions by tracking relevant topics. Make sure to hit the notification button to stay up to date. Connect with writers in your niche and follow their activity.
Because you entered your field of expertise in your profile, you will also get notifications of people who ask you, an expert on that topic, to answer their questions.
Browse newly entered questions for opportunities. Responding fast to new questions can give you an advantage in collecting upvotes.
Re-answer questions covered on your affiliate blog
If you did in-depth keywords research for your blog posts, chances are you already answered some highly relevant and sought after questions on your blog.

Find these questions and you have the perfect place to add a valuable answer and link to your content.
Step 3. Create excellent answers
Now that you found some questions to answer in your niche, let's go over the main strategies to produce great content on Quora.
Always provide value
The main goal of the Quora community is to spread knowledge, not promote yourself. Align your answers with this goal and focus on providing value to your readers.
Don't just recite what other people have answered. Be original. It's okay to answer questions which have already been answered, just make sure to either explain the same points in more detail or add extra relevant information in your answer.
The aim is to have the most comprehensive and useful answer on the thread. Any facts you mention should be accurate. Make your answers relatable by providing real life examples, especially if it considers a "how to" question.
Use good formatting
Let your answers stand out with custom formatting like bold and italics. Create hyperlinked text to your affiliate site, use bullet points and add mentions of other users and topics.
Don't write answers in huge blocks of text. Keep space between your points. Paragraphs are important because they make your answer easier to read.
Add visuals and be aware of visible text
You will find that popular answers often have something in common; they have visuals alongside their answer.
Quora might not be known as a visual platform, as the information exchange is mostly in written form.
Still, people tend to be very visually oriented. Adding images will catch your viewers' attention and increase your chances for an upvote. Find or create relevant images that support your answers.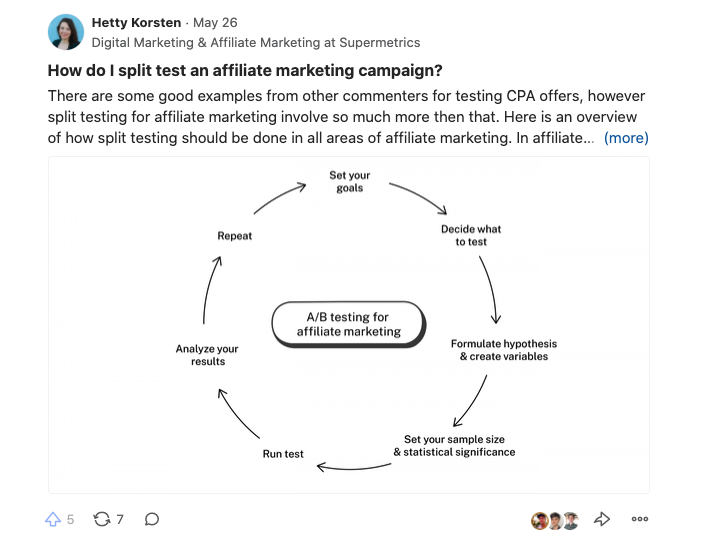 Be aware of the amount of text visible before the "more" button in your answers. Use the limited characters that are visible to create curiosity.
Write with passion and humor
People come to Quora looking for:
1. answers to complex questions that Google can't provide,
2. real life examples and solutions, and
3. entertainment.
Basically, people are looking for human answers on Quora. Popular writers produce answers full of passion and humor in their field of expertise.
Although humor might not fit your niche and approach, keep in mind that writing in a more personal style can bring you success on Quora.
Start your Quora traffic engine!
Hopefully, this guide helps you boost your affiliate marketing on Quora. Writing on the platform takes time and dedication but can definitely be worth the effort.
Find more tips on how to use Medium for affiliate marketing or check out these strategies to increase your affiliate marketing conversions.

And join our Supermetrics partner program to earn 20% recurring commissions from each sale.
---
About Hetty Korsten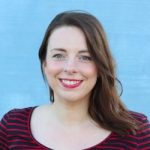 Hetty Korsten is a Partner Marketing Manager at Supermetrics. She has worked for fast-growing SaaS startups in Copenhagen and Helsinki. Currently, she's growing the in-house partner program at Supermetrics. Feel free to connect with her on LinkedIn.
Turn your marketing data into opportunity
We streamline your marketing data so you can focus on the insights.