Jul 7, 2020
Affiliate marketing on Medium: How to make money on Medium using affiliate content
8-MINUTE READ | By Hetty Korsten
[ Updated Jan 18, 2023 ]
Want to write for Medium and grow your affiliate marketing business? Publishing there can be an efficient way of attracting more affiliate revenue.
In case you wonder how to make money on Medium, this article will cover how to:
republish your affiliate content
drive traffic to your affiliate website
use affiliate links on the platform
Affiliate marketing on Medium
You can make money on Medium and gain exposure to your affiliate website by sharing your expertise. This can be done by creating new content or reposting some of your previous articles. First, let's have a look at why this is a great channel for affiliate marketing.
Why should you write for Medium?
Medium is an online publishing platform for amateur and professional writers. It's a place to share knowledge and stories, and many people regard it as a blog host.
It has a huge audience and belongs to the top 300 of most visited websites worldwide at the moment. This huge audience is a great opportunity to expand your affiliate marketing on Medium.
So how can you utilize Medium for affiliate marketing? Let's start with republishing your affiliate content to drive traffic to your affiliate website.
Republish your affiliate content
Create an account on Medium. You can do this by using your Google or Twitter account, or by registering with your email address.
Next, in the right sidebar, you click on your profile picture and choose "stories."

Here you can upload new articles and find your previously published content. Click on 'Import a Story' to continue.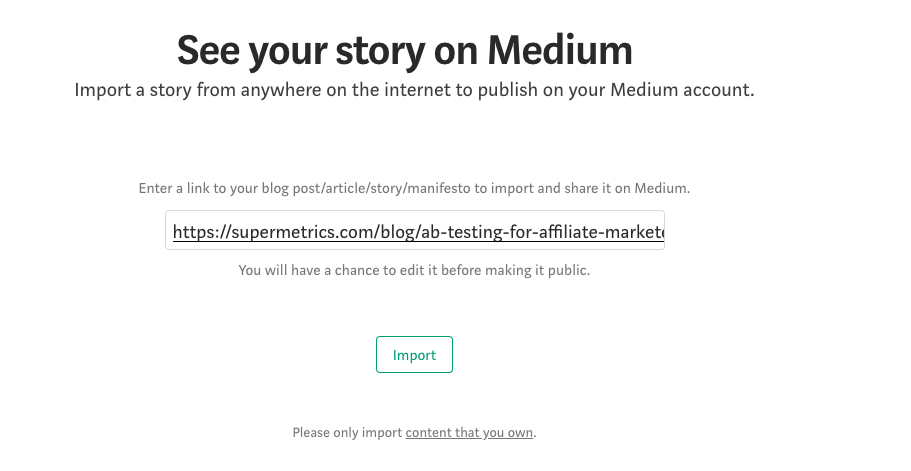 Paste your article URL and click "import". It will take a moment for Medium to find your article and import the content.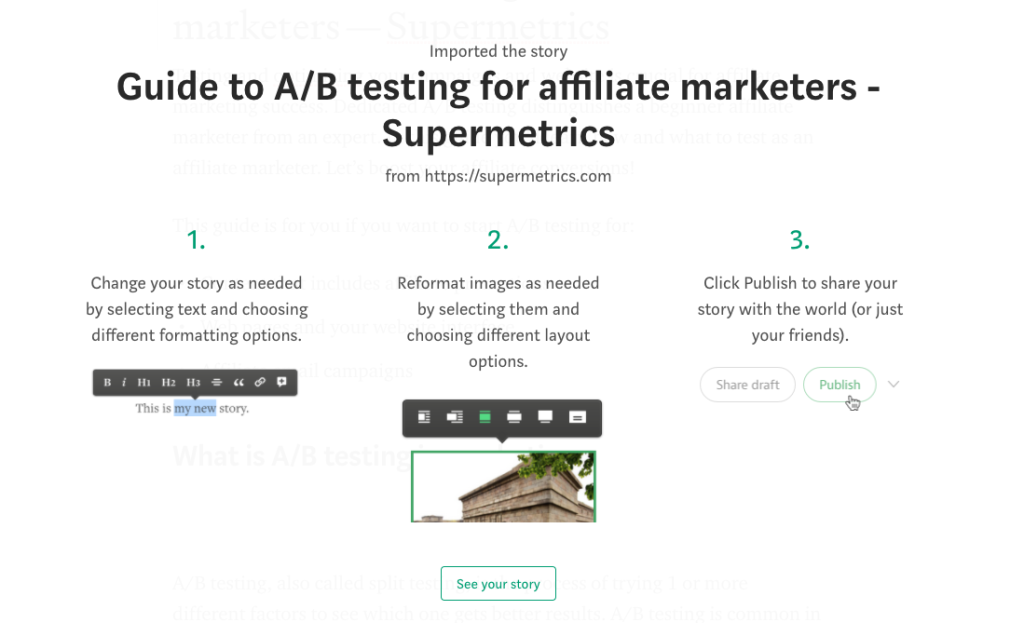 You will now see a page with the steps to format your content to fit the Medium platform. Click 'See your story' to proceed to the editing page.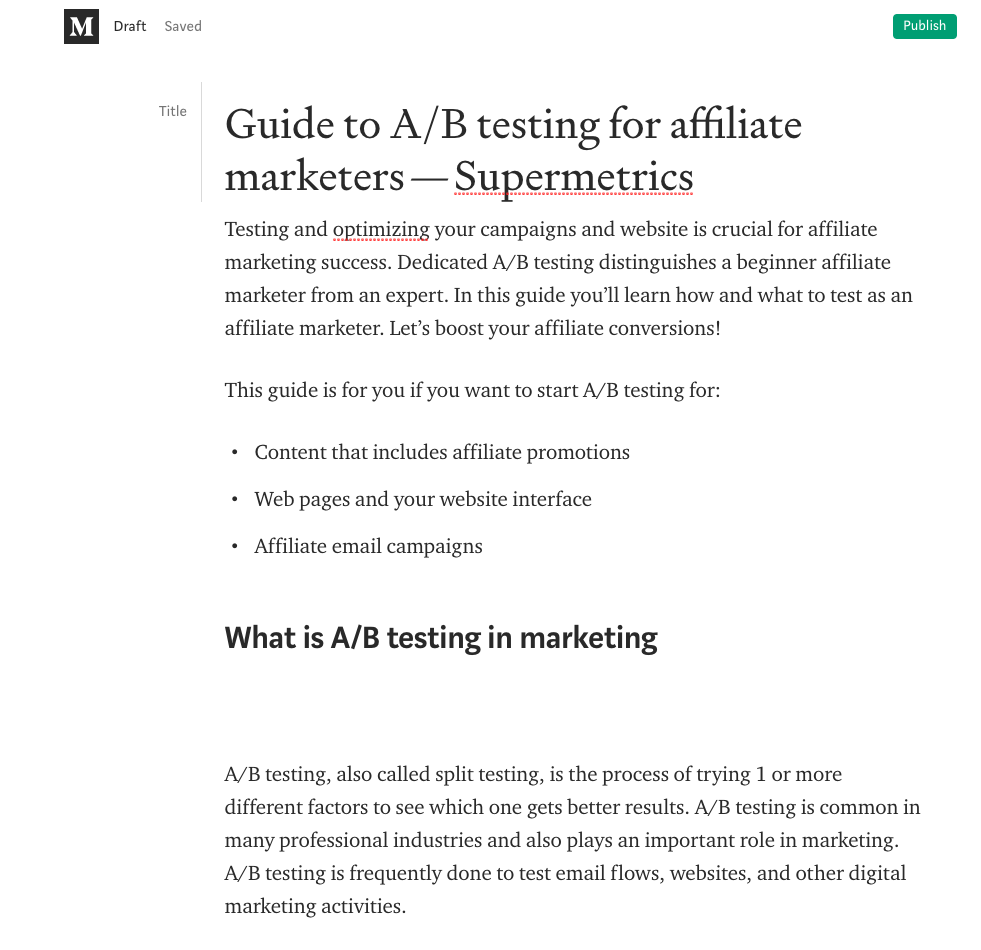 On this page you can make final edits and reformat images of your post. Once done, hit "Publish." Now, you can add relevant tags to the post. Try to add at least 5 relevant tags to your article. This helps you gain exposure. Hit "Publish" again and make the article go live.
To get the most out of this strategy, make sure to include lots of relevant links to other content on your affiliate website. This will boost traffic to your affiliate website.
Blog posts on Medium automatically have a link that leads to the original article. So, traffic will also be generated if the reader clicks that link.
Once the reader lands on your website, you can continue with strategies like collecting email sign ups and linking to other affiliate content.
How to use affiliate links on Medium?
Medium does not ban content with affiliate links. So, you can link directly to your affiliate offers on Medium.
However, Medium's systems are designed to accelerate the popularity of content that readers deem great. So, stuffing a low quality article with affiliate links and republishing it on Medium isn't going to work.
For a brand new affiliate site, you might want to post a few quality articles without affiliate links first, and find a way to lead your readers to affiliate promotions. Experiment and find out what works best for you.
Remember to always disclose the use of affiliate links in your article. Third-party sponsored posts and marketing methods such as display ads are not allowed.
The exact policy of Medium on publishing content with affiliate links is the following:
"You must disclose affiliate links or payment for a post. Affiliate links, such as link out to Amazon with your code, or any other link out where you will receive a commission or other value, are allowed in posts. But, you must disclose somewhere in the post that it includes affiliate links. If you have received payment, goods or services, or something else of value in exchange for writing a post, you must still disclose this fact in writing within your post."
You can find Medium's full policy on in-post promotion and affiliate links here.
Medium also lists non-disclosed affiliate links in the Curation Guidelines as one of the 'Story disqualifications.' Not being clear about including affiliate links to your readers will therefore get your article unpublished.
Even though you are allowed to place affiliate links on Medium, don't add call to actions to your affiliate links. This is not appreciated by the platform and doesn't belong in a genuine, well-written expert article.
How to make sure your article ranks on Medium
Following the Curation Guidelines mentioned above is important for multiple reasons. Besides avoiding a ban, it also plays a role in ranking. Medium's curation team makes sure to only pick articles that meet the curation guidelines.
Fresh content is selected by curators and assigned to the readers recommendations list. Most content on Medium does not get many views and it's important to take steps to increase your chances of exposure.
If you want your article to be picked out by a curator, make sure to follow the curation guidelines.
Important factors to make the selection:
High editorial standards
Written for the reader
Claims made are supported with sources mentioned
The article is honest and written in good faith
Properly formatted for different devices and without errors
Images shown are relevant for the topic
Quality content
Be honest and ask yourself:
Does your content meet the quality standard needed to rank well on Medium?
It is really important to post insightful and honest content on Medium. If you're used to pushing your affiliate links aggressively and bombarding readers with pop-ups, you might want to pass on this method. In order to make money on Medium, you need to carefully select the content you publish.
Wondering if your content needs to be improved? Read more tips on How to write affiliate content that ranks.
Getting Claps ?
Claps are given by readers who like your post. Stories on Medium are ranked by the amount of claps it gets. The more claps, the better the ranking. This system also looks at the value of an individual clap. Medium evaluates each clap to see how often this user typically gives claps.

Expert vs no expert
If you are an expert in your niche, great! This means you can write insightful articles for your audience, and you'll have a good chance to get 'claps' and start ranking.
If you're not an expert, it's ok! Just don't pretend to be one. Readers will see through this right away, especially on a platform with such emphasis on quality reads. Writing on Medium from your own honest perspective and knowledge is appreciated.
Headlines
Vague and creative headlines can be appealing to use on Medium, but most high-ranking content has a pretty straightforward title. Make sure the audience only needs a quick read to grasp what your article is about.
Social
To improve your visibility, link your article from other blog posts and let your article circulate on social media channels.
Niches that work on Medium
Not all topics work great on Medium. High-ranking articles are often about self-improvement, tech or start-up culture.
Other good performing tags on Medium are related to productivity, relationships, and marketing. To make money on Medium, it's best to have content and affiliate offers in these niches.
Will my duplicate content on Medium get penalized by Google?
As we know, Google is not a fan of duplicate content. However publishing similar content on a so-called "canonical URL" won't get you a penalty.
This is because Google recognized that some content on the web provides value, while being similar to other content. The canonical URL points to Google the content which is the most representative from the online versions available.
Medium makes your published content a canonical url by default.
Can I make money on Medium with the Partner Program?
Yes, Medium has a Partner Program which you can enroll to earn money. The program is free and open for anyone to join. You don't have to be a paid Medium member to join.
Payments are based on views and engagement. The more in-depth readers read your content, the more money you make.
This basically boils down to reading time. The higher the quality of your content, the more time readers spend on your article and the bigger your payment at the end of the month.
When you publish an article you can choose between having it open for everybody to read or locking the content behind a paywall. This paywall makes the article only available for readers that have a paid subscription.
Every non-member gets to read three articles behind the paywall per month. After that the content is blocked from reading.

A paywall might seem to block traffic and decrease your readers. However, content behind a paywall often gets more promotion by Medium, as it results in more paying subscribers. You can therefore end up with even more readers than without the paywall. It's up to you if you want to turn the Paywall on or off.
You can have affiliate links in your article and join the Medium Partner Program at the same time. This means you have two ways to monetize the same article.
If you want to make money on Medium through their Partner Program, make sure to turn on your earning settings when publishing an article.
Hopefully these tips will help you boost your affiliate marketing on Medium and help you increase your affiliate conversions.
Learn more strategies to boost your affiliate conversions or check out how to use TikTok as an affiliate here.
And join our Supermetrics partner program to earn 20% recurring commissions from each sale.
---
About Hetty Korsten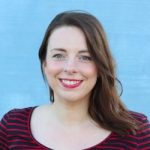 Hetty Korsten is a Partner Marketing Manager at Supermetrics. She has worked for fast-growing SaaS startups in Copenhagen and Helsinki. Currently, she's growing the in-house partner program at Supermetrics. Feel free to connect with her on LinkedIn.
Turn your marketing data into opportunity
We streamline your marketing data so you can focus on the insights.