Jan 12, 2021
Ultimate guide to affiliate marketing on Facebook
7-MINUTE READ | By Svetlana Gryaznova
[ Updated Jan 31, 2023 ]
Let's face the facts. Facebook is the biggest social network worldwide. Billions of people scroll through their Facebook feed monthly, which makes it a decent traffic source for many websites. Regardless of who your clients are, they spend at least some of their time on Facebook.
Representing your affiliate business on Facebook can be just as important as it is on your website. But how do you get started with affiliate marketing on Facebook? There are several options, but the most popular way is to either create a business/influencer page or a private group for your clients.
With a Facebook Page or Group, it's easy to reach your target audience. By setting up one of them, you'll get access to targeting tools. These allow you to identify and reach those people who would like to hear about your offer.
The visibility that Facebook creates for your affiliate business is huge. And Facebook is a solid tool to build brand loyalty and credibility in general. It gives your referrals a place to interact with you and with each other. Plus, it's also free.
That said, if you're looking to level up your affiliate business, here are some best practices on using Facebook to do it.
Creating a Facebook Page
Create a new Page
To create a Facebook Page for your affiliate marketing business, go to http://facebook.com/pages/create, and start filling in the details.
While your Business Page is quite similar to your profile page on Facebook, there are some key differences. The Business Facebook Page is more similar to your website.
Home page contains all the details of your business (name, address, description, phone number, or email). The main feed is also here, so you can share the content, photos, and videos with your audience.
Other important Page sections are Reviews, Jobs, Events, and Insights. The best advice before filling in your Business Page is to get familiar with it. Click on all the menu options and play around with different Page settings.
Grow your affiliate business with a Facebook Page
Add call-to-action button
How do you turn your audience into clients? The call-to-action button on your Facebook Page should entice users to click. This is the main action you'd like your Page visitors to undertake. You can choose from a series of options, for example, Contact Us, Send Message, and Learn More.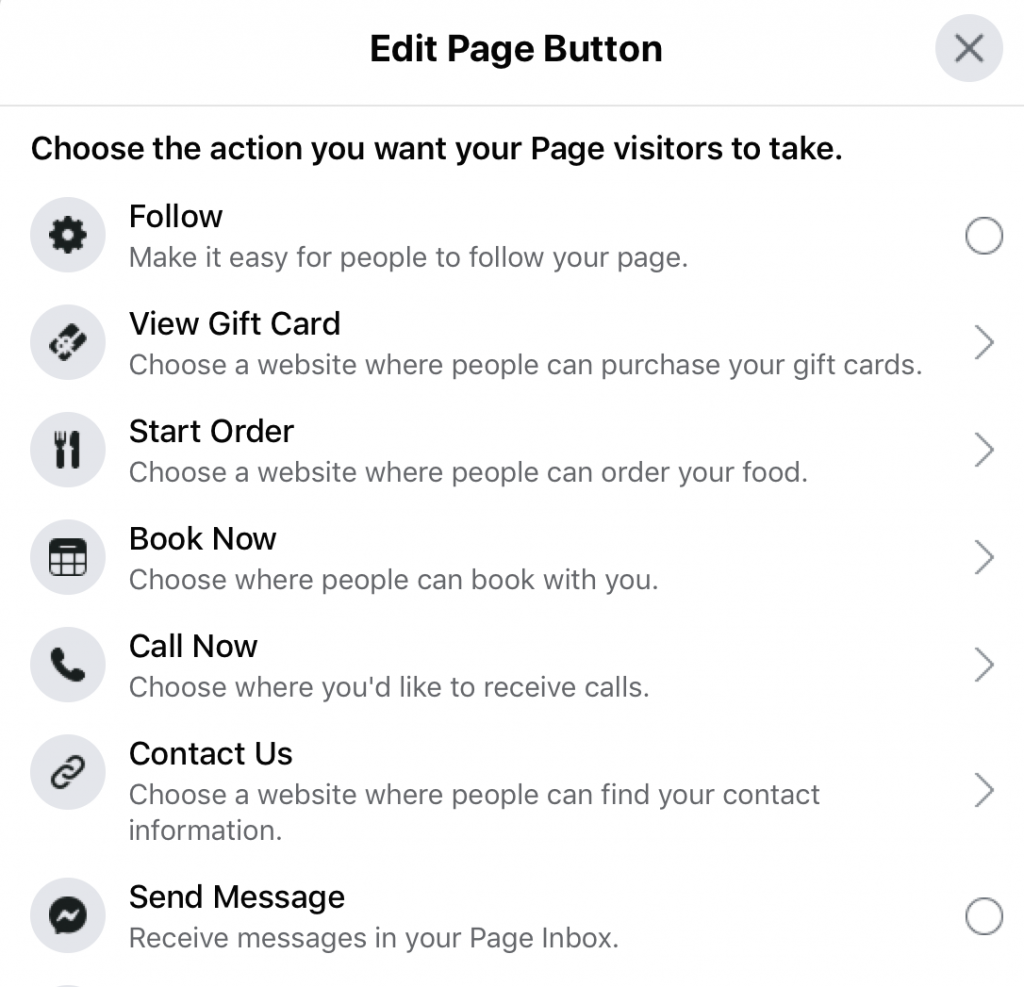 Modify Page settings
Let's quickly go through what parts of the Page you can customize to get the most out of it. Head to your freshly created Facebook Business Page and find 'Page Settings' in the main menu on the left.
The Settings menu covers pretty much everything you need to adjust on the Page – from selecting who can post to deciding whether you'd like to add automated greetings to the messages.
If you're new to Facebook Business Pages, one cool feature to know is 'Templates and Tabs.' You can choose a specific template that's more suitable for you with default buttons and tabs designed to help your Page grow.
Create an exclusive affiliate offer
A good way to grow your visibility as an affiliate on Facebook is to create an offer. If your affiliate program issues a coupon code for you and allows you to publish it online, this feature is exactly what you need.
You'll find the 'Offer' button right underneath the posting box. Go ahead and choose among an offer, discount, or deal and fill in all the details. Just like with any other Facebook post, your audience can comment and engage with it.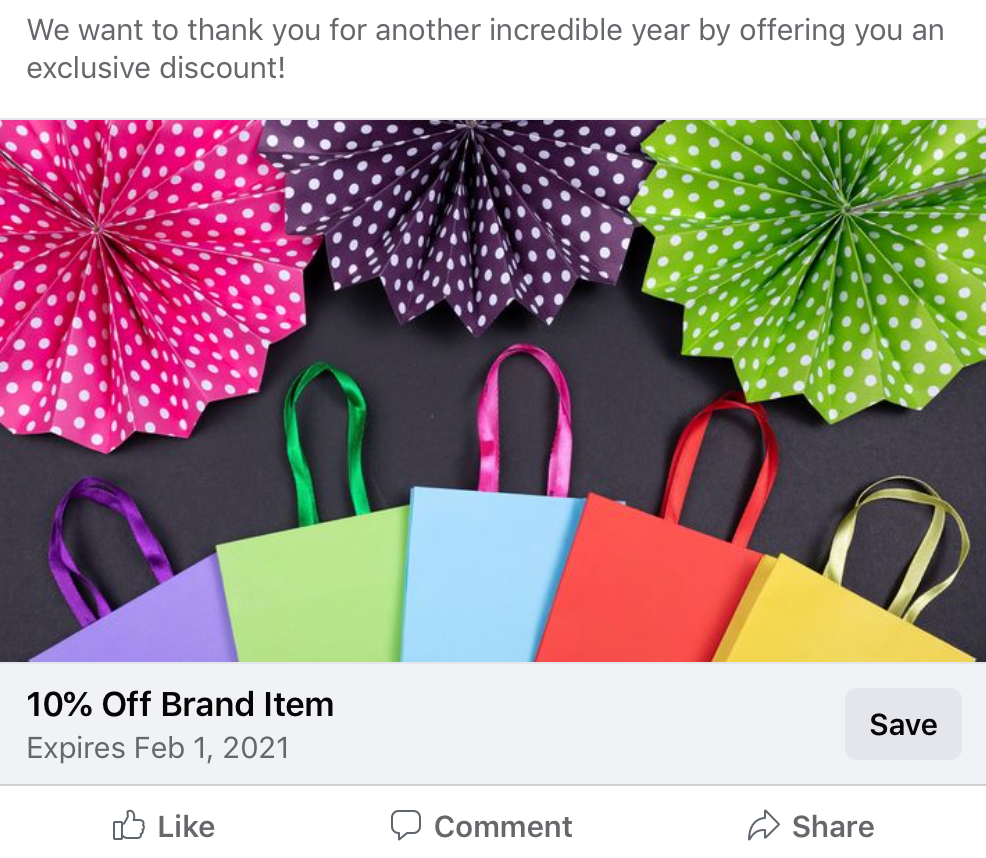 Understand Facebook Insights
Facebook Insights is the place where you'll see all the data for your Facebook Page. This section contains detailed analytics, including what posts work best, and how people interact with your content.
Once you have your strategy figured out, you need to keep track of your results. Luckily, there is the Supermetrics Facebook Insights template, which can help you quickly check the overall performance of your Facebook Page.
Creating a private group
Alternatively, you can consider launching a group on Facebook. But how is a group different from the Facebook Page? The truth is, they are quite similar. The main difference is that the Page can never be private.
If you've ever graduated from university, I bet you're part of a private alumni group. So, a private group is a place to connect with other like-minded people. However, it's only suitable for affiliates who already have an active audience or clients they work with on a regular basis.
For example, as an affiliate for an ecommerce brand, you can create a small secret community, where you share files, tutorials, and exclusive deals, or answer questions from your audience.
Posting on Facebook
First of all, think about the type of content your visitors would appreciate. Don't miss out on engaging formats like videos, opinion polls, and even events. Try dedicating one day of the week to a specific topic like "Tuesday tips," so that your visitors will stick around and return for more content later.
It's a good idea to set up a content calendar and plan posts in advance. You can prepare the content beforehand and schedule it to be published at a specific time in the future. To schedule a post, head to the 'Publishing Tools' in the Page Settings. This ensures you never miss a deadline and always have a time buffer that helps you maintain consistent output.
Consistent content is key to a loyal audience. It's fine to post every other day or three times a day. But whatever frequency you choose, try to stick to it. Your visitors will expect you to post daily if that's what they're used to. Before committing yourself to any schedule, think about whether you'll be able to consistently publish at the same pace for a year or two.
Generating leads – best practices
Promote blog posts
Writing blog posts to grow your affiliate marketing business is a good practice. Pick the blog posts that generate the most leads on your website and share them on Facebook. This will help you attract more people to the Page. Don't forget to add a CTA to the post encouraging your readers to learn more, comment, or share the post with their friends.
Publish videos
One of the best types of content you can post on any social media is video. It takes more effort to put together a video but it also captures attention like nothing else. People are more likely to watch a video rather than read a lengthy post. If you decide to make a video, we advise you to go the extra mile and also make subtitles for it. A lot of people will be watching your video without sound. So, make sure they don't miss out on any critical information.
Pin the most popular post
Facebook allows you to pin any post to the top of your Page. This way, it'll always be the first post your visitors see. Use this feature to your advantage and to draw more attention to your content. Try pinning one of your best performing posts and see if you can boost its performance even more.
Run a contest
One of the best ways to generate new leads and engage with your existing audience is to run a contest. Most likely, you'll need to set up a separate contest landing page on your affiliate website with the terms and conditions and rewards. However, you can still publish a post promoting your affiliate marketing contest on Facebook with a brief description and link to your landing page.
Add affiliate disclosure
Keep in mind that any product-promoting posts on your Facebook Page must have an affiliate disclosure stating that you may receive a commission from any purchases through your links. It must be visible and placed close to the affiliate link itself. Failure to comply with disclosure regulation may have legal consequences. Learn more about affiliate disclosure and how to use it in various media in our article here.
Running ads on Facebook
To advertise on Facebook, you need a Facebook Business Page and an ad account. Once you have these two, you can head to Facebook Ads Manager and set up your first Facebook ad.
In general, your Facebook Ads strategy depends on your affiliate marketing goal. In programs that reward affiliates for clicks, you can allow yourself to expand your targeting and reach a broad audience. If you have to bring in sales only, then narrow targeting is the way to go.
As with any advertising, you should gather enough data to analyze which ads, target groups, and keywords performed the best and then adjust your campaign accordingly.
Learn more about how to optimize your Facebook Ads campaigns here.
Final thoughts
If there's only one thing to highlight, it's that Facebook for Business is still the same old platform we're all familiar with. So, no worries. Just remember, running a successful Facebook Business Page is always about creating value for your visitors.
Now, that you're aware of the key steps of setting up a Facebook Business account and know all the best practices, you've paved the way for a bright affiliate future. ?
Continue reading about affiliate growth strategies here. And join our Supermetrics partner program to earn 20% recurring commissions from each sale.
---
About Svetlana Gryaznova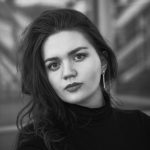 Svetlana is a Partner Marketing Manager at Supermetrics. By combining both her engineering and business education background, Svetlana has worked in several startups across Europe. At the moment she is applying her knowledge and skills to help grow the Supermetrics partner program. Feel free to connect with her on LinkedIn.

Turn your marketing data into opportunity
We streamline your marketing data so you can focus on the insights.