Feb 10, 2021
Best free and paid affiliate marketing forums in 2021
8-MINUTE READ | By Hetty Korsten
[ Updated Jan 17, 2023 ]
Wondering which affiliate marketing forums could boost your affiliate business this year? Check our list of the best free and paid affiliate marketing forums that can bring you fresh marketing ideas and commissions in 2021.
Why join affiliate marketing forums?
Forums are a great place to learn new affiliate marketing strategies and keep your knowledge up to date. They contain specific information for affiliate marketing professionals and can show you new methods to boost your commissions.
Another major advantage of forums is the ability to get direct answers to your questions. You can get responses from expert members in the affiliate marketing industry. This makes forums a good starting point.
Ready to up your affiliate game in 2021? Let's dive into the best affiliate marketing forums in 2021!
Best free and paid affiliate marketing forums
The iAmAffiliate community is an excellent source of affiliate strategies and support. You can find many useful articles, affiliate threads, and marketing tool reviews.

The website also has so-called "follow along campaigns" where new affiliates can follow the campaigns of more senior marketers and see how they implement their strategies in practice. This is of special interest to beginners who need more hands-on guidance on executing campaigns. The campaigns serve as a unique opportunity to learn from successful affiliates.
Other useful sources of information on the platform include the tutorials, case studies, and of course the forum.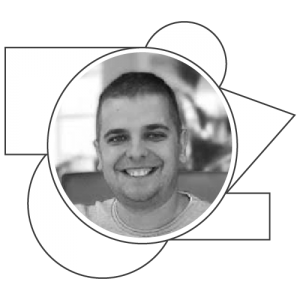 We asked Attila a few questions about the platform and its value for affiliate marketers.
Why did you decide to start iAmAffiliate?
"I created iAmAffiliate because people always asked me If I can coach them 1-on-1 and also if I have any online courses. I have little time for coaching because I spend 80% of my time running affiliate marketing CPA campaigns on Facebook and Google. Creating a good course or coaching is a full-time job. IAmAffiliate allows me to help people for a much lower price."
According to your experience, what advantage do affiliates get from joining an affiliate forum?
"The biggest benefit of a forum is being able to get 1-on-1 help. You can create a post and ask specific questions that relate 100% to what you are doing and get actual help, ideas, and advice on how to proceed.
This type of 1-on-1 help was paramount to my success in affiliate marketing. I remember when I was a newbie. I had so many questions that it was great to talk to people who know the right answers instead of searching around Google and hoping the answers I found were legit."
What makes iAmAffiliate different from other affiliate forums?
"iAmAffliate is different because we stay up to date. A lot of other forums talk about general things and old, outdated strategies that don't work or are saturated with too much competition.
There are also forums that only talk about a specific niche or traffic source, all depending on who their partner is and who pays the sponsorship costs.
iAmAffiliate is different because we're constantly updating actual, real-time methods and tips and tricks that work right now. For example, at the moment, everybody is dealing with Facebook bans. We offer hands-on methods to avoid and deal with the bans including how to get new accounts.
It's tips like this and many more that make iAmAffiliate unique and relevant to problems affiliate marketers come across today."
Pricing: $49.95/month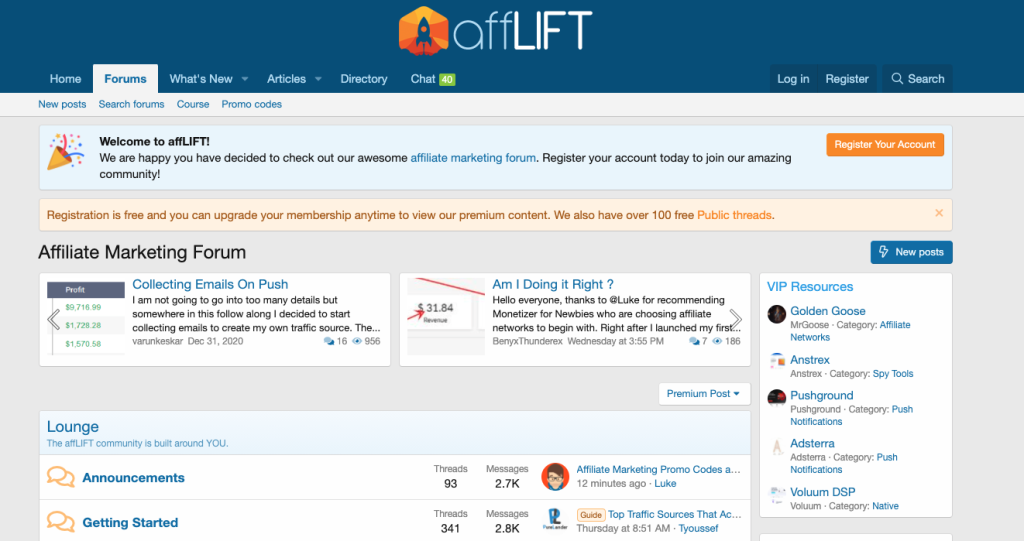 As one of the youngest affiliate forums (2018), affLIFT has built its reputation with rocket speed. The space already has over 46,000 members and hundreds of guides and resources.
Founded by one of the most well-known affiliate marketing experts, Luke King, affLIFT provides many useful tutorials, follow along campaigns and exclusive affiliate strategy tips.
In addition to affiliate resources, you can ask questions from senior affiliate marketers on the forum. The community also hosts events such as competitions and online meet-ups. Be ready to interact with super affiliates and find inspiration for your next affiliate activities.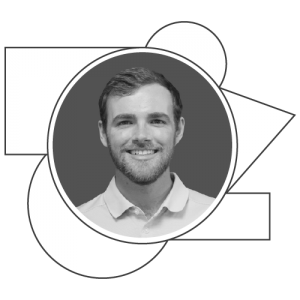 We asked Luke to comment on the value of his forum.
Why did you create affLIFT and how is it different from other affiliate forums?
"The reason I decided to build affLIFT is because there was a clear gap in the market. There were free forums filled with spam and outdated information. There were also other affiliate forums that were charging way too much, which only made them accessible to affiliate marketers who were already making a lot of money.
People just getting started in affiliate marketing or who had been doing it awhile but weren't quite producing the results they had hoped for needed a place to be able to get together, discuss strategies, and get help. So, I launched affLIFT as the affordable solution that anyone can join and get help at. You won't find another community like ours."
Pricing: affLIFT has many resources available for free.
In case you want to enter the premium areas, you only pay $20 per month.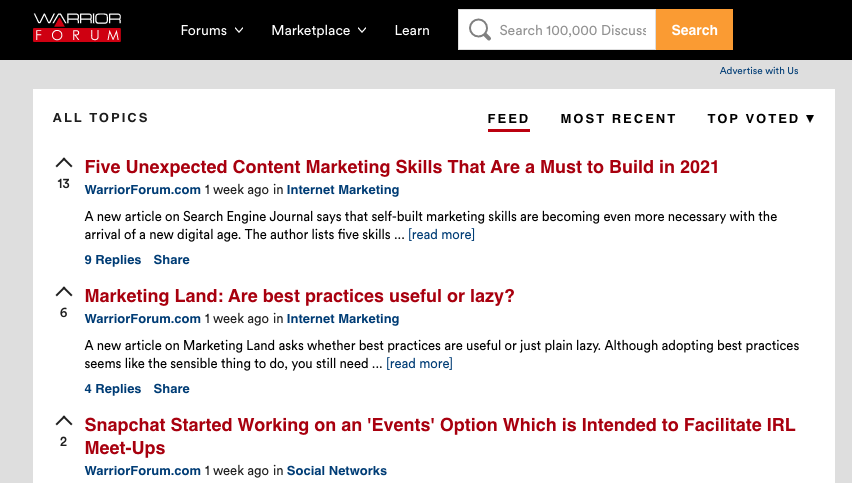 Warrior forum is one of the oldest forums where digital marketers have been sharing tips since 1997. It currently has more than 700,000 members across the globe.
The forum covers everything from product reviews to case studies and also gives its members the opportunity to ask questions from marketing experts. There'a a special promotions section for marketing services and tools and you're also allowed to post your offers in the designated area.
The Warrior Forum is known for its "ask me anything" events, where you can drop your questions directly to some of the biggest names in the industry.
Pricing: A large portion of the Warrior Forum is free to access but there are restricted areas for members such as "The war area." A premium membership costs $97 per year.

Unfortunately, you might cross some spam from time to time in the free sections but there's still plenty of valuable content to consume.

Stack that money, also known as STM forum, is a well-known and popular affiliate forum for marketers. The platform has been around since January 2011 and has established itself as one of the leading forums on affiliate-related topics.

Today, STM is growing its activities by adding education, conferences, and local networking events to its activities. There's also a section called "Aff Jobs" where professionals in the affiliate marketing industry can find their next job opportunity.
STM has some of the most exclusive content on the web, including case studies, hangouts, and tutorials from successful marketers. The forum remains one of the leading affiliate forums by continuously developing its community and content resources.
Pricing: STM Forum is subscription-based and costs $99 per month. You can take a peek at the platform in the preview section before deciding whether to buy a membership.
The premium subscription gives you access to AdPlexity, an ad spy tool, and FunnelFlux, a tool for tracking your marketing campaigns.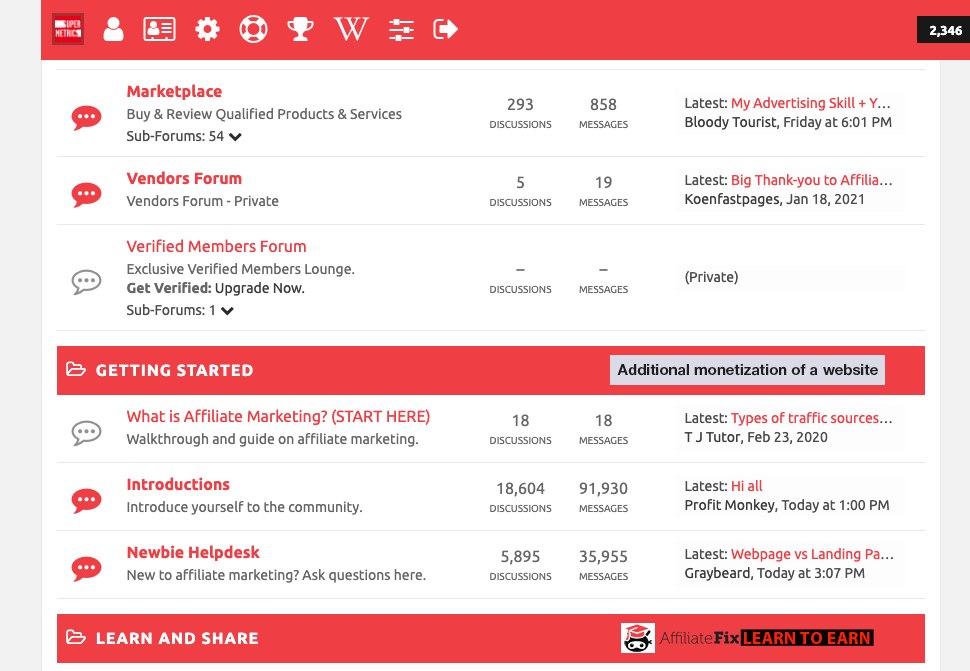 The AffiliateFix forum is another decent option. With thousands of active users, many top affiliates, networks, and advertisers can find each other here.
Some of the most valuable information can be found in the forum section, resources area or discount list. We also love AffiliateFix for its voting system to rate the most useful marketing tools available at the moment.
In their marketplace, you can find compelling free and paid offers for physical, SaaS, and educational products and services.
Pricing: Many features on AffiliateFix are free. This makes it suitable for beginners who want to get started with limited resources.
There are also advertising opportunities for networks and companies. For example, you can be listed in the resources list with your website link.6.

Another popular space for affiliate marketers is Affilorama. Affilorama is known for its marketing training for newbie marketers. As a free member, you get access to a large amount of library lessons and tutorials. The content is provided in the form of blog articles and videos and they also offer marketing tool trials (with limited features).
If you choose the premium membership, you get access to additional education sources and tools, including a custom website template.
Pricing: Join for free or pay $997 per year for the premium membership called "AffiloJetpack."
How to get the most out of joining affiliate marketing forums
Let's take a look at how to make these forums beneficial to you.
Stick to the rules
Whether you join a free or paid forum, read the forum guidelines carefully. This might sound obvious but many forums have their own set of guidelines and you want to avoid a ban from the get-go. Also, don't spam with your own offers in all threads. Follow the rules regarding self-promotion.
Be approachable
Make sure to include some type of contact information to your profile. Either a link to your website or email address. Forums are ideal for networking with like-minded marketers, and you want to make yourself approachable for partnerships and knowledge exchange.
Contribute value
Forums are all about members co-creating valuable information. Improve your profile rankings by being responsive to new questions and engage in helpful conversations. Before creating new topics, check if there are any previous threads on the subject or issue.
Hopefully, this list helps you find the right affiliate forums that will boost your marketing activities. For more tips on growing your affiliate business, check this article: Expert affiliate marketing strategies to boost your affiliate conversions. And join our Supermetrics partner program to earn 20% recurring commissions from each sale.
---
About Hetty Korsten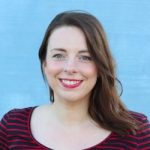 Hetty Korsten is a Partner Marketing Manager at Supermetrics. She has worked for fast-growing SaaS startups in Copenhagen and Helsinki. Currently she's growing the in-house partner program at Supermetrics. Feel free to connect with her on LinkedIn.
Turn your marketing data into opportunity
We streamline your marketing data so you can focus on the insights.