Dec 22, 2020
Examples of successful affiliate marketing websites
15-MINUTE READ | By Johannes Rastas
[ Updated Jan 17, 2023 ]
We tend to share best practices for affiliate marketing to help you promote your affiliate offers more effectively and drive more conversions. But what we haven't done before is provide a list of affiliate marketing examples by analyzing successful affiliate websites. Instead of explaining the strategies behind their success, it's sometimes more useful to show it with examples.
Before delving into the analysis, it's good to acknowledge that many successful affiliate marketers don't rely on their affiliate websites to generate sales. There are multiple other channels to do it. For agency partners, the most common way is to recommend the affiliate product to their clients directly. So, even behind a website that doesn't seem to offer much value to its visitors there can be a prosperous affiliate marketer who makes use of other channels.
But as far as content-based affiliate marketers are concerned, there are many websites that have managed to build a long-term business around their content using affiliate marketing. These sites know exactly how to cater to their audience and provide them with value that moves them towards the conversion stage of the sales funnel.
In this article, we'll evaluate 6 affiliate marketing examples and their key figures. We'll analyze their strategies and look at their traffic, authority, and backlinks as well as their top pages and the content and affiliate offers on those pages. The idea is to get to the bottom of their success and figure out how you could replicate that success on your own affiliate website using the same strategies.
Here are 5 examples of affiliate websites that have managed to pull it off.
1. Adam Enfroy
Overview
Having a website under his own name, Adam Enfroy has managed to build a strong personal brand in the digital marketing space. His blog is focused on the "make money online" niche, covering, for example, blogging, affiliate marketing, SaaS, ecommerce, social media, and YouTube.
Another section called "online business software" covers reviews, comparisons, and guides of online tools for website building, CRM, email marketing, SEO, video editing, for example. Basically, Adam covers anything you could think of when starting to build your own online business.
What makes it good?
The number one thing that makes Adam unique is that he grew and scaled one of the fastest-growing blogs in existence. He just started in 2019 and already shot to over 500,000 monthly visitors in a super competitive niche. He writes about "blogging like a startup" and new tactics that bloggers need to know to compete in 2021 and beyond. While many popular bloggers started out 5–10 years ago, Adam's goal is to prove that it's still possible today.
What also stands out on his website is the depth of his content. It's hard to find any post that would be below 2,000 words. His "how to start a blog" guide is over 16,000 words!
Each of these posts is an ultimate guide covering multiple subtopics that could be standalone articles themselves. This is a good keyword strategy. For example, his post "How to Make Money Blogging in 2020" ranks for 140 keywords in positions #1–3. His domain also ranks for 484 featured snippets in total.
And all of that content is written from his own experience of building a successful online business—his website. So, sharing his knowledge and advising other people to do what he's done is a recipe for actionable content that's appreciated by his visitors.
He also updates these posts regularly to keep up with the latest changes and trends. For any SEO-related topic, this is a necessity if you prefer to avoid sharing outdated advice.
It's worth mentioning that Adam also has a content section dedicated to his own story, literally explaining it from the day he was born until now. This definitely adds authenticity.
Website key figures
niche: make money online
domain authority (DA): 56 and domain rating (DR): 78
monthly traffic: 530K and share of organic vs. paid traffic: 100% organic
referring domains: 3.7K and backlinks: 212K of which dofollow: 67%
top page: 11 Leadership Qualities: A List of Skills to Make a Good Leader

content type: guide
content length: 1,997 words
monthly traffic: 34.1K
keywords ranking #1: 50
referring domains: 260 and backlinks: 2.7K
page value: $23.9K
How does it make money?
Adam Enfroy's website has two of its own products on sale. These are guidebooks to affiliate marketing and link building, priced at $54 and $59, respectively, and also sold as a bundle deal for $97.
The main income source of his website, however, is affiliate marketing. He promotes over 200 brands in the SaaS space. These can be found both in his resources section under the title "My Favorite Tools." This page has a disclaimer about affiliate links and includes the following offers:

All of these promotions are for tools that help launch and grow an online business. Some of them also include discounts or other benefits to incentivize visitors to use the links.
But this is only a small sample of his affiliate offers. Most of his revenue comes from promotions sprinkled around the reviews, comparisons, and ultimate guides that amass over 500k monthly visitors.
He also is a MediaVine member, making over $14k per month from display ads in some of his posts. But the advertising is not intrusive and is kept to a bare minimum.
According to his blog income reports, Adam makes over $80k per month from his blog.
2. WebsiteToolTester
Overview
A website dedicated to reviews, comparisons, and guides of website builder tools and ecommerce platforms, WebsiteToolTester is the creation of Robert Brandl who built a business around his reviews and now employs 5 other people.
This review website is intended for anyone who wants to create a website or launch an ecommerce business without coding skills and would like to compare different tools and platforms. Visitors have access to a user-friendly navigation menu at the top, where each review, comparison, and guide is placed in the designated tool or platform category.
In addition to the reviews, comparisons, and guides, each tool or platform also includes a detailed pricing analysis. And for some of the website builders, there's also advice for domain and email -related questions.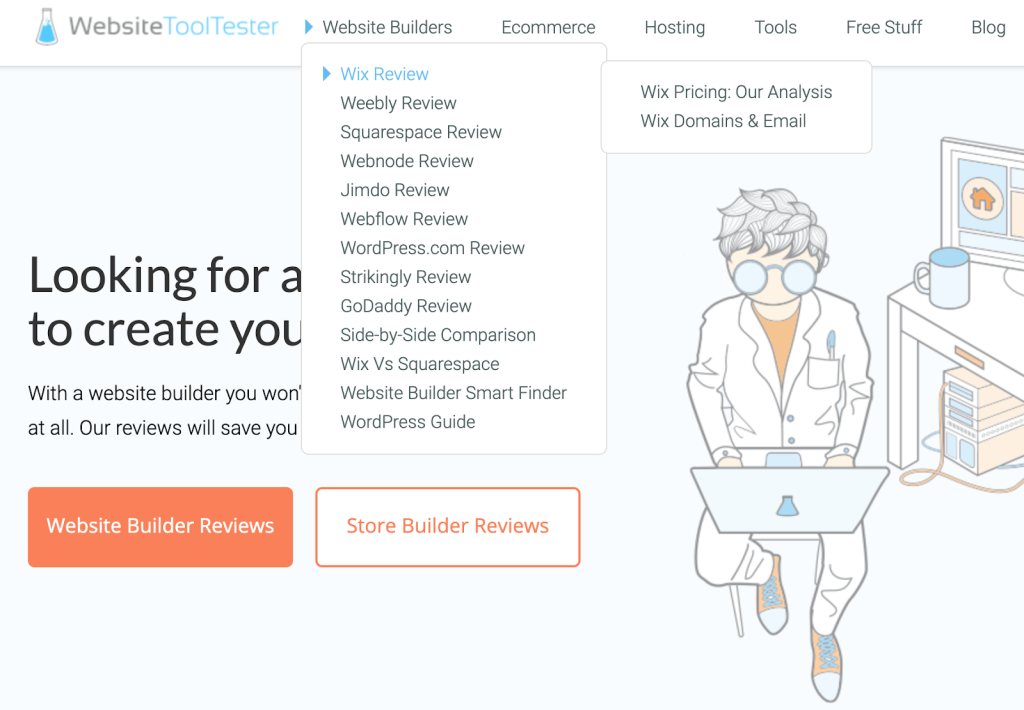 It's also worth mentioning that they have a separate website for email marketing software called EmailToolTester, which has the exact same concept (and design) but a slightly different niche and target audience.
What makes it good?
Similar to what makes Adam Enfroy's blog so good in the make money niche, the merit of WebsiteToolTester is definitely its comprehensive and user-friendly content. It has one clear goal – to help aspiring website creators and ecommerce merchants in choosing the best tools for them and in using those tools.
While it's become somewhat cliché to recommend new affiliates to choose a niche and become an expert in that niche, it's the strategy behind the success of every top affiliate. WebsiteToolTester has established itself as an undisputed authority in its niche. The website ranks #1 for 1,900 keywords.
Anyone wishing to replicate such a strategy needs to narrow down their focus and create a consistent output of thorough, user-friendly content to cover each relevant product in the niche they've chosen for their affiliate website.
Website key figures
niche: website builders and ecommerce
domain authority (DA): 54 and domain rating (DR): 77
monthly traffic: 1.1M and share of organic vs. paid traffic: 100% organic
referring domains: 3.8K and backlinks: 199K of which dofollow: 80%
top page: The 21 Best Free Website Builders: We Expose Their Strengths and Weaknesses

content type: review
content length: 6,703 words
monthly traffic: 57.8K
keywords ranking #1: 179
referring domains: 202 and backlinks: 2.1K
page value: $103.5K
How does it make money?
WebsiteToolTester offers a free 24-page ebook called Website Creation Guide for Absolute Beginners that you can get by subscribing to their newsletter. But no product or service is sold directly on the website.
It's safe to assume that the money comes entirely from affiliate offers, which are promoted with affiliate links in the articles and using banners in the sidebar as well as leveraging discount codes in the newsletter.
The affiliate offers include the following: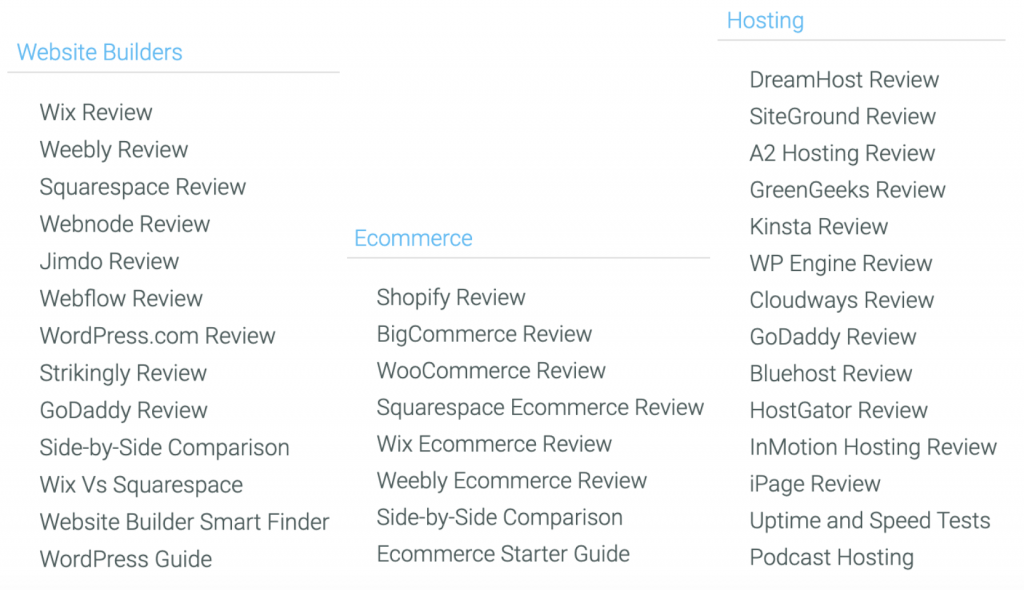 On top of these categories, the website has a tool section that covers additional products and affiliate offers for live chat software, online quiz makers, and rank trackers.
There are no display ads and no mention of how much money the website is actually earning from these affiliate promotions. But considering that the website employs 6 people in total, there must be a steady stream of affiliate revenue in place.
Overview
A growth marketing blog owned by Hailey Friedman and Mark Spera, Growth Marketing Pro is targeted for startup and small business founders and marketers who want to get more leads and scale their business.
According to Hailey and Mark, they've started several successful companies themselves, led marketing operations for other companies, and built the biggest growth marketing blog on the internet that generates $60,000 per month.
The blog articles are categorized into learning guides and software reviews. Learning guides include topics such as content marketing, ecommerce marketing, growth marketing, growth hacking, paid marketing, SEO, and web hosting. And software reviews cover marketing tools, CRM software, email marketing, landing page software, project management, and SEO software, for example.
There's also a detailed background story of both Hailey and Mark, explaining their trials and tribulations before becoming successful.
What makes it good?
You can see already from the comment section of each article that Hailey and Mark have a lot of engagement with their audience. They answer each question in the comments and also offer their audience a chance to speak to them. (But they also charge for their consultation, using it as an additional source of revenue along with affiliate offers.)
Another strength of Growth Marketing Pro is that their content is filled with examples and actionable advice. Their agency roles and experience with big clients gives them authority in the topics they cover. Perhaps this authority also compensates for their lower traffic, assuming that it helps with their conversion rate.
It would be impossible to go into detail on growth hacks, for example, and share actionable advice, unless you have implemented those strategies yourself. That's why research and niche expertise are so important for affiliate marketing.
Website key figures
niche: growth marketing
domain authority (DA): 49 and domain rating (DR): 71
monthly traffic: 38.5K and share of organic vs. paid traffic: 100% organic
referring domains: 1.6K and backlinks: 19.2K of which dofollow: 38%
top page: The Best Marketing Agencies

content type: review
content length: 4,365 words
monthly traffic: 1.7K
keywords ranking #1: 7
referring domains: 61 and backlinks: 126
page value: $33K
How does it make money?
Growth Marketing Pro sells an SEO tool called GrowthBar, which seems to have many good reviews. Designed for keyword suggestions, backlinks, Google Ads and keyword tracking, GrowthBar has a 5-day free trial and an annual subscription cost of $29/month. It's also actively promoted in a sidebar banner on every page of their website.
Their website's main source of income is obviously affiliate marketing. But they also leverage email marketing by offering free materials to encourage visitors to sign up to their newsletter. You can come across banners such as this one placed in an SEO guide: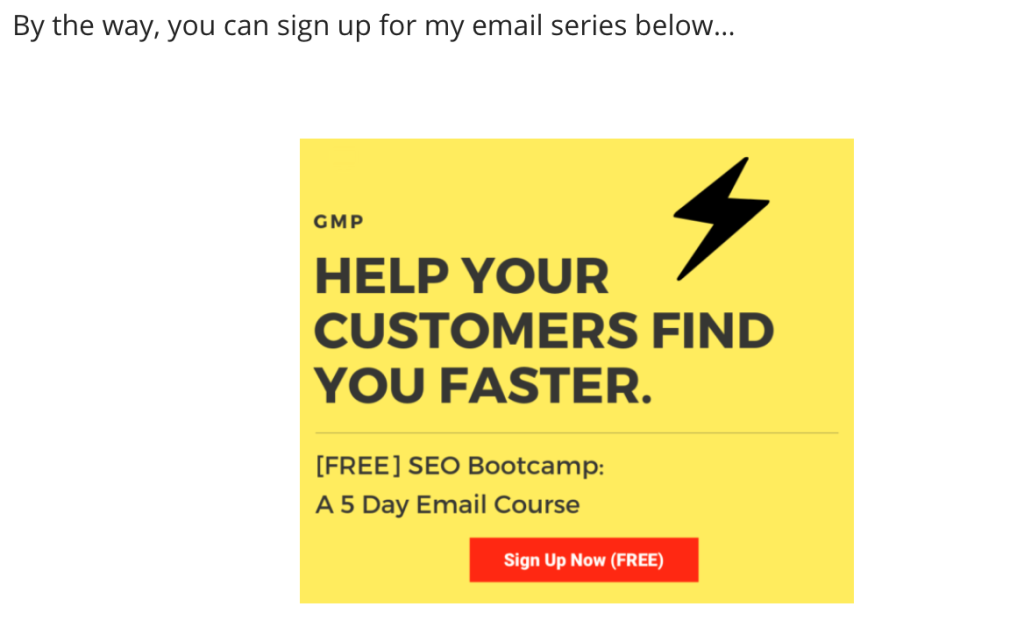 There are too many affiliate offers to list here. But some of them include Shopify, HubSpot, ConvertKit, GetResponse, Wishpond, Bluehost, Instapage, ReferralCandy etc.
The affiliate promotions consist of both hyperlinks within the text and CTAs such as this:

What is perhaps missing from the website is their own toolkit where they would list all the tools and software that they actually use themselves on a daily basis.
4. WinningWP
Overview
A hyper-focused blog run by Brin Wilson, sharing useful WordPress-related tips and insights. The website covers every aspect of the CMS platform you could think of, be it about themes, plugins, hosting, blogging, SEO, social media, and design, for example.
Each topic category contains multiple, informative articles. Another section is dedicated to extensive guides that provide detailed information on setting up, managing, and optimizing a WP website.
Since WinningWP is also an affiliate marketing website, there's a separate section about deals, which includes discounted offers for WP-related tools and platforms.
The final section on the website has other useful resources such as a glossary of WP terms, a link to WinningWP's YouTube tutorials, and their toolkit called "Under the Hood."
What makes it good?
Being a joint effort between a self-proclaimed WordPress enthusiast, Brin Wilson, and other professional creatives, coders, and web designers from around the globe, WinningWP has managed to collect a wealth of WP knowledge under one website. This guarantees that each guide and resource is written by an expert in their field.
Despite the affiliate promotions, the website is focused on informative content. Monetizing the website with affiliate links is more of a by-product and an obvious strategy to make the most of a popular website with a wide audience.
Website key figures
niche: WordPress
domain authority (DA): 53 and domain rating (DR): 74
monthly traffic: 87.8K and share of organic vs. paid traffic: 100% organic
referring domains: 3.3K and backlinks: 82.5K of which dofollow: 67%
top page: Google Domains Review – What is it? How Does it Work and How Does it Compare?

content type: review
content length: 2,072 words
monthly traffic: 2.4K
keywords ranking #1: 1
referring domains: 160 and backlinks: 575
page value: $2.3K
How does it make money?
WinningWP doesn't sell anything directly on their website but affiliate links are placed in multiple pages, covering their deals section, guides, reviews, comparisons, and toolkit.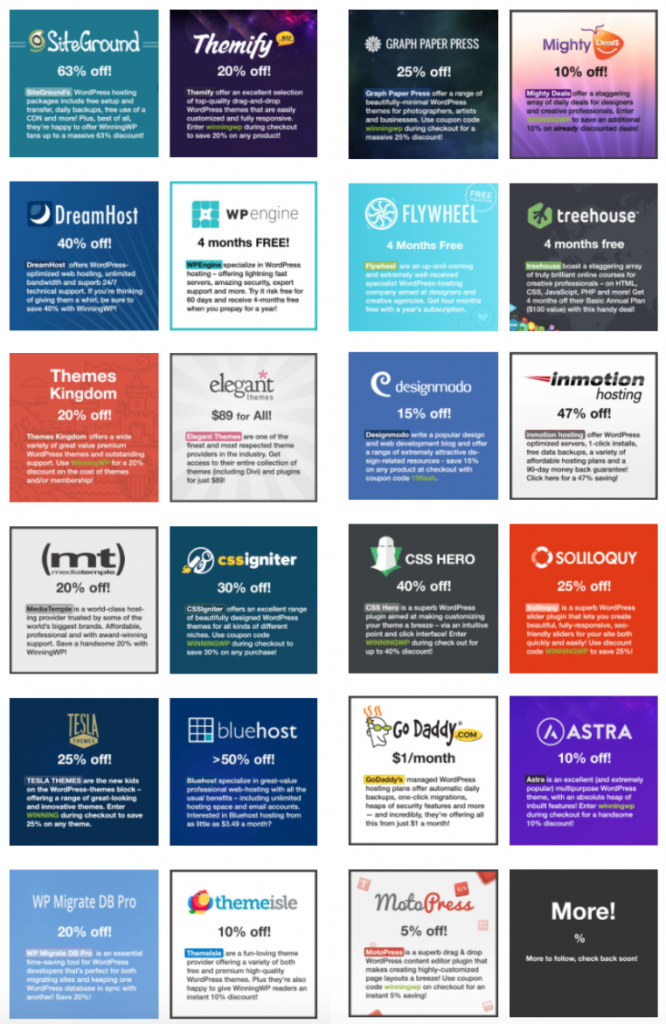 For example, they have affiliate links to Amazon in the book review articles and their hosting comparisons contain affiliate links to web hosts such as GoDaddy, Bluehost, and HostGator.
The affiliate promotions consist of both text and image links to the merchants' websites. No revenue information is revealed on WinningWP but considering the monthly traffic of almost 90K and the amount of affiliate promotions, it should certainly cover more than the operating costs. According to their own words, they never place affiliate links purely for the purpose of making money, only if the products are beneficial to their audience.
5. Ecommerce Platforms
Overview
A review website founded by Catalin Zorzini that evaluates ecommerce-related software. The website's objective is to help merchants choose the right ecommerce platform and educate everyone interested in ecommerce and online business in general.
A separate blog section lists all the review articles according to date. A comparison chart gives a quick overview of the top ecommerce platforms and lists of ecommerce agencies and other resources are available. There's also a handy glossary explaining all the terms related to launching a website or ecommerce business. Additionally, some guides, reviews, and comparisons are offered in video format on the website's YouTube channel.
What makes it good?
Similar to the previous example, the Ecommerce Platforms website has a narrow focus on one niche only. While not exactly hyper-focused on one platform, it still provides the benefit of being able to develop deep niche expertise. It has one specific target group in mind – people interested in ecommerce, and it has become an authority in that niche.
With the top page generating a monthly traffic of only around 5K, the total website traffic (300K) seems quite evenly distributed. This means it has a wide coverage in terms of topics and content. It's also a smart move to create a separate page for each term in the glossary. This way, they become independent articles that rank for those keywords. In fact, the page with the highest traffic (What is a Brick and Mortar Store) is an article explaining a term from the glossary.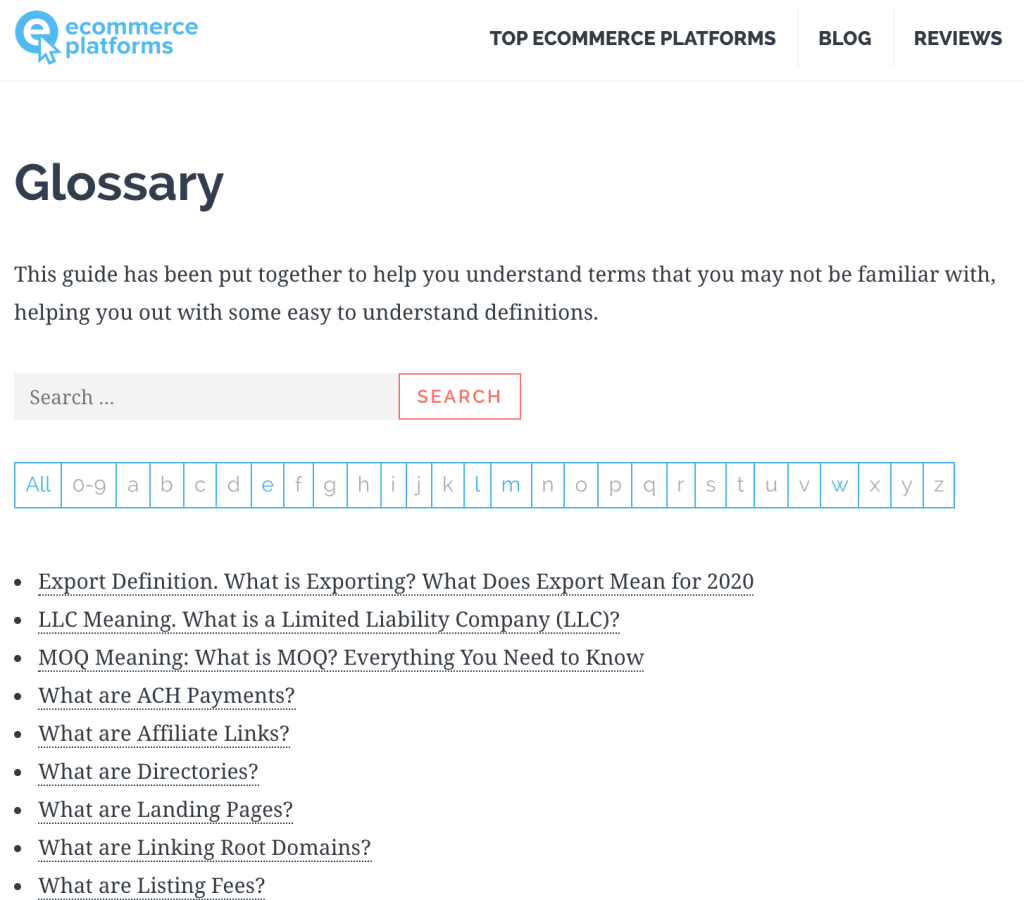 Website key figures
niche: ecommerce
domain authority (DA): 58 and domain rating (DR): 78
monthly traffic: 302.5K and share of organic vs. paid traffic: 100% organic
referring domains: 5.7K and backlinks: 210K of which dofollow: 37%
top page: What is a Brick and Mortar Store?

content type: review
content length: 6,430 words
monthly traffic: 4.7K
keywords ranking #1: 1
referring domains: 63 and backlinks: 139
page value: $6K
How does it make money?
As explicitly stated on its disclosure page, the website is built for profit. This means promoting affiliate products with text links and banners and having occasional Amazon display ads in the sidebar. The affiliate offers are also promoted in a newsletter that's delivered to 22,000 subscribers.
The disclosure also mentions affiliate partnerships with Shopify, SendOwl, Leadpages, and Volusion. Other affiliate offers are, for example, Constant Contact, Square Online, Thinkfic, and Zyro. So, they're mainly ecommerce and email platforms, website builders, course platforms, and landing page software. But nothing is sold directly on the website.
6. Financer.com
Overview
A comparison website for financial services that's active in 26 markets globally, Financer.com is Johannes Larsson's main entrepreneurial project. The website helps visitors compare financial services such as payday loans, personal loans, car loans, mortgages, credit cards, savings accounts, and insurances.
On top of this, Johannes also runs his educational courses through his personal website, johanneslarsson.com, teaching other aspiring online entrepreneurs about starting an online business, affiliate marketing, and SEO, based on his 13 years of experience.
What makes it good?
Using the financial comparison platform starts by choosing your market.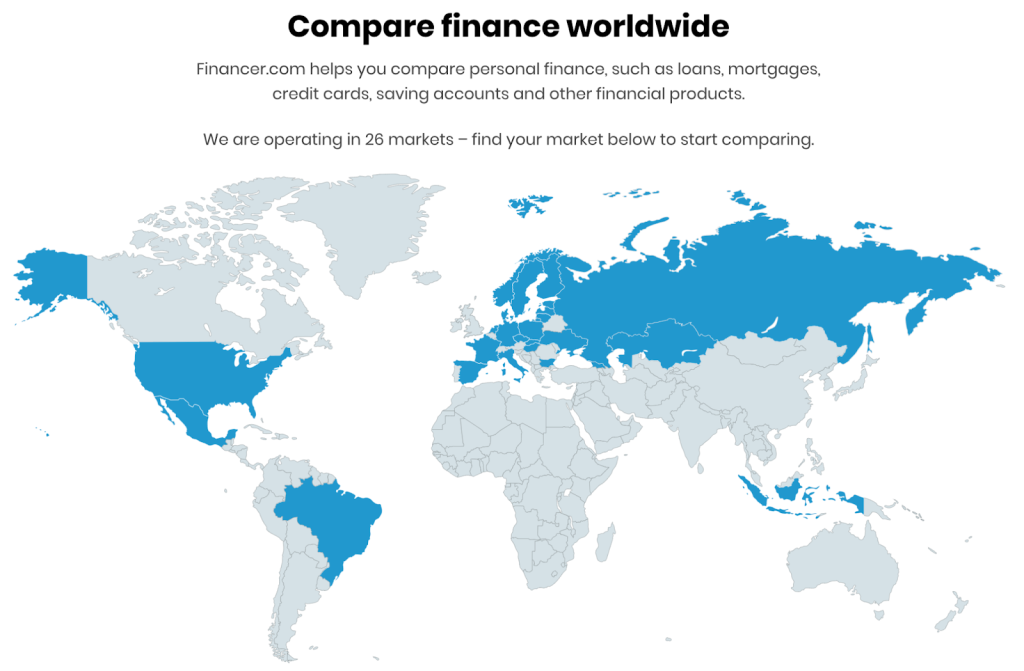 Then, you choose the right category of financial services you want to compare, whether it's a personal loan, mortgage, business loan, credit card, or a car loan, for example. And the website gives you a comparison table of companies providing that type of financial services in your area.

Below the listing, there's a detailed description of the different types of loans in that category and the steps involved in the loan process as well as some useful tips and best practices.
The Financer website is free from any intrusive popups or forced registrations and has a simple, intuitive design that allows visitors to quickly access the information they're looking for with ease. The website loads fast and is transparent about its use of cookies and affiliation with the merchants. So, it's both the wealth of information, specializing in one, clear niche, and placing the user first that makes Financer.com a prime example of a successful affiliate marketing website.
What also adds to their transparency is that they have 14K user reviews on the financial institutions. This UGC strategy combined with their industry reports and giveaways makes them an engaging and reliable source of information.
Website key figures
niche: financial services comparison
domain authority (DA): 57 and domain rating (DR): 73
monthly traffic: 768K and share of organic vs. paid traffic: 100% organic
referring domains: 10.5K and backlinks: 130K of which dofollow: 85%
top page: Idei de afaceri – cele mai bune afaceri online și offline (Romanian)

content type: guide
content length: 36,596 words
monthly traffic: 15.4K
keywords ranking #1: 11
referring domains: 301 and backlinks: 515
page value: $6.1K
How does it make money?
For a comparison website like Financer.com, the monetization strategy is fairly straightforward. The website is monetized with affiliate links, which is the company's main source of revenue. The affiliate links are placed in the financial services listings in each market and category. On his personal website, Johannes also offers paid educational courses for aspiring online entrepreneurs but these are separate from the Financer website.
The company's revenue relies on ranking for hundreds of thousands of finance keywords and then linking to thousands of merchants around the world providing relevant financial services. The website is partnered with these merchants, bringing them both high purchase intent leads and actual customers and earning a commission in the process. In 2019, over 2,500 loan offers were generated through their website, which resulted in over $180 million in estimated loans.
Conclusion
Instead of only having examples of the top 1% of affiliate marketers, there are many good examples of affiliate websites with somewhat lower traffic that are also successful. And success in affiliate marketing depends more on the website's ability to attract visitors with purchase intent than pure traffic. That's why smaller, hyper-focused blogs can be just as good, or even better, at generating affiliate sales.
The 6 affiliate marketing examples evaluated here had a website traffic ranging from 38.5K to 1.1M. All of this traffic was 100% organic. Each of them had a DA of around 50 and a DR of over 70. On average, they had 175 referring domains and the length of their top pages ranged from around 2,000 to over 36,000 words.
All of these websites also leveraged email marketing and some of them used coupons, too. None of them used paid ads to bring traffic to their affiliate pages but some had monetized their website additionally with display ads. Two websites also sold their own products directly. And two had an active YouTube channel where similar content was provided in video format.
In terms of content, the majority of keywords that were used had a brand name + review/guide/tutorial, for example, depending on the type of content. Comparisons such as brand name vs. another brand name were also popular. While general keywords seemed to bring them traffic, too, it is these brand-related keywords that usually attract visitors with purchase intent and generate actual affiliate revenue.
Based on this short analysis, we can at least say that a strong organic foundation is a necessity for affiliate marketing. It is clearly long-form content that wins in this industry. Successful affiliate websites develop a deep knowledge about one specific niche. Sometimes even narrowing it down to one platform, as in the case of WinningWP. And having a narrow focus makes it also easier to establish themselves as an authority in their area of expertise.
For more affiliate marketing tips, check our post about boosting affiliate conversions. And join our Supermetrics partner program to earn 20% recurring commissions from each sale.
---
About Johannes Rastas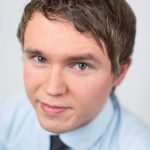 A Partner Marketing Manager at Supermetrics, Johannes focuses on expanding the Supermetrics partner program and collaborating with their existing partners. He also works with SEO and content on a daily basis. Feel free to contact him on LinkedIn.
Turn your marketing data into opportunity
We streamline your marketing data so you can focus on the insights.