May 25, 2021
How to set up and optimize an affiliate landing page
12-MINUTE READ | By Johannes Rastas
[ Updated Jan 17, 2023 ]
Success in affiliate marketing doesn't have so much to do with any particular channel. But creating landing pages for your promotions is a necessary step for many content-focused affiliates. You want your CTA button to get as many clicks as the remote control in the hands of a baby.
When moving your website visitors down the funnel toward a purchase, it's the quality of those visitors that determines whether you end up making a sale. This is where proper targeting comes in—matching the content on your landing page with the intent of your visitors.
But even conversion is not the ultimate measure of success in affiliate marketing. At least if you've joined a program that pays recurring affiliate commissions. Then your ultimate goal is to attract qualified prospects who don't just purchase the cheapest plan for a month before churning. Instead, they should become profitable long-term customers, bringing you multiple commissions over the course of their subscription.
In this post, I look at the structure of an effective affiliate landing page and the steps involved in setting it up. I will also share useful tips on how to test and optimize your landing page for better overall results.
What is an affiliate landing page
Let's start by defining what an affiliate landing page is and how it's different from other pages on your website.
A landing page is a standalone web page created specifically for a marketing campaign. It's where your visitors land when they follow an external link to your site. Unlike other pages that can serve multiple goals, a landing page is designed with a single goal in mind. That goal is encapsulated in your CTA, which is persuading visitors to complete a specific action.
For an affiliate landing page, the goal is to drive as many promising leads as possible to your offers. In most cases, this means having a sign-up form and prompting visitors to leave their email address in exchange for useful content and special offers delivered to their inbox.
In the next stage of the conversion funnel, that content is designed to convince your prospects to purchase the affiliate products from the merchant. Or start a trial and purchase them later on.
Structure of an effective affiliate landing page
To convince your visitors to complete an action on your landing page, think how to optimize elements such as design, images, headlines, benefit statement, copy, social proof, and CTA.
For more about optimizing your entire affiliate website, check our article on SEO affiliate marketing.
Keep your design simple
Whether you create the landing page yourself on WordPress or using a landing page builder or plugin, it's important to have a visually attractive design. Since your landing page is built with a single goal in mind, you're better off with a clean and simple layout with plenty of white space.
This way, it's easier for your visitors to navigate their focus to your CTA and benefit statement. You want to minimize distractions and avoid giving any reasons for them to abandon your page.
Make use of color contrast when you want to highlight an important page element such as your CTA button. Favor bright colors and images that both look appealing and match your offer.
Grab attention with your headline and image
The headline's main function is to catch your visitors' attention and encourage them to read more. It's building up to your benefit statement and the rest of your page content.
Every effective landing page also has an image placed next to the headline. It complements your headline and benefit statement. Whether you decide on a photo or graphic design, the image should match your headline and help communicate your offer to your visitors.
It's common for affiliate marketers to not only promote affiliate products but also sell their own products or services directly. For example, many affiliates sell their own ebooks or training courses on their website. So, they also have to build landing pages for these offers.
Headline and image examples
As an affiliate marketer who's teaching something to an audience and where the offer relies heavily on your own expertise, it makes sense to introduce yourself on the landing page. And the easiest way to do that is by placing your photo next to the headline, as in this example:
Then, as part of your training materials, you can promote third-party tools as an affiliate. By showing and explaining what those tools are capable of, you can build a compelling case for your audience to purchase them. Often, you're also able to offer some special deals on them.
Some affiliates choose to offer their training materials or courses for free, in exchange for their visitors' email addresses. Then, they use email marketing campaigns to promote affiliate offers to their subscribers and insert affiliate links in their free training materials. Here's an example: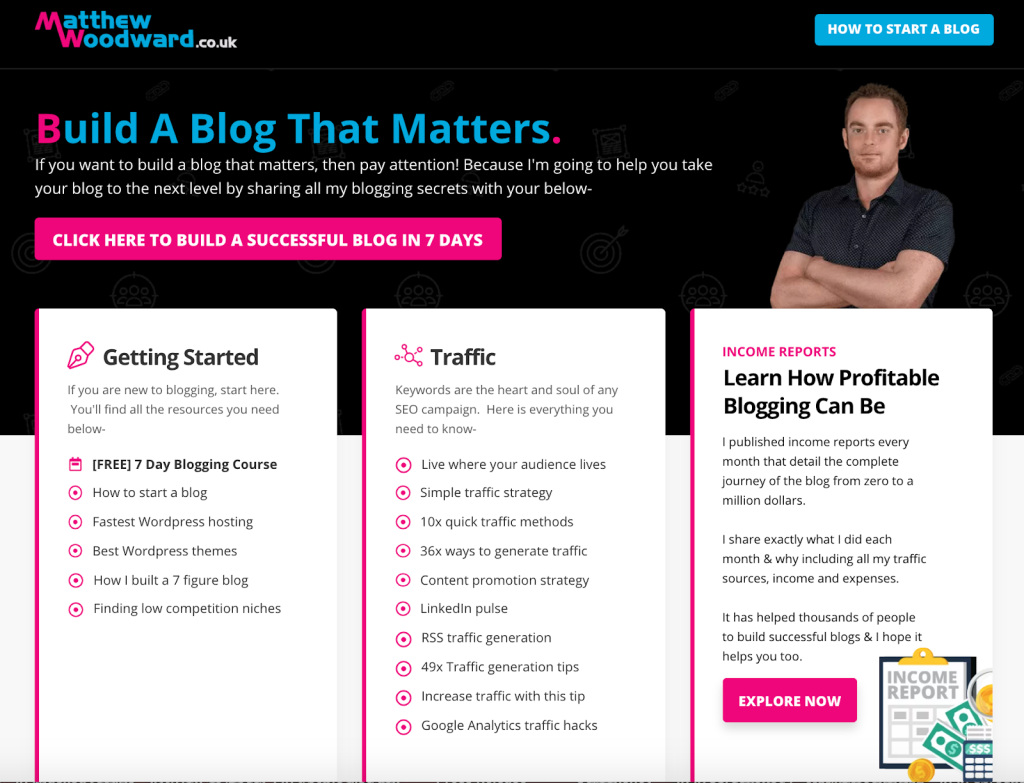 On his blogging landing page, Matthew Woodward has placed several CTAs that all lead to the sign-up form for his 7-day blogging course. Below his benefit statement, there's a more detailed overview of what his visitors can expect to learn from his course. To add social proof, he's not only included testimonials at the bottom of the page but also linked to his income reports.
Narrow down your benefit statement
As the name suggests, a benefit statement communicates the benefits or true value of the product to your prospects. It's not about features—it's about the prospect and how the product can improve their situation.
On our Supermetrics partner landing page, the benefit statement is a concise summary of what our partners get from us when they recommend our tools to their audience or network.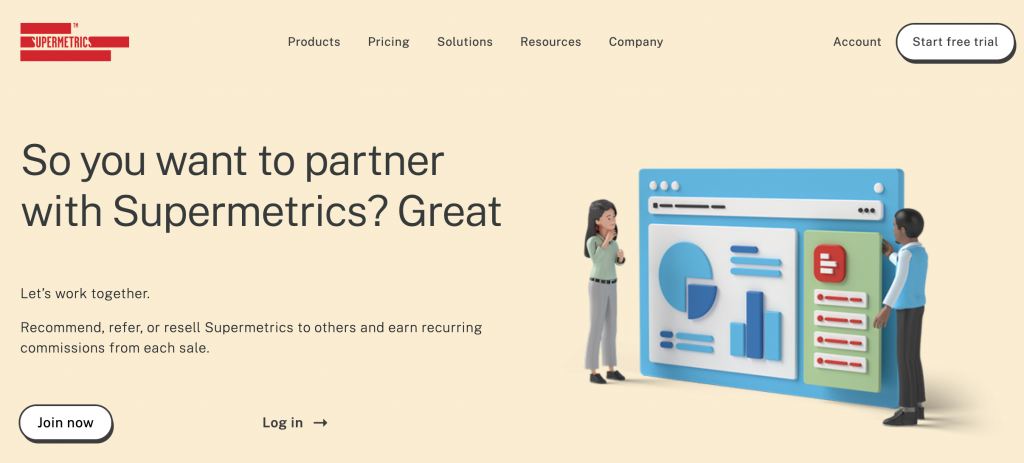 The key points are how much they can earn (20% recurring) and what they need to do (sales). Most of our visitors on this page expect to find exactly that information. They use it in their evaluation of whether to join the program or not. For more specific information, they can scroll down to our introduction video or read about how the partnership works.
Compelling copy is clear and concise
Just like the benefit statement, your copy should communicate the key points of your offer. But it should do it in more detail and answer common why and how questions your visitors may have.
A good rule of thumb is that brevity is better than verbosity. And simplicity is preferable to complexity. Avoid giving your visitors any reason to abandon the page. Use solid arguments instead of making empty claims. For example, if you mention stunning growth in traffic, make sure to back it up with numbers that any visitor can verify by checking your domain data.
You don't necessarily need to incorporate any storytelling into your landing page copy. But it is good to speak to your visitors directly and remove any doubts they may have about your offer.
Make your CTA stand out
While it depends on how much content your affiliate landing page has, it's useful in most cases to include a CTA more than once. A common practice is to place it on the top of your page right after your benefit statement. Then insert it once within the copy, somewhere in the middle. And finally, add it to the bottom of the page.
This way, your visitors have easy access to click on your link no matter where they are on the page. The conversion decision can occur at different points for different visitors.
Make sure that your CTA is visible upon landing on your page without having to scroll down. And make it stick out by using a color that contrasts with your page's background design. A short command verb such as join, learn more, get started, or try for free is usually persuasive.
Convince with social proof
Social proof is a crucial trust signal for anyone making a conversion decision. Be it a review, testimonial, use case, or something from social media. It's important to include details such as the person's name, title, the company they represent, and a photo.
Recently, video testimonials have also become popular. They tend to add more credibility and appear less scripted than written testimonials.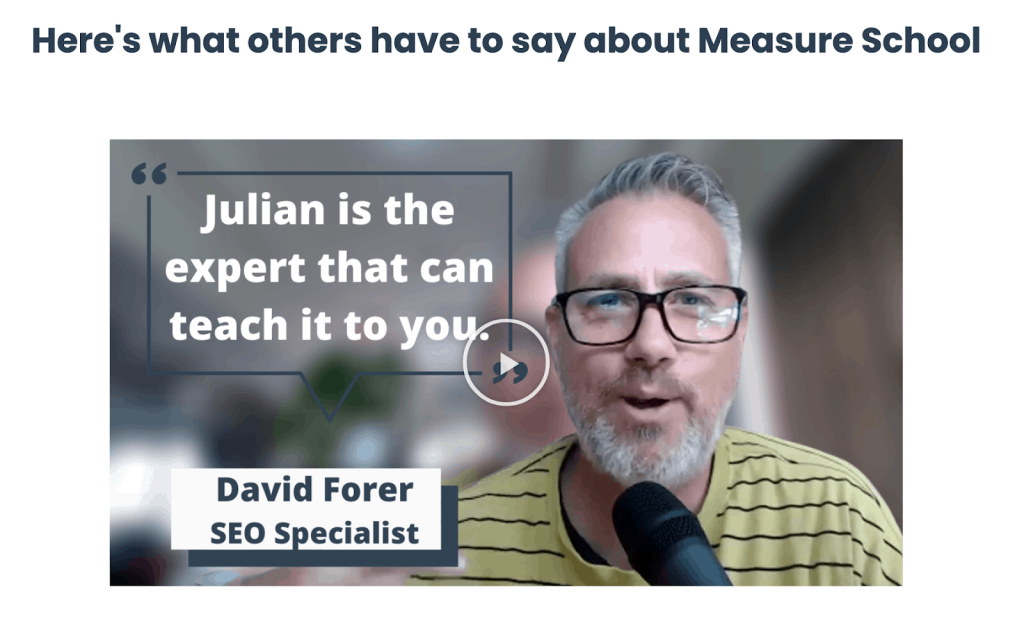 Any endorsement that gives details such as verifiable numbers and explains the process is effective as a trust signal. And especially if it's from a well-known person in the industry.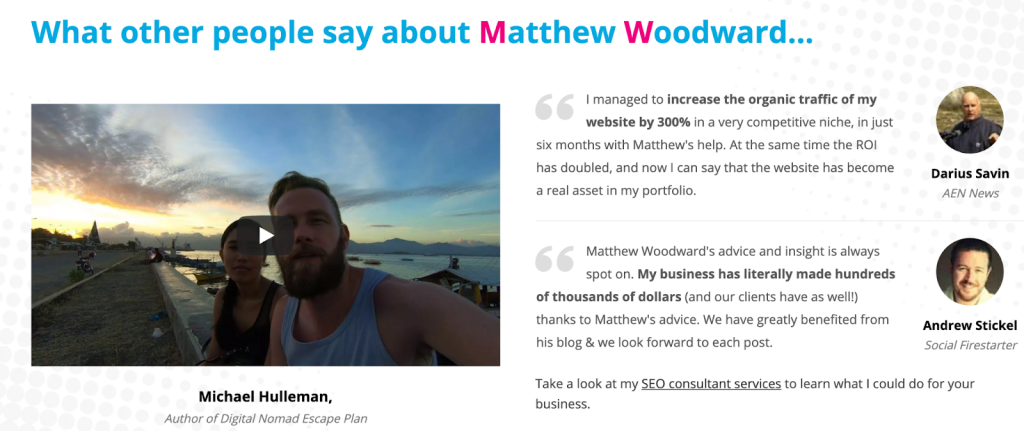 Tips for optimizing your affiliate landing page
Here, I will share some quick tips for better overall results. And by results I'm referring to maximizing the clicks on your CTA button. I will not focus on how to build traffic since that has been widely covered in our other articles, for example here.
Understand your visitors
Once you've set up your affiliate landing page and established some traffic, you should keep monitoring the search queries people use to land on your page. On Google Search Console, you can look at the top queries that resulted in a click.

This helps you understand better the search intent of your visitors. You get an idea of how specific information they're looking for. Unlike articles that target generic queries, the top queries for most landing pages are usually branded keywords. If that's the case, it's okay to be specific and conversion-driven with your content, instead of giving a full overview on the topic.
Avoid too many navigation links
Since the goal of your affiliate landing page is to persuade visitors to complete a specific action, adding navigation links can have a detrimental effect on your results. You don't want to give your visitors any reason to abandon the page. So, try to avoid using links other than your CTA.
Solve page speed issues
Speed is a landing page factor for Google, for both Google Ads and Google Search. Check if your page takes longer to load than it should using tools like Google's Page Speed Insights.
Anything longer than 3.5 seconds until your visitors get control to navigate, click, and scroll the page is not optimal. This is known as your average document interactive time. You can check it for your page on Google Analytics by choosing Behavior > Site Speed > Page Timings and then opening the DOM Timings tab.
Common issues that hinder page speed and weaken visitors' page experience as a result include unoptimized images, missing files, plugins with compatibility issues, lack of caching, and URL redirects, for example.
Optimize for mobile
Even if your page has a minimal share of mobile traffic, optimizing it for mobile is worth the effort. Earlier this year, Google introduced mobile-first indexing. It means that Googlebot now crawls and indexes the mobile version of every page.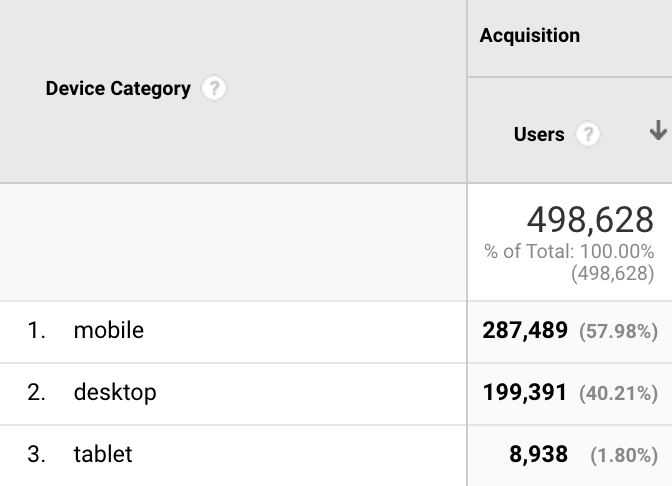 That's why optimizing for mobile has become important for ranking purposes for everyone. To check how your affiliate landing page renders on mobile, you can run Google's Mobile-Friendly Test.
Test your landing page
Comparing different versions of your affiliate landing page to one another is an ideal way to identify the most optimal variant. This is known as A/B or split testing. The term A/B testing emphasizes the comparison between two variations, whereas split testing highlights the fact that traffic is split between these variations.
The easiest way to get started with testing is to split your page traffic in half. One-half of your visitors then land on page version A and another half on page version B. And you could test page elements such as your CTA, benefit statement, layout, copy, headlines, or images and videos.
Choose which tool you want to use for implementing your test. Google Optimize is a free testing tool that allows you to experiment with different versions of your page. You can choose how many variants you want to create and test them against your original affiliate landing page.

Then add your targeting rules. Decide if you want to target visitors based on UTM parameters, behavior, geography, or type of device, for example.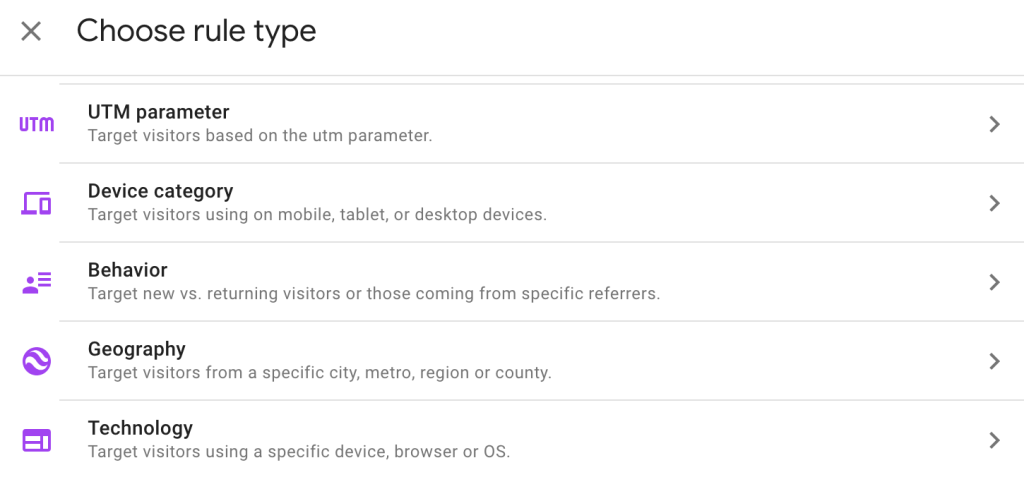 Another option is to simply run your experiment on WordPress or any other CMS platform you're using for managing your content. Create a second variant of your CTA or benefit statement, for example. Then monitor the impact in your Google Analytics account for a specified time period.

Final thoughts
With these tips, you'll be able to set up an effective affiliate landing page that not only attracts visitors but also encourages them to complete an action on the page. Optimize page elements such as design, images, headlines, benefit statement, copy, social proof, and CTA. Then provide the best possible user experience for your visitors based on their intent and the general expectations all users have for landing pages.
Check more tips for getting started with affiliate marketing in our ultimate guide.
About Johannes Rastas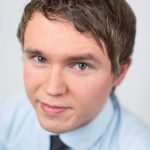 A Partner Marketing Manager at Supermetrics, Johannes focuses on expanding the Supermetrics partner program and collaborating with their existing partners. He also works with SEO and content on a daily basis. Feel free to contact him on LinkedIn.
Turn your marketing data into opportunity
We streamline your marketing data so you can focus on the insights.