Whenever you join an affiliate program, you get your unique referral link. And it's up to you how you recommend the product to others, whether it's through blog content, social media, word of mouth, PPC, email newsletter, or any other way you see fit, by using that referral link. It's the affiliate program's responsibility to track all purchases that originate from your link and pay you an affiliate commission for each referral. But how you use that affiliate link is all on you.
In this post, we'll cover everything you should know about affiliate disclosure, from what it is and the regulations governing it to how to write and where to place them on your affiliate website.
Navigate this post:
What is affiliate disclosure and is it necessary?
Since the activity of endorsing or promoting products for profit is regulated by law, there is a requirement for disclaimers that disclose your affiliate partnerships.
Affiliate disclosure is simply a way to let your website visitors know that the products you mention and link to in your content may be affiliate products and you may get paid for that.
It's a legal requirement that helps consumers make informed decisions. Since your goal is to influence your visitors' purchase behavior, it's fair that you make your incentives transparent. And not only is it a legal requirement. It's also necessary for building trust with your audience.
These guidelines apply not only to blog posts but also to social media, podcasts, videos, and any form of online content where advertising and product promotion are somehow involved. When all affiliates follow the same practice, it creates an even playing field for everyone.
What if you don't disclose your affiliate links?
Affiliate disclosure should be placed in an obvious place on your website every time you publish content that includes affiliate links. The only exception would be if you're linking to products that you recommend to your audience but you're not getting any benefit from it or using affiliate links.
While it might seem harmless to leave out an affiliate disclosure, there are organizations (FTC in the U.S.) that monitor and investigate cases of non-compliance or deceptive marketing practices. By failing to comply with the disclosure guidelines, you would be at risk of facing legal trouble and losing all the profit you have received from promoting those affiliate products.
Regulations on affiliate disclosure
Now that you know the basics of affiliate disclosure, let's take a closer look at the regulation.
In the U.S., the Federal Trade Commission (FTC) has released these dot com disclosure guidelines for websites endorsing products for consumers. These guidelines apply specifically to online advertising and cover all forms of online endorsements, including affiliate marketing. They address how endorsements, reviews, sponsored posts, and online campaigns with influencers should be handled when it comes to disclosing affiliate relationships to the public.
The FTC has also published a What People Are Asking document that complements the Endorsement Guide. This document has a dedicated section on affiliate and network marketing.
As a response to what should be disclosed and where to place it, the FTC says the following:

The key points here are that affiliate disclosures need to be "clear and conspicuous" for reasonable consumers and they should be located close to your recommendations, not in obscure places such as the "About Us" page. An affiliate link by itself is not an adequate disclosure. What's obvious to you may not be clear to everyone visiting your website.
In the EU and UK, the General Data Protection Regulation (GDPR) has been in effect since 2018. This regulation is part of EU Law and concerns the protection and privacy of data.
We've also published a more detailed article on how the GDPR affects affiliate marketers.
In short, the GDPR relates to affiliate marketers who process data about Europe-based visitors. Affiliate links count as data gathering, which means that those affiliates must adhere to the GDPR rules. And since affiliate marketers not only gather data but also control how it's used, for example by using it to drive affiliate sales, they're considered "data controllers" in the GDPR.
Similar to the FTC, the GDPR requires affiliates to be transparent about their use of affiliate links. As data controllers, they must clearly disclose any collection of data and the purpose of collecting that data. Each member state has a designated, independent public authority who is responsible for monitoring the application of GDPR and addressing any non-compliance.
Disclosure requirements by affiliate programs and networks
Beyond the FTC and GDPR requirements for disclosure, many in-house affiliate programs and affiliate marketing networks have their own terms and conditions that also mention disclosure. By not disclosing your links, you would also violate their terms and conditions and give them a reason to terminate your affiliate account and cancel all upcoming commission payments.
Our Supermetrics partner program's terms and conditions say the following about referral links:

In our program, we also reserve the right to review our affiliates' link placements and either approve or disapprove their use of affiliate links and require them to comply with our guidelines.
Best practices: how to write affiliate disclosures?
Before jumping into the disclosure examples, let's quickly go through some writing practices. When you write your affiliate disclosures, you should include the following information:
that you may receive compensation for recommending products or services, and
that you have affiliate links on your website and may process visitor data for benefit.
Keep in mind that disclosures are necessary even if you don't receive any monetary benefit. Free products and other perks also count as benefits that have value. Additionally, if you're not accepting any paid reviews on your website, you can mention that in your disclosure as well.
The length of your disclosure doesn't matter as much as its clarity does. You can make it as long or as short as you like but you need to include the required information.
You can have a standalone disclosure page but remember to also include a short disclosure in every landing page that has affiliate links. From the short version, you can link to the longer one.
The requirement for "clear and conspicuous" disclosures means that users should be able to easily notice it. Don't try to make it stand out less, for example, through formatting or placement.
In terms of placement on your page, the disclosure should be located close to the affiliate link. Your users should be able to find it without having to scroll through the page. Some affiliates like to place a short version of their disclosure directly underneath the title and header image.
Examples of disclosing affiliate links
The best way to learn how to insert affiliate link disclosures is by looking at some examples.
Here are two general templates that you may want to use and modify to match your own style.
General templates
Template #1
Disclosure: The products mentioned on this page may be affiliate products. [Insert website name] may receive a commission of the sales price of any product listed on this website. Please note that we only include high-quality affiliate products that we have tested and consider useful.
Template #2
Disclosure: We may receive a commission if you purchase any of the products listed on this page. Here at [insert website name], we feature affiliate products that we believe can provide true value to our audience. We research each affiliate product ourselves and only recommend those that are useful to our visitors. Using our affiliate links doesn't create any extra cost to you, but we will receive a small portion of the sales price. This helps keep our website running.
And here are real examples of using affiliate links and disclosures on different channels.
Blog articles
Example #1: Andrew from Optimisey makes it as transparent as possible by including details about the price of each product he recommends and also the amount of his commission.

Example #2: Sean from Marketing Terms goes on to explain what type of affiliate links he's using on his website, how cookies are used for tracking, and how to distinguish these links.

Social media posts
Example #3: Mike Gábor promotes Supermetrics for Google Data Studio on his personal Twitter account. He doesn't cloak his referral link, making it obvious to his followers that he's an affiliate partner.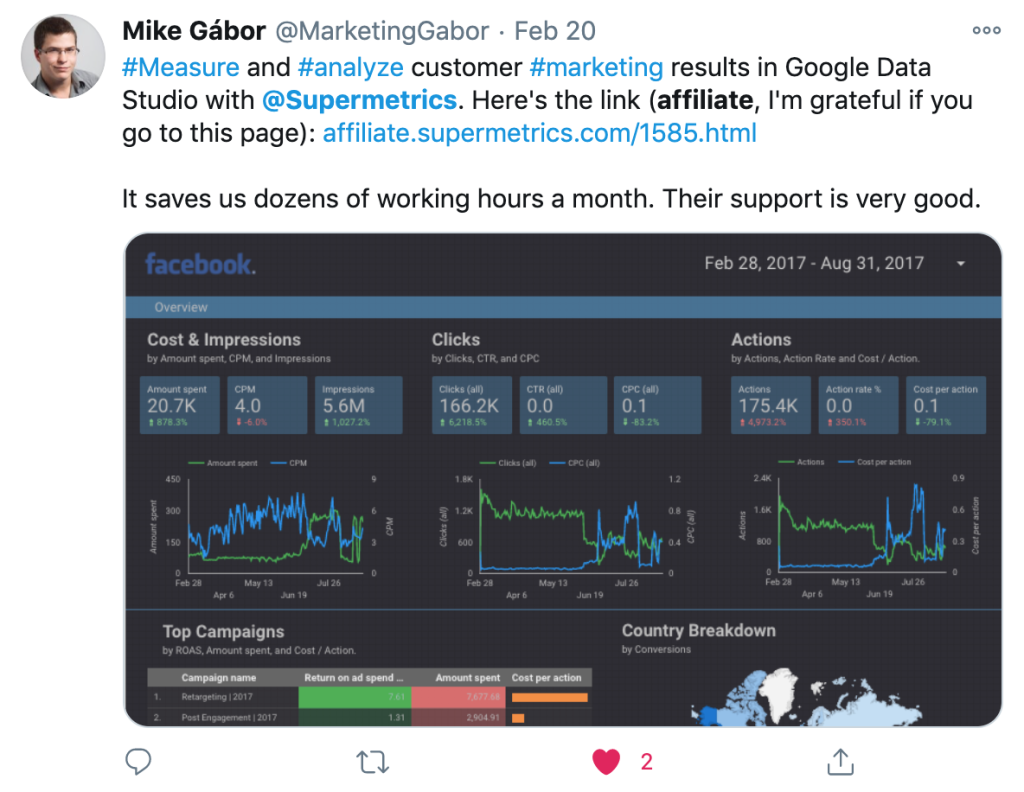 Example #4: A similar Twitter post from Social Savannah where she promotes Supermetrics and links to our homepage through her referral link. She includes a short disclosure at the end.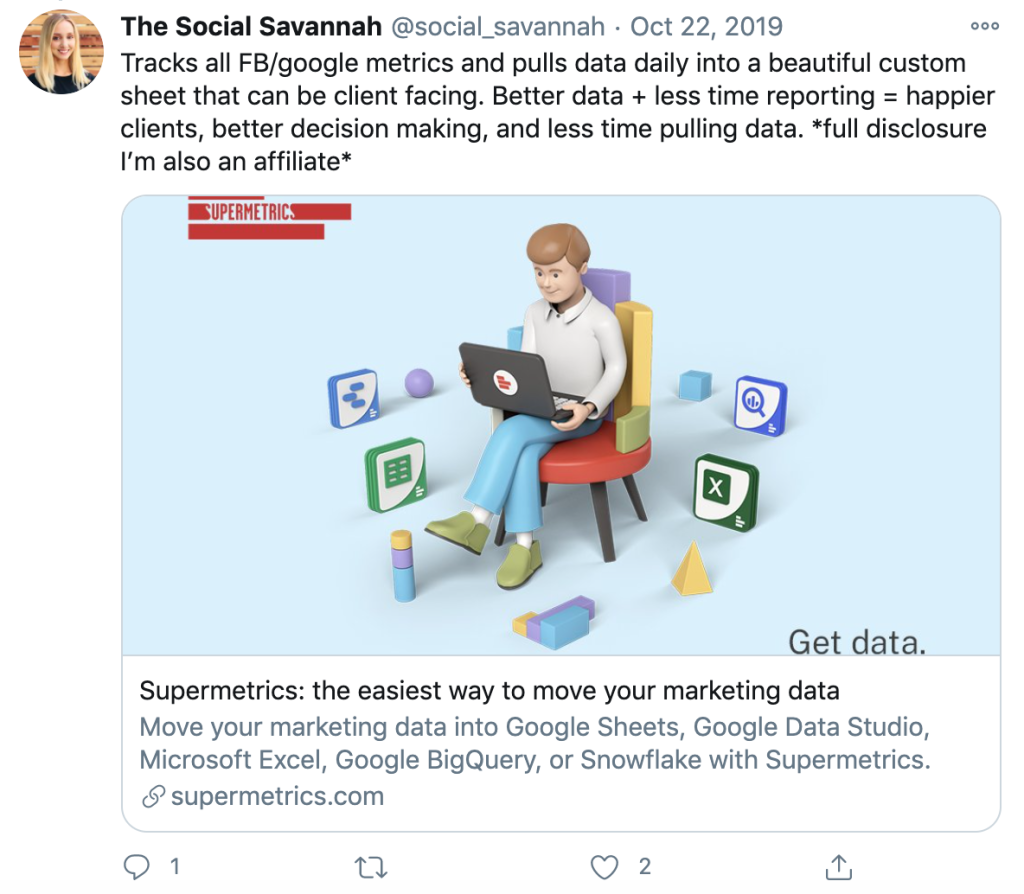 Video-sharing platforms
Example #5: In their YouTube tutorial video for building a Google Analytics dashboard using Google Sheets and Supermetrics, MeasureSchool has their affiliate link in the description. While there's no actual disclosure text, it's a good practice to mention in the video itself that you use affiliate links and will receive a commission if anyone makes a purchase using those links.

Content-publishing communities
Example #6: Medium allows users to include affiliate links in their posts. But always disclose your affiliate partnerships when using them, as in this Data Studio tutorial by Josh Cottrell.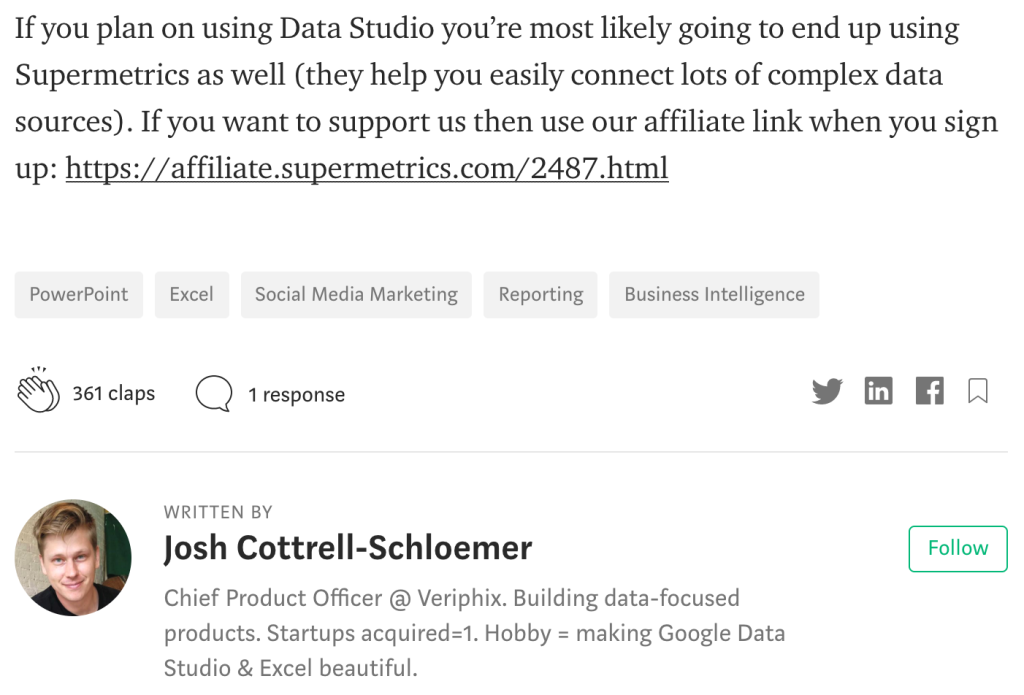 Conclusion
In practice, using affiliate disclosures is quite straightforward. Knowing that it's a legal requirement to use them wherever you include affiliate links is a compelling argument for their inclusion.
It helps your website visitors know that the products you mention and link to in your content may be affiliate products and you may get paid for recommending them. By following these best practices and looking at some useful examples, it will be easy to craft your own disclosures. Just make sure they're clear and placed in obvious areas, preferably close to your affiliate links.
For more affiliate marketing tips, check our post about boosting affiliate conversions. And join our Supermetrics partner program to earn 20% recurring commissions from each sale.
---
About Johannes Rastas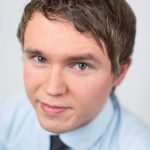 A Partner Marketing Manager at Supermetrics, Johannes focuses on expanding the Supermetrics partner program and collaborating with their existing partners. He also works with SEO and content on a daily basis. Feel free to contact him on LinkedIn.
Turn your marketing data into opportunity
We streamline your marketing data so you can focus on the insights.