Jun 9, 2020
How to run a successful affiliate contest?
10-MINUTE READ | By Svetlana Gryaznova & Johannes Rastas
[ Updated Jan 17, 2023 ]
You have established an affiliate marketing program for your business and you're seeing a steady flow of sales brought in by your affiliate partners every month. But it doesn't end there. To leverage the full potential of your program and scale your business, you also need to activate and engage your affiliates on a regular basis.
One effective activation strategy is to organize motivational contests. These contests can be content-based or they can go along with your product launch campaigns, for example. The idea is to create a win-win situation where the contest reward will motivate affiliates to perform better. The increased promotion and exposure will then translate into more sales and commissions. Such contests are also a good way to convince affiliates to focus their efforts on your program.
In this article, we will walk you through the steps to running a successful affiliate marketing contest and explain what you need to consider in each stage. We will share practical examples from our own monthly contest to illustrate what best practices we have identified so far.
Let's go through the steps from setting up your goal and strategy to tracking your success.
Set up a goal and strategy for the contest
When was the last time you were posting something on LinkedIn to be recognized by other professionals in your field? Or filling in a survey to get a discount?
That's called an extrinsic motivation, meaning that you likely perform a task which you were not previously interested in because of external rewards. It's something we all experience from time to time. And it's something you would like to offer to your affiliates to activate them, increase their sales, or bring more people to your affiliate program.
The good news is that we don't need to wait for it to happen. We can run an affiliate marketing contest to improve performance and motivate affiliates.
Before you decide on the type of contest you want to launch, take a closer look at your affiliate program and start with asking why:
Why do you want to run a contest for affiliates? Raise your sales, grow the number of affiliates, activate inactive ones, increase traffic to your website, support the launch of a new product, etc. (choose an appropriate answer)
The purpose of the affiliate contest will determine the best possible structure and strategy. Since there's a lot of variation in your affiliates' performance, segmentation is your key to running a successful contest.
Decide on contest type and segmentation of affiliates
If the purpose of your affiliate incentive is to motivate all of them, then a content-based contest should be your choice. Ask affiliates to write an article about one of your recently released products, shoot a video to showcase their expertise with using your tool, or create the most engaging campaign on social media by inviting their referrals to start a free trial.
Note: taking part in the contest shouldn't be too complicated because otherwise it will de-motivate affiliates or mobilize only already active ones.
Segmenting your affiliates by dividing them into groups will allow you to communicate with them in a more personalized way and help you activate a certain group based on its performance. How to get started?
Segment your affiliates based on their performance level, e.g. in terms of traffic/trials/sales – high, medium and low;
Arrange a contest that will motivate affiliates and is achievable for the targeted group.
For example, if your main goal is to activate affiliates who brought in only one sale within a certain period, segment them into a separate group and offer an increased commission rate or a bonus added to each subsequent sale. If you run a contest to engage high-performing affiliates, offer them an attractive prize for surpassing their best result.
Provide an incentive for your affiliates
After choosing a goal and deciding on the type of affiliate contest, your next dilemma is to choose the right reward. Not every type of reward will work, so you need to clearly define who your target audience is and what prize would be attractive to them. Keep in mind that the incentive should always match their effort.
Let's look at the most common types of contest prizes that will entice your affiliates:
Physical goods: gadgets, merchandise, etc. (limited only by your creativity and budget);
Company's products or resources: free yearly subscription, guest post opportunity on your blog, or publicity on your social media accounts;
Monetary rewards: flat bonus added to the affiliate account, limited-time increase in commissions, gift cards.
If you're not sure what incentives would be attractive enough for your affiliates, ask them directly in a survey. Just don't be too greedy.
How to launch: create a separate landing page
After planning comes implementation. We recommend you to start with building a dedicated landing page for your affiliate contest.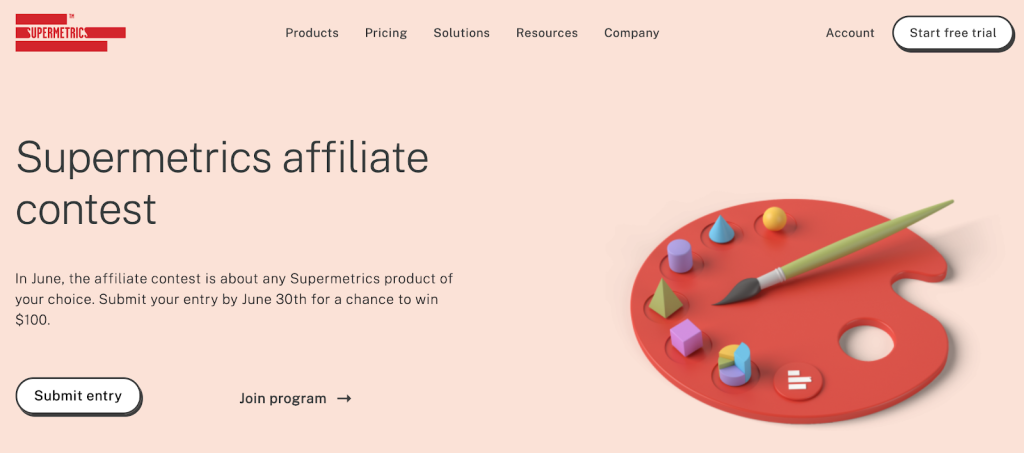 But why do you need it? First of all, the contest landing page plays a major role in specific conversion goals like submitting contest entries. If done right, a landing page will help you get far more leads. Secondly, the contest page plays a major role in explaining the contest rules and rewards. Finally, with the existing landing page, it's much easier to organize your affiliate contest promotion on social media, through an email campaign or by adding a contest backlink to your blog posts. Google Analytics will indicate which promotional channel had the best performance.
Landing page best practices to get more contest entries:
raise interest by creating a capturing headline,
provide clear instructions on how to participate in the contest (don't forget to mention the deadline),
make it visually appealing and consistent with your brand design,
include CTAs (e.g. "submit your entry" button leading to a form or email),
add contest participation terms, and
specify an email address for feedback and questions.
Define contest terms and conditions
Yes, here comes the boring part. Affiliate contest rules should be published online and be easily accessible by all participants. Since in our case the contest is conducted within an affiliate program, and only among affiliates (who agree to your privacy policy when joining the program), we won't focus on the legal part.
To help you develop your affiliate contest guidelines, we've created a short list of common terms for you, including:
eligibility: who can enter the contest
entry period/deadline
how to enter
prizes
how the winner will be selected and notified
If you run a contest only for a specific segment and decide not to create a separate landing page, include your terms and conditions to your contest email campaign.

An affiliate contest is based on two-way communication between affiliate program managers and affiliates. So, don't just present your rules and terms but take the time to develop genuine quality content and creatives for your contest and be ready to answer questions and assist your affiliates.
Decide how to promote the contest
Similar to any marketing campaign, the success of your affiliate contest relies on your ability to promote the contest to your affiliates. It's in your best interest to enlist as many promising affiliates as possible to submit their entries. The more participants you bring on board, the more buzz you will create around your affiliate program, which will hopefully translate into increased sales and traffic.
When choosing your promotional strategy, take into account the type of contest and targeted segments. For example, if you're running a contest targeted towards high-performing affiliates, you're more likely to get a positive response if you send personalized messages to your top affiliates individually. In a more inclusive contest where all tiers are invited to participate, it's better to announce the launch of your contest in a newsletter, social channels, or automated messages through your affiliate platform, for example.
Keep in mind that using only one promotional channel will not reach all potential entrants. Let's consider newsletters, for example. Even if you manage to have a good open rate, your newsletter will most likely only reach a fraction of your entire affiliate base.

This is why we recommend using at least two different channels for the promotion, whether it's social media, personalized emails, a newsletter, or automated messages, depending on your segmentation.
Build a communication schedule
Your contest duration will determine how frequently you need to communicate with your affiliates. We run a monthly Supermetrics partner contest, which means that we announce the start of a new contest and declare the winner once a month.
But as pointed out earlier, using more than one promotional channel is preferable. You can create an email campaign about the contest on your CDP or CRM platform. Or send reminders through your affiliate platform, for example, closer to the end of the month, to get more entries.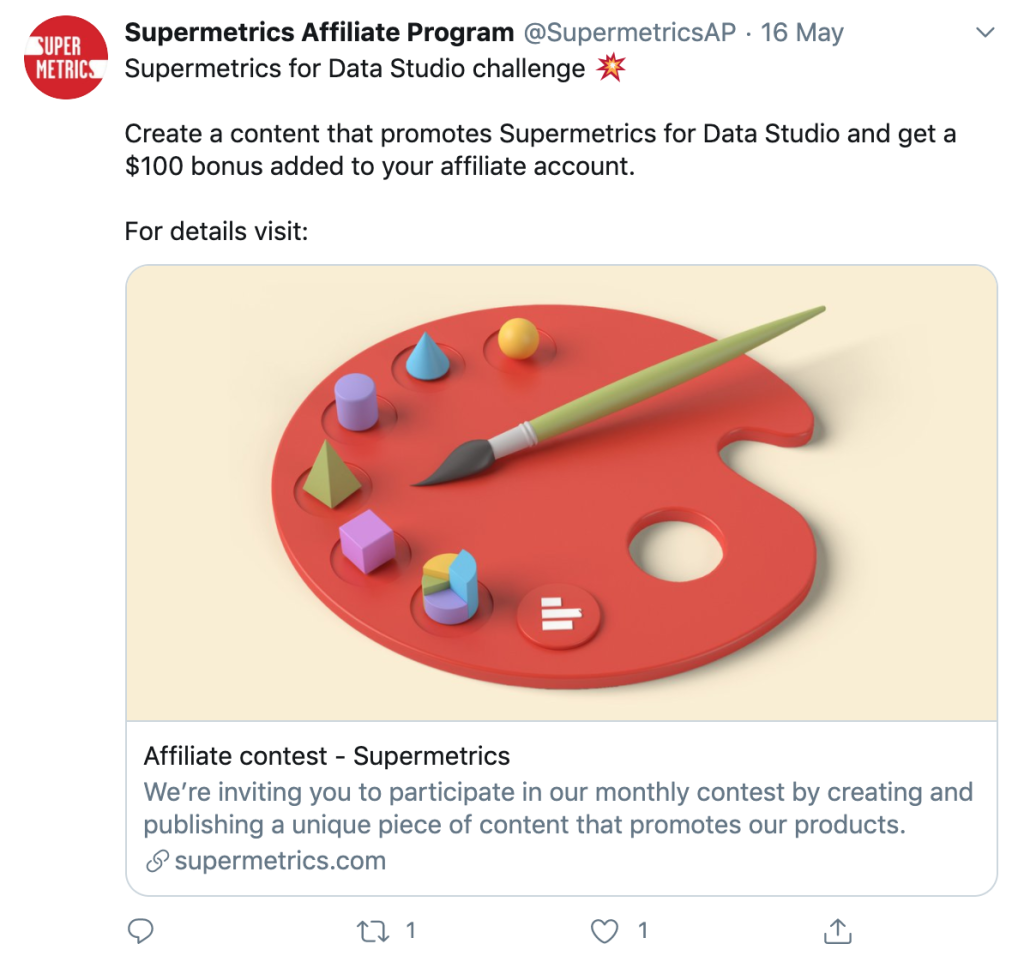 When just launching your contest, you might want to test different techniques to identify best practices. But in the long term, it's better to be consistent and stick to the same channels at regular intervals. Too frequent communication will turn against you and your affiliates will let you know about it by unsubscribing from your newsletters or simply ignoring your reminders.
Announcing the winner on your social channels and newsletter gives exposure to the affiliate who won the contest. Use this as an additional incentive that can attract more participants.
Track your contest performance
To make sure that your contest brings results, you need to consider how to track its performance. This is not so straightforward in many cases. While you're already tracking your affiliates' monthly performance, knowing how much of their increased sales can be attributed to your contest specifically poses a difficult question.
There are a lot of factors that go into making an affiliate sale. The best that you can do in terms of tracking your contest performance is comparing the performance of those affiliates who took part in the contest to a similar period when they didn't participate in any contest.
If you're running a content-based contest, your brand will get more exposure online, which may not generate sales immediately. This is why it can be better to measure the number and quality of entries for each contest and evaluate whether they outweigh the cost of your contest prize and the resources that you spend on running the contest.
Most affiliate platforms allow you to build reports, not only of new commissions and sales but also of unique hits, for example. You can then try to evaluate whether there was any upward trend in the unique hits or sales that could have resulted from your contest activation efforts.

Experimenting with different types of contests and rewards and comparing the results will lead to identifying best practices. You can use split testing and make each contest available to different selected segments only. These experiments will reveal which affiliate segments are the most optimal to activate with motivational contests.
For more tips on tracking the performance of your affiliates, check out this article on how to measure the effectiveness of your affiliate program.
Conclusion
Once you have completed all of these steps, running an affiliate contest is all about optimization – collecting data and comparing the performance of different strategies. The same flat bonus that attracts low- and medium-performance affiliates will not be as luring to top affiliates who bring in a high number of sales every month. For them, temporarily higher commission rates are a much better motivator. This is why knowing your affiliates is your key to running a successful contest. Maintaining good communication with them goes a long way.
For more tips on activating your affiliates check out our guide on how to start an affiliate program. And join our Supermetrics partner program to earn 20% recurring commissions from each sale.
---
About Svetlana Gryaznova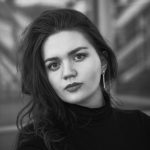 Svetlana is a Partner Marketing Manager at Supermetrics. By combining both her engineering and business education background, Svetlana has worked in several startups across Europe. At the moment, she is applying her knowledge and skills to help grow the Supermetrics partner program. Feel free to connect with her on LinkedIn.
About Johannes Rastas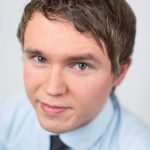 A Partner Marketing Manager at Supermetrics, Johannes focuses on expanding the Supermetrics partner program and collaborating with their existing partners. He also works with SEO and content on a daily basis. Feel free to contact him on LinkedIn.
Turn your marketing data into opportunity
We streamline your marketing data so you can focus on the insights.