Ready to monetize your blog but not sure where to start? Affiliate marketing is a great way to earn extra income for bloggers. Here are 6 tips to prepare your blog for affiliate marketing.
1. Find the right affiliate programs
There are many ways to find the right affiliate programs for your niche. Some of them are:
Using Google search

Finding affiliate promotions from competitors

Browsing affiliate directories
Before you jump on board an affiliate program, check the commission structure offered and read company reviews.
2. Add affiliate promotions to popular posts
One of the most obvious ways to prepare your blog for affiliate marketing, yet sometimes overlooked, is going through old posts and updating them.
Don't add affiliate links to each blog post, you don't want to spam your own content. Focus on the articles that get the most traffic on your blog, as these can bring you the most referrals.
Open old popular posts and refresh the content with new information. Updating your content will give you a boost in Google rankings. Start looking for places where affiliate promotion makes sense. Add your affiliate links to product mentions or include new product information for comparison.
3. Write product reviews and recommendations
Once you have joined affiliate programs, it's time to create quality reviews and recommendations.
When you write a review including an affiliate promotion, keep in mind to create value for your reader. Good research is necessary for a solid review. If you don't own the product, no problem! Simply browse product ratings and read use cases to get a good overview of the product.
Make sure your content is in-depth and speaks about the good as well as the downsides of the product. If you can find more affiliate products within the same category, even better! Now you can create a strong comparison article and guide your readers in choosing the best product for their needs.
4. Place affiliate ads
Besides written promotion, compelling affiliate ads in the form of banners are a great way to promote affiliate products on your blog.
Start preparing your blog for affiliate marketing by finding available promotional materials from the affiliate program. You can often find banners of different sizes to make your promotion stand out.
When placing affiliate ads, carefully consider the size and position of your blog. Avoid banners that are too large or have clashing colors. Remember that affiliate ads are only a small aspect of your blog and they shouldn't overtake your blog design.
5. Promote your content
To be successful in affiliate marketing It's important to focus on traffic. The more visitors your website has, the more people see your affiliate promotions. This will result in more commissions.
Backlinks play an important part in promoting your content by improving your ranking ability and thus getting more traffic. These links come from an external website to your page. Backlinks let search engines know you have something important to say on a particular topic.
The more relevant backlinks you have to your website, the better you will rank in Google for that particular topic and the more traffic you will get. Here are a few ways to get backlinks to your website:
Start guest posting on websites in your niche

Share your insights into a specific topic in a roundup post

Discuss content collaboration and promotion with fellow bloggers
On top of this, promoting your content on social media will help build your audience and get you direct traffic to your blog.
6. Build an email list
Email marketing is an efficient way to expand your affiliate promotions. Start building an email list by placing sign-up forms on your website. In exchange for an email address, you can offer something valuable in return, for example, an e-book or checklist that is relevant to your niche.

Email marketing is also a powerful tool to nurture your relationship with your audience. Try to create entertaining and interesting content for your readers. Read our full guide on How to build an email list for affiliate marketing to get more tips on this subject.
Hopefully, these tips were useful in preparing your blog for affiliate marketing. For more tips on affiliate marketing, check out our Ultimate guide to affiliate marketing.
And join our Supermetrics partner program to earn 20% recurring commissions from each sale.
---
About Hetty Korsten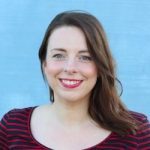 Hetty Korsten is a Partner Marketing Manager at Supermetrics. She has worked for fast growing SaaS startups in Copenhagen and Helsinki. Currently, she's growing the in-house partner program at Supermetrics. Feel free to connect with her on Linkedin.
Turn your marketing data into opportunity
We streamline your marketing data so you can focus on the insights.