Sep 24, 2019
5 ways to do affiliate marketing for B2B
5-MINUTE READ | By Johannes Rastas
[ Updated Mar 10, 2023 ]
The question whether affiliate programs are a good match with B2B companies has been debated among marketing professionals. Thus, it's time to shed some light on this topic.
The best way to answer the question is to look at those B2Bs who are running successful affiliate programs and see how they have managed to pull it off.
In this article, I will do my best to convince you that affiliate marketing does indeed work for B2B, just as it does for B2C. But a few conditions have to be met to make your affiliate program prosper. And these same requirements apply to any affiliate program. You need:
enough resources for a professionally established affiliate program,
strong incentives for affiliates to promote your products or services, and
affiliates who can effectively promote your brand to the right target segment.
Make sure you can fulfill these requirements before deciding to go along with affiliate marketing.
You may wonder why affiliate marketing's suitability for B2B has been questioned in the first place. Well, it has to do with the problem of finding matching affiliate partners to your program. People who can attract business buyers and understand the longer B2B sales cycles.
While B2C affiliates might not always be a good fit for B2B affiliate programs, setting up a program where both types of affiliates are present is certainly possible. In fact, the Supermetrics partner program is a good example. Our products lend themselves to both B2B and B2C.
Because referral sales are such a standard practice in B2B, it's time to look at affiliate marketing just as an extension of it. If you're running a referral program, you're limited to the promotional efforts of your existing customers. Through affiliate marketing, you can expand your network of partners to third-parties who can generate leads and drive sales for your brand.
Here are 5 ways to do affiliate marketing in the B2B sector:
1. Invest your time in recruiting the right affiliates
This is definitely the most time-consuming part of running an affiliate program. You cannot rely on the right affiliates finding your program on their own. Since you're targeting only specific partners who are well-established professionals in their niche, it's you who should be actively pursuing them.
Here, the main difference between B2B and B2C affiliate programs is the scope of your audience. There are fewer potential customers in B2B but their lifetime value is higher.
It's true that most affiliate marketers tend to have a B2C focus, for example those dealing with coupons. And these don't usually match well with B2B marketing. This is something to take into account and a good reason for you to invest enough time in attracting the right affiliates. This means more research and personalization.
Get to know the most effective methods to recruit B2B affiliates here.
2. Offer enough motivation for your affiliates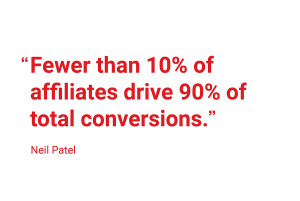 When setting up your program, think about what incentives you can offer to your affiliates. Why should these people promote your products instead of the products of your competitors? An affiliate can only join a limited number of affiliate programs.
In most affiliate programs, fewer than 10% of affiliates drive 90% of total conversions and sales. This means that the top affiliates are always busy and hard to reach. Your offer should somehow stand out from the competing offers.
It's not an exaggeration to say that most top affiliates receive more than 100 outreach emails per day, many of which are collaboration requests. This is why your message needs to catch their attention from the get-go.
3. Use affiliate marketing to boost your lead generation
Every business seeks high-quality leads. There are many methods to generate more promising leads, from paid advertising to email newsletters and social media campaigns.
The benefit of affiliate marketing is that you're using third-party partners to generate more leads for your business. These affiliates are also motivated to bring you promising leads because they get their commission only after a desired action has taken place.
When you're only paying for conversions, you get exactly what you pay for. Of course, investing your resources in recruiting the wrong kind of affiliates can damage your business, too. That is, if you consider the opportunity costs. It's crucial, therefore, that you don't waste your time reaching out to non-promising affiliates.
When it comes to lead generation, your goal for the affiliates could be not just sales. You need to think about your sales funnel and decide what brings value to you. Maybe you want your affiliates to build your email list by getting people to fill in a sign-up form.
A key factor here is that you make it easy for these leads to convert. If you pay your affiliates for leads, it's your job to make sure they will easily convert into customers. This demands a user-friendly affiliate page with a smooth navigation to the sign-up form.
4. Gather enough resources to make it successful
As pointed out before, running a successful affiliate program is a full-time effort. You have to be either all in, or you shouldn't bother at all. Creating a separate landing page for your affiliate program is a good way to start but there's much more to it.
If your business is small, you have to consider your resources. And even if limited resources is not an issue, you still have to take opportunity costs into account. Think if affiliate marketing offers enough potential for you to invest your resources in it.
A well-established affiliate program requires active recruiting of affiliates and constant communication with them. In addition to this, there is reporting and tracking as well as general administration of the program. Together, these add up to a significant amount of time. You may need additional resources to get things running smoothly.
5. Ensure that your affiliates understand your sales cycle
This is one of the key differences between B2B and B2C affiliate programs. It is well-known that on the B2B side, sales cycles are much longer than in B2C.
If you're recruiting affiliates who are used to promoting B2C offers only, it's a good strategy to inform them about the complexity of B2B sales cycles up front. This way, they will be more patient and not lose their interest in the program too early. For you, this means being prepared for frequent communication with your affiliates.
Since B2B sales relationships have a longer lifespan, conversions have a higher profit potential for your affiliates, too. Thus, it usually pays off for them to be patient.
In general, affiliate marketing is an effective promotional channel for generating leads and driving sales. Almost 90% of advertisers consider affiliate marketing important to their marketing strategy. These methods should help you with establishing a successful B2B affiliate program. But you need to be constantly on the lookout for new strategies and techniques to stay ahead of your competitors.
If you want to read more about the basics of setting up an affiliate program, you can take a look at this guide: How to start an affiliate marketing program. And join our Supermetrics partner program to earn 20% recurring commissions from each sale.
About Johannes Rastas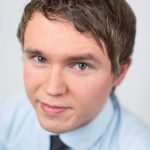 A Partner Marketing Manager at Supermetrics, Johannes focuses on expanding the Supermetrics partner program and collaborating with their existing partners. He also works with SEO and content on a daily basis. Feel free to contact him on LinkedIn.
Turn your marketing data into opportunity
We streamline your marketing data so you can focus on the insights.