From unstructured data to data-based decisions with 100+ hours saved every month
Key takeaways
French daily morning newspaper, Le Figaro, struggled to aggregate and analyze their marketing data as they lacked time and the right technical skills in the team

Implementing Supermetrics for Looker Studio helped them visualize all of their data in a single dashboard

Supermetrics also bridged the gap Le Figaro faced by not having technical expertise on the team

With time, Le Figaro became more mature and starting using Supermetrics for BigQuery, allowing them to connect all of their internal data sources into a super-table that they can use as a single source of truth for reporting and analytics
Quick facts
Industry: Newspaper publishing
Founded: 1826
Size: 1800 employees
Markets: France
Products: Supermetrics for BigQuery, Supermetrics for Google Sheets, Supermetrics for Looker Studio
Le Figaro was founded in 1826 and is one of the oldest news brands in the world. Headquartered in Paris, France, Le Figaro is famous for its quality content online and in print. It is part of the Figaro Group, a leading actor in digital media with 34 million unique visitors per month in France.
Mickaël Zollet is Head of Marketing Operations, leading Le Figaro's CRM, digital acquisition & data analysis initiatives. He has been with the company since 2013 and contributes with his team to monitoring and optimizing company performance by providing reports, data tools, and studies as well as launching marketing campaigns.
Looking for an easy-to-use solution with high-quality connectors
In the past, Le Figaro's marketing department did not have a dedicated team for data analysis. They only had one or two people working on it part-time and without any advanced technical skills. Consequently, Le Figaro struggled to aggregate, automate, and analyze their data, leading to missed opportunities across their marketing. They realized that they'd need to find a solution that would bring all their data into one place easily and without the need for engineering skills.
A key challenge was the number of ad platforms they were using. Le Figaro wanted to have their advertising data from Facebook, Twitter, and Instagram in the same place to visualize and analyze it more easily, to understand their best performing channels, ads and messaging, and to optimize marketing ad spend. Additionally, they wanted to find a strong solution that would offer insights and analytics on their organic performance across multiple channels and touchpoints. As a major media publication, they wanted to generate automatic audience reports gathering multiple sources and brands without spending hours to do it manually every morning.
Mickaël started looking into different options in the market that would support their needs at scale. He said, "We wanted a single dashboard with all our marketing data in the same place. We looked at the solutions on the market and tried them out. The one that was able to meet all our expectations was Supermetrics." In 2018 Le Figaro started using Supermetrics and they had finally found a system that could offer what they needed.
Le Figaro's journey with Supermetrics
Le Figaro started their journey with Supermetrics by using Supermetrics for Google Sheets and Supermetrics for Data Studio, now Looker Studio. The implementation was seamless, and getting everything up and running had an immediate turnaround time. "All it takes is to connect your account, choose the metrics you want, and bring the data on a spreadsheet or wherever you want to have it. I don't have much to say about implementing Supermetrics as it's very user friendly - it's just plug and play," Mickaël says. Currently, Le Figaro is using Supermetrics across the three teams within their marketing operations department.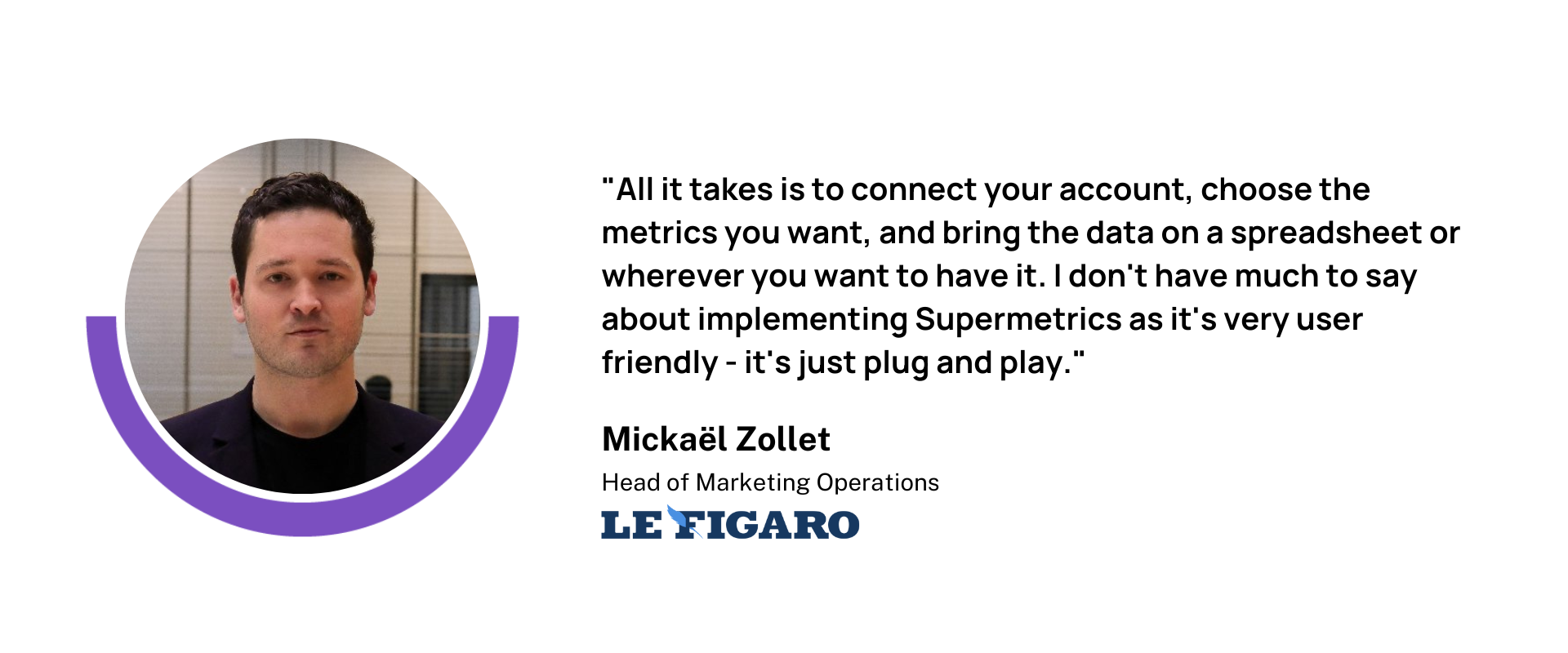 One of the biggest benefits Le Figaro experienced was once they started using Supermetrics, they could easily build dashboards without any advanced technical skills needed. Even when the team grew its technical marketing engineering department, Supermetrics still helped save over 100 hours every month through its ease-of-use and reporting automation according to Mickaël.
Over time and with the development of the team and their data analytics modeling, Le Figaro was ready to take the next step. They wanted to build more advanced data tables, bringing in historical data that would give them actionable business insights. The team's analytics needs had grown out of the current setup and Supermetrics was there to help them take the next step. "It all started with the simple need to gather data from various sources in the same place. But then we wanted to go further by creating more complex data tables, merging various sources with data transformation upstream, with more flexibility. That's why we started using Supermetrics for BigQuery," Mickaël explains.
The right data to the right people at the right time
Using Supermetrics for BigQuery has allowed Le Figaro to merge internal and external data, creating a super-table for content performance for example. They can also merge data from different advertising platforms to create a richer dataset that gives a more comprehensive and holistic view of the marketing operations. Not just gathering all the data in the same dashboard, but also in the same table or the same chart by using a single source.
Supermetrics for BigQuery also helped to display performance; by doing all the work upstream, the dashboards were quicker to load and to respond to user requests. Le Figaro can now easily streamline their business processes for decision-making using quick and digestible dashboards, with datasets easy to access for the whole organization and working with a single source of truth.
Le Figaro's biggest benefit of using Supermetrics is the simple way to aggregate data and automate reports.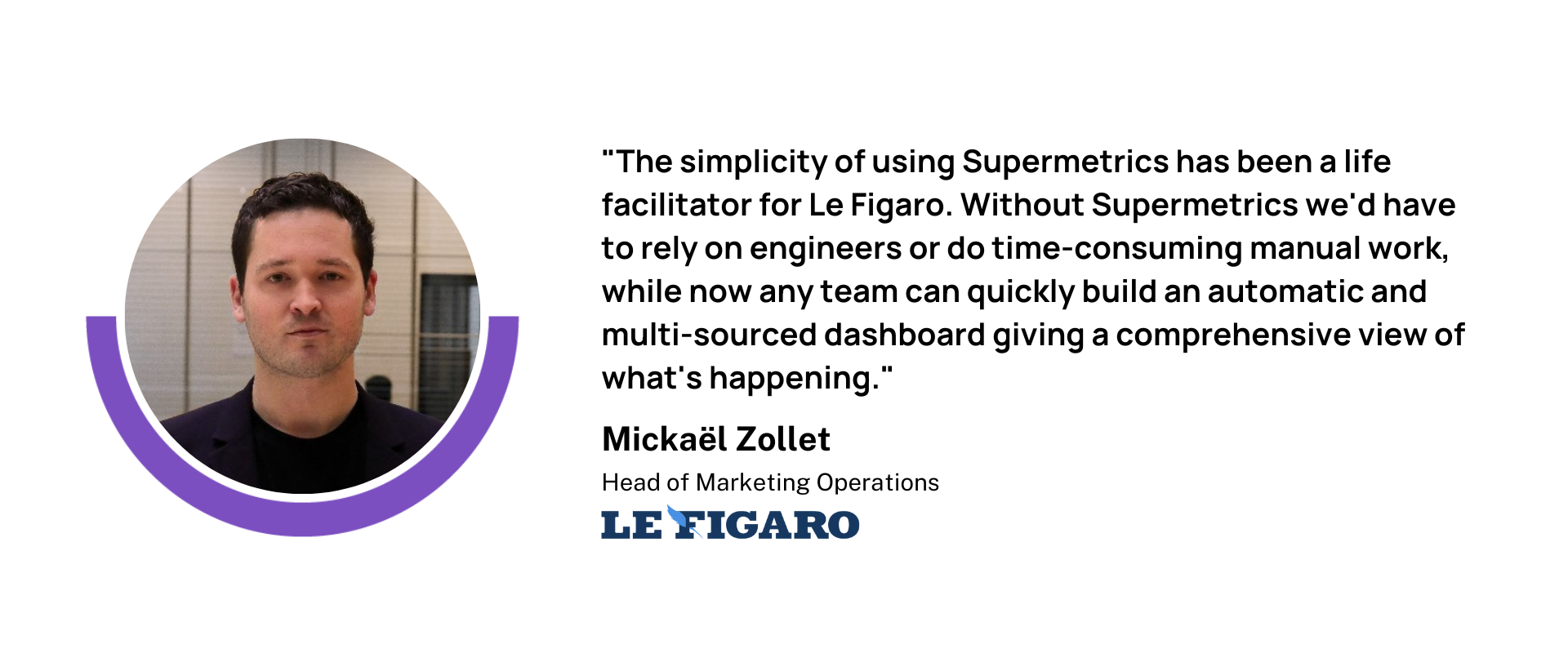 With Supermetrics and BigQuery in place, reporting from managers to operational teams has become quicker and easier for Le Figaro. Creating a weekly 360 degree report used to take a full day, now the team can do it automatically with quality data that can be trusted across the departments of the organization. "I'd say we save easily over 100 hours every month by using Supermetrics. The leadership team sees the value of the product as we can now get reports on their desk every Monday with more KPIs and quicker than before. We are also able to send several daily reports gathering our data as well as competitive intelligence, without any manual work. Our goal is that every team gets the right data at the right time," Mickaël explains.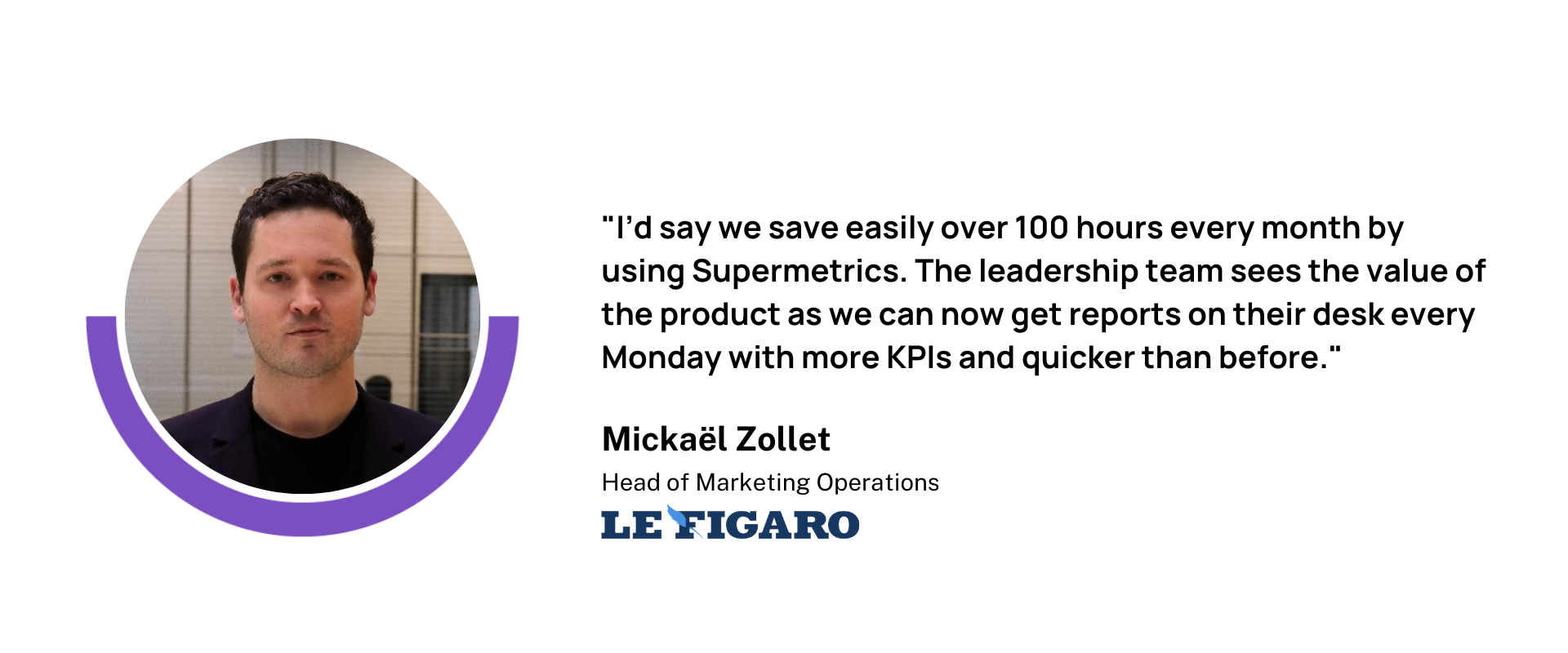 A partner that supports and listens
"Working with the Supermetrics team is easy and we feel we're getting the support we need. We appreciate that our opinion matters and that we can express our hopes and wishes; Supermetrics listens to us," Mickaël says.
Want to create better and faster reports like the team at Le Figaro? Start your free trial of Supermetrics, or contact our sales team to discuss more.
Turn your marketing data into opportunity
We streamline your marketing data so you can focus on the insights.