Nov 10, 2020
Build advanced SEO reports with the new Ahrefs connector
5-MINUTE READ | By Anna Shutko
[ Updated Mar 10, 2023 ]
Good news for SEOs and other Ahrefs fans! You can now build backlink, cross-link, and technical SEO reports with our brand new Ahrefs connector for Google Data Studio, Google Sheets, Excel, and Supermetrics API.
Here's what you can do with the connector:
Create backlink reports to identify which websites link back to you
Build internal cross-link reports to analyze and optimize your website's link structure
Create technical SEO reports to improve your website performance
Analyze your competitors' SEO and link building strategies to get ideas on how to improve yours
Use our plug-and-play Google Data Studio template to easily stay on top of your backlinks
Keep reading to learn how to create these reports and how to get started with the connector.
Analyze your website's backlink profile
By pulling and analyzing your backlink data from Ahrefs, you'll be able to answer the following questions:
Which websites link back to ours?
Which links do people click?
Which pages do they land on?
Use "domain rating", "URL rating", and "site metrics" report types to get started and add data from the "backlinks" and "backlinks extended" report types if you need more details.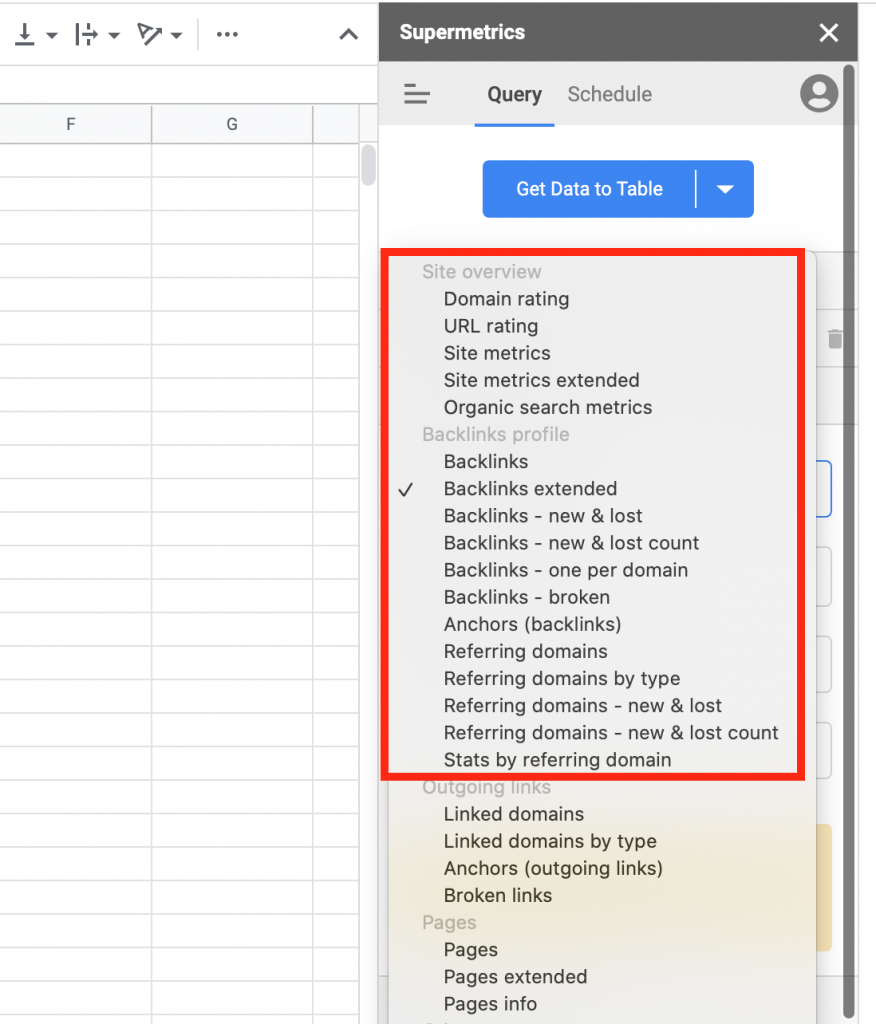 Here are a couple of ideas of what metrics you can pull into your spreadsheet and how your can analyze the data:
Monitor the overall number of referring domains, pages, and backlinks for each URL to see how actively other websites link back to yours.
Analyze how many backlinks you lost or gained and from which domains. Next, check the newest links. You can reach out to the companies that recently linked back to you and ask them to also link to a different page.
See which pages on your site get the most backlinks. Maybe there's a way to replicate their success elsewhere on your website.
Check the type of your backlinks and whether they're original.

For a more detailed analysis, use the "anchors (backlinks)" report type that helps you understand the context in which your backlinks are mentioned in the text.
Additionally, you can add data from Google Analytics to this report to understand what the users do after they've landed on your website.
Build a website overview report
With the help of this report, you can analyze outgoing links and the way your website pages are interlinked.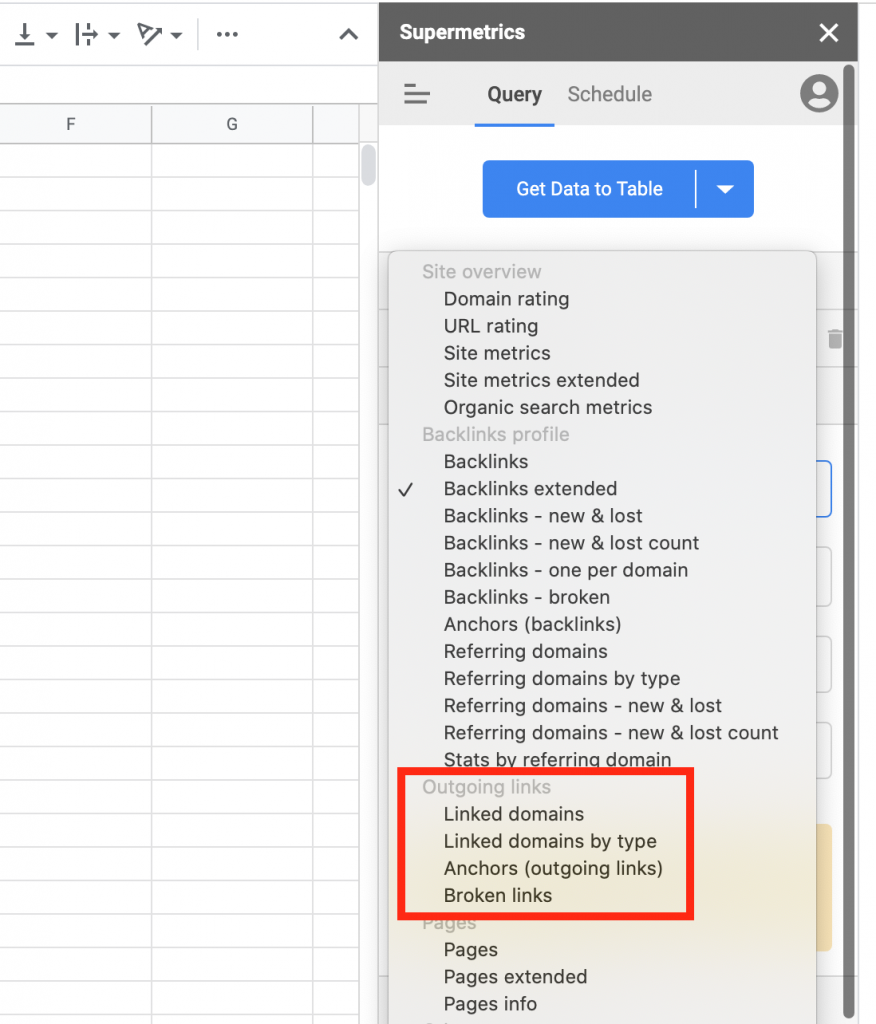 You can answer the following questions:
What does my website's link map look like?
Do my most viewed pages have enough internal links?
Which websites/pages does my website link to? What is their domain rating?
How well do my pages rank on SERP?
Use "outgoing links" report types to help you:
Report changes in your Ahrefs domain and page rankings
Understand the number of keywords that help your pages place in top 3, top 10, or top 100 results on the SERPs

You might also want to check out the "broken links" report type and set up conditional alerts and emailing to easily spot 404s and other errors.
As Branko Kral mentions in his brilliant article on SEO analytics, "once you've optimized the site's structure, and identified which pages should be the most packed and exhaustive ones, you create internal linking structure around them."
As you understand how visitors navigate through your website you can tweak the site's structure accordingly. Add data from Google Analytics to get more context on the other pages your visitors go through.
Technical SEO report
With the help of the "broken links", "backlinks", and "backlinks extended" report types, you can analyze your own or a competitor's website on a more granular level:
Map the status codes of your pages to see if you need to add a redirect somewhere.
Quickly check the byte size, page encoding, or title of any page.
You can also get a list of anchors appearing in outgoing links, and the number of links that anchor has to get more context around each and every backlink and the page it links to.

Analyze your competitors' SEO and link building strategies
Another great way to use the Ahrefs connector is to snoop on your competitors' performance to get more ideas on how to improve your SEO strategy.
Here are some ideas for your competitive analysis:
Pull your competitors' backlink and outgoing link data to see what kind of websites link to them and what they link to.
Monitor your competitors' page and domain ratings to get benchmarks for your own metrics.
Identify their top performing pages in terms of traffic: which linked pages with high domain ratings are linking back to them? This will help you identify sites that might also be willing to link to your website. Go granular and get more information about your competitors' websites. You can check their pages' IP address, titles, encoding, and more.
Ahrefs dashboard template for Google Data Studio
If you're into Google Data Studio, here's a handy backlink report template to help you get started.
Here's what you'll find from the template:
An overview of key metrics
A breakdown by link type
A list of top referring domains
A list of top pages
Click here to get this template.
Getting started with the connector
To make sure your queries run smoothly, please check the quotas for each query type and other API limitations.

Please note that unfortunately the connector doesn't allow you to pull metrics or dimensions related to keyword analysis as they're not included in the Ahrefs API.
The Ahrefs connector is available in the Pro package for Supermetrics for Google Sheets, Data Studio, Excel, and Supermetrics API. This connector will be available in the current Pro, Super Pro, and Enterprise plans introduced on October 28th, 2019. To use the Ahrefs connector, users with old pricing plans (started before October 28th, 2019) will need to upgrade their plan to the current one.
Have more questions about using this connector? Check out this guide.
Want to start building Ahrefs reports today? Start your 14-day free trial of Supermetrics now.
Turn your marketing data into opportunity
We streamline your marketing data so you can focus on the insights.