Get your marketing data to monday.com
Supermetrics for monday.com is the easiest and fastest way to add daily refreshed reporting from your key sources to your favorite WorkOS. All it takes is a few clicks.
Set up in minutes. No credit card required.
Fueling insights for 200K+ companies in 120 countries
Refresh key metrics in one single board on a daily basis
The data sources that matter
Connect all your data sources in minutes. Supermetrics helps you pull granular marketing data from all the marketing sources that matter to you.
Supermetrics x monday.com. Better together.
Supermetrics & monday.com allow marketing teams to see their campaigns performance in one intuitive, visual, and easy-to-use space, enabling a more holistic marketing process.
Together, we empower everybody to gain unprecedented visibility into how much is spent, which activities are most effective, and who is making the biggest impact.
The easiest & fastest way to add marketing reporting to monday.com's
View team performance
Automatic data refresh ensures reporting is daily up-to-date
A predefined dashboard that makes key KPIs easy to follow
Seamless UX with monday's collaboration & automation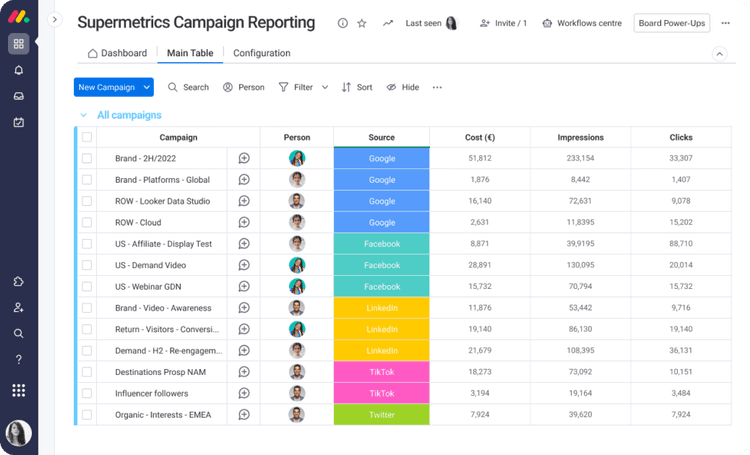 Why Supermetrics?
No maintenance
We take care of maintaining the connectors so you don't have to. If anything changes in a marketing channel, you can trust that we'll make the same change in our connector.
Full data ownership
With Supermetrics your team can easily set up the integration without relying on an external provider. This gives you full ownership and access to your data.
What makes Supermetrics more secure
Secure data transfers
Supermetrics never stores your data permanently and uses an HTTPS encrypted channel for all data transfers.
SOC2, GDPR, CCPA compliance
External parties have audited all our processes and Supermetrics is SOC 2 Type II, GDPR, and CCPA compliant.
Access control
Our products allow you to provide different members of your team with access to authentication tokens.
Get full access to Supermetrics with a 14-day free trial.
Sign up for a free 14 day trial, no credit card required.
You need a monday.com account to use this destination.