Supermetrics for BigQuery - Overview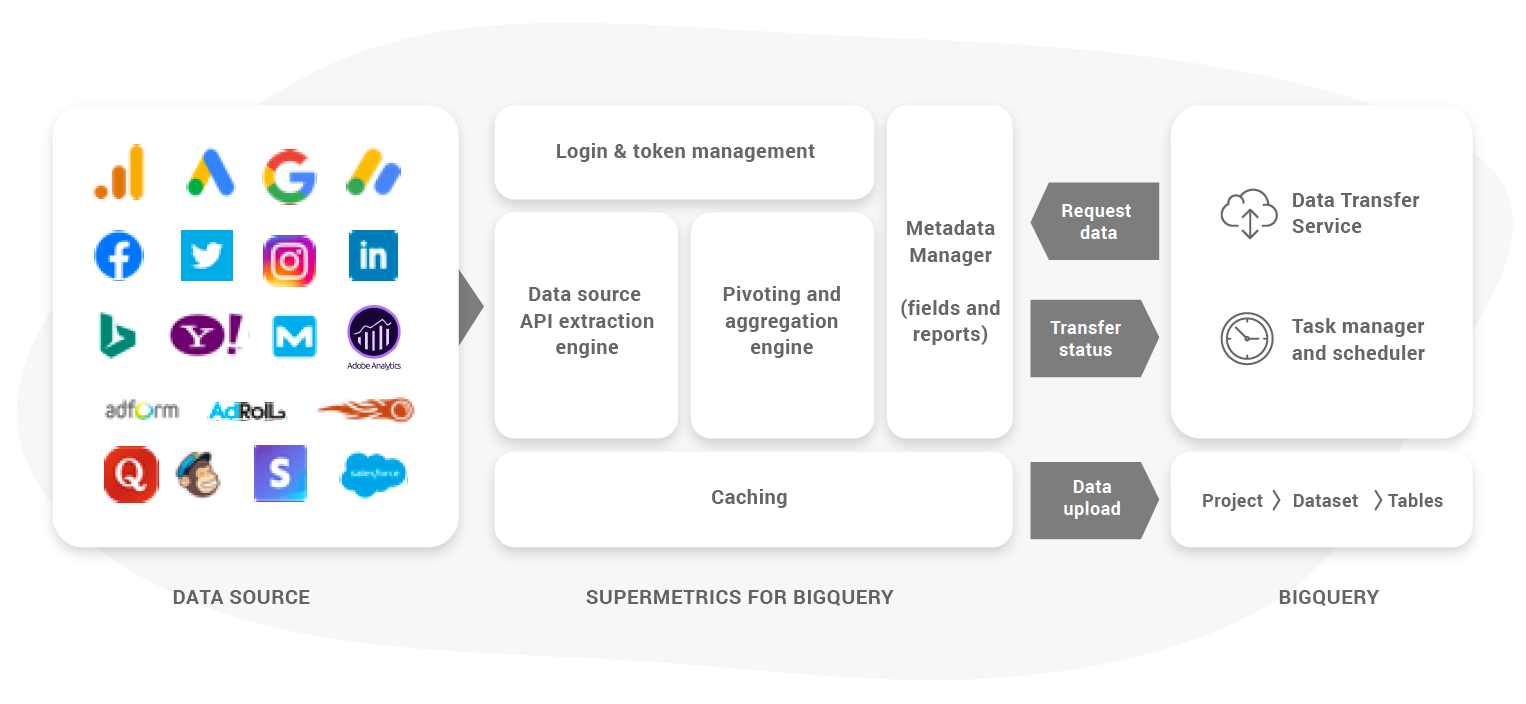 API extraction engine
Our state of the art API extraction engine handles all it takes to get your data out: it creates the authentications, optimizes the speed of a vast amount of data source requests and handles retry logic.
Login and token management
By combining data source logins and storing temporary tokens, we make it reliable and secure for users to extract data. All logins are viewable on a single page located on our account management site, where users can re-authenticate and refresh authorization tokens on a single page for all their data transfers.
Pivoting and aggregation
Regardless of the type of data in the data source our transformation engine executes the data aggregation to the desired level.
Metadata manager
Important function of metadata manager is mapping the source fields to destination fields. This ensures unified naming in the data destinations and improves the ability to handle data source changes and maintaining consistent naming across data sources.
→ Getting started with Supermetrics for BigQuery »
Schemas
| | | |
| --- | --- | --- |
| AdRoll | STANDARD | Campaign, banner details and geography level data |
| | BANNER | Detailed list of banners |
| Microsoft Advertising | STANDARD | Wide coverage schema including demograpghhy data and ad level/keyword level details |
| | LIGHT | Lighter version of Standard schema without demography data |
| | CONREVENUE | Conversion focused schema |
| | CALL | Call tracking tables |
| Facebook Ads | STANDARD | Based on mostly used metrics and dimensions inlcuding ad level data |
| | ENHANCED | Includes 2 more tables for actions demography |
| | PRODUCT | Product avdertising related data |
| Facebook Insights | STANDARD | Detailed Post and Page metrics including Demograpghy tables (Geo, City and Age & Gender) |
| | LIGHT | Same as Standard but without Demography tables for reducing amount of transfered data |
| LinkedIn Ads | STANDARD | Detailed Campaign Ad and Inmail analytics |
| Adobe Analytics | STANDARD | Comprehensive set of 9 different tables covering Traffic, Content and user |
| | LIGHT | Reduced set of 6 tables for improving transfer |
| Twitter Ads | STANDARD | Detailed Ad and Campaing overview |
| | ENHANCED | Same as Standard but includes Demography information |
| Instagram Insights | STANDARD | Organic post and page insights uncluding demography |
| | LIGHT | Lighter version of Standard schema without demography data |
| Quora Ads | STANDARD | AD and Campaign level deteailed overview, configurable conversion |
| Google My Business | STANDARD | Complete dimensions and metrics coverage including Location, Post and Review details - including media |
| Google Analytics | STANDARD | Comprehensive set of 9 different tables covering Traffic, Content and user |
| | GOAL | Goal Conversion details |
| | PRODUCT | Transaction ID level conversion analyses for product |
| LinkedIn Company Pages | STANDARD | Page and post summary including deatiled demograpghy splits (company size, Job function, country, seniority industry |
| Google Search Console | STANDARD | Detailed search performance on search query level |
| Adform | STANDARD | Deatiled performance analyses coveraging campaing performance, site tracking and banner details. |
| Google AdSense | STANDARD | Channels and network performance analyses |
| Stripe | STANDARD | Comprehensive coverage of every aspect of payments |
| Yandex.Direct | STANDARD | Simple summary of Ad performance |
| Yahoo Gemini | STANDARD | Detailed coverage of all aspects related to performance of advertistment and search |
| Salesforce | STANDARD | Overview of Leads and Opportunities |
| Google Ads | STANDARD | Complete overview of Campaings on AD level including keywords conversions and placement details |
| | ENHANCED | Same as standard adding more data intensive demography tables |
| | CALL | Call tracking tables |
| Google Display & Video 360 (Campaign Manager) | STANDARD | Line item level details and creative details |
| | DEMOGRAPHY | User demograghy tables |
| Google Search Ads 360 | STANDARD | Keywords performance and details about Campaings and Ads |
| | LIGHT | Basic schema containing only Campaing level data |