Today, we're happy to announce Supermetrics is now fully integrated with Twitter Ads. Another step that lets you gain a more comprehensive view on your mix of paid marketing channels. With this new connector, you can easily import Twitter Ads data into 
Google Sheets
 and Excel to analyze your cross-channel campaign performance data, in conjunction with Adwords, Facebook Ads and Bing Ads.
Getting started with Twitter Ads in Google Sheets, with just 5 clicks
If you've used our Google Sheets add-on, you can choose to add Twitter Ads data to your own reports by running queries, just like with our other data sources. But we've also prepared a Twitter Ads dashboard to help you jumpstart. In this short tutorial below, we show you how to easily use our Twitter Ads connector to build a campaign objective tracking dashboard.
1. Open up Supermetrics sidebar in Google Sheets, and choose Twitter Ads in the list of data sources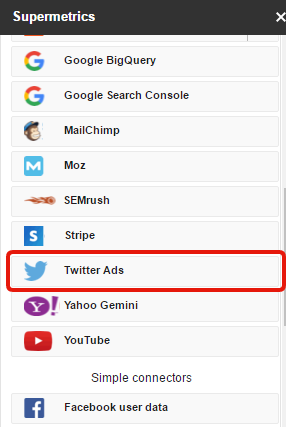 2. Authorize Supermetrics to access your data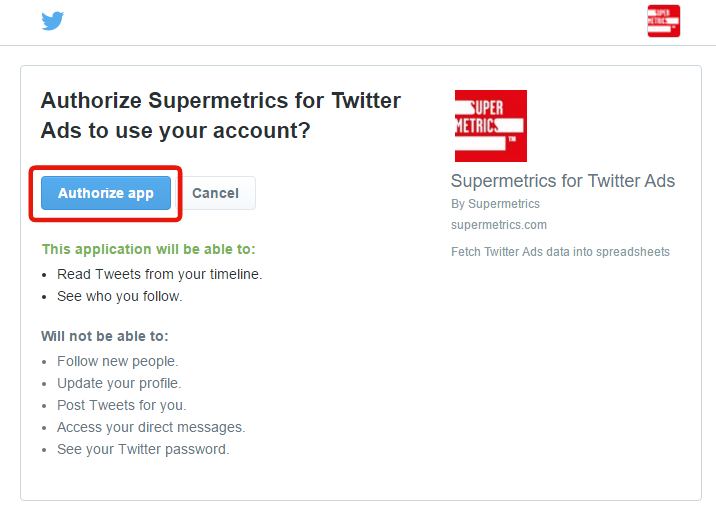 3. Choose the right Twitter account, and then click Insert The Template
Enjoy a cup of coffee while we're working hard to process your Twitter Ads data 🙂
Voilà, you've got your Twitter Ads dashboard. Easy peasy, huh? 
And wait, there is more. Scroll to right in the spreadsheet and you can find a table for each campaign type, Engagements, App Installs, Followers, Leads and Video.  Give it a try and let us know what you think!