9-MINUTE READ · By Paul Koks on May 31 2016
One of the keys in finding actionable insights, is to segment your data and visitors. Raw data without context doesn't tell much.
But wait a second… Before even thinking about analyzing your Google Analytics data, you should always define a business question first. What are you trying to solve or improve? Without it, your analysis or deep dive won't be effective.
I assume here that you took the time to define a business question and are ready to examine your data in more detail. One way to do this, is by applying segmentation techniques.
In this post I will describe 10 methods I often use to segment the data for greater insights.
1. Date range
Segmenting on date range or time period can be extremely useful.
For example, one month ago you launched a new feature on your website. You want to quickly see how your website performs this month compared to one month ago.
To keep it simple, you just want to see the basic numbers on your website.
Step 1: open the reporting overview.
Step 2: navigate to Audience >> Overview.
Step 3: press "d" and then "m".
Step 4: press "d" and then "c".
Step 5: investigate your report.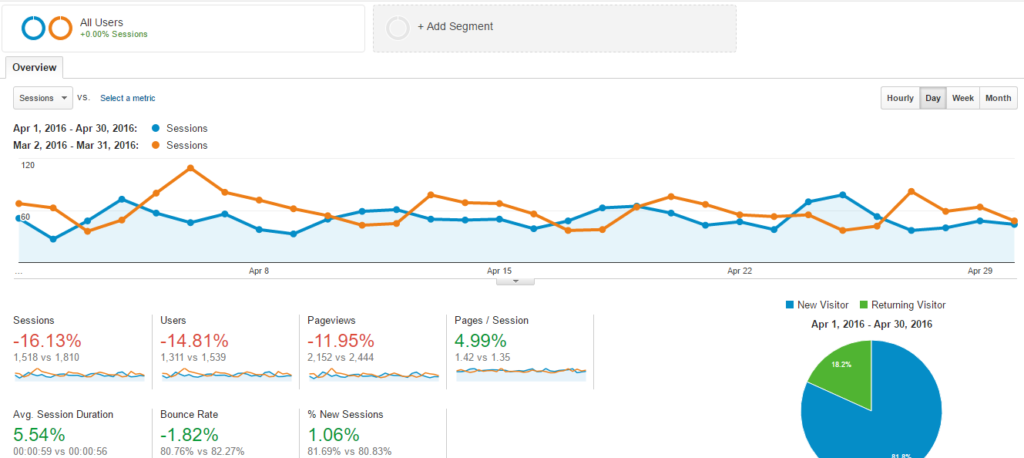 In this example I have used shortcuts to quickly create the report that I need. You can review the shortcuts by pressing "Shift" and then "/" (the forward slash / question mark function).
2. Primary dimension
Metrics and dimensions are the building blocks of almost all reports in Google Analytics.
So how can you distinguish between them?
A dimension is a characteristic of an object that can be given different values —> a dimension describes data
A metric is an individual element of a dimension which can be measured as a sum or ratio —> a metric measures data
A dimension comes very much in handy when you want to segment your data.
To show you an example, I will open the source/medium report in Google Analytics.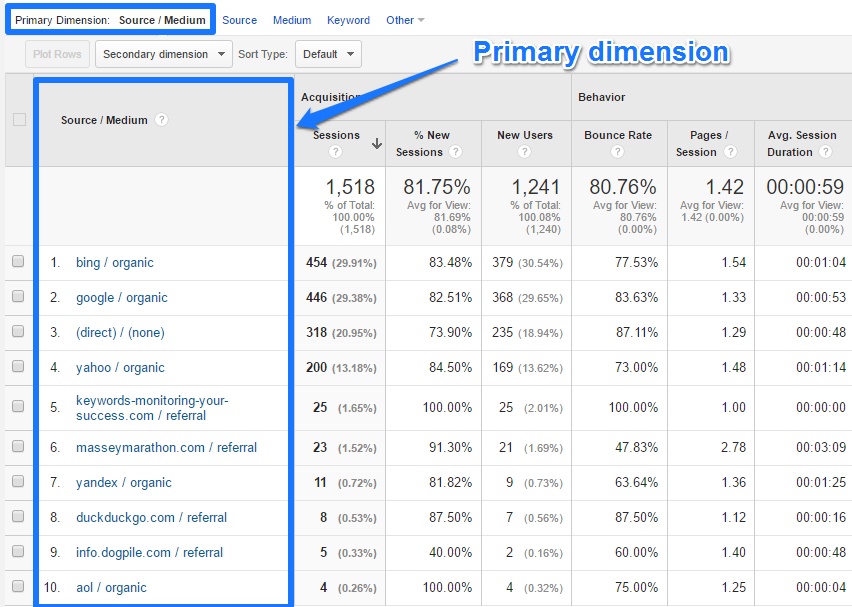 In this overview you can judge the performance of your channels based on the source/medium definition.
It is clear that in terms of bounce rate and pages/session, the referring site masseymarathon.com performs very well.
3. Secondary dimension
Secondary dimensions go one step further than primary dimensions. They allow you to combine two dimensions when analyzing your data.
For example, you want to analyze source/medium and compare it to region (country).
Step 1: click on secondary dimension.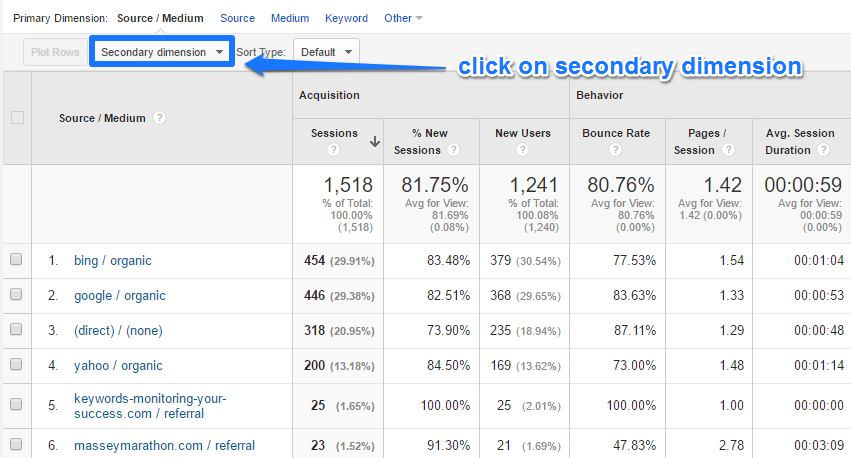 Step 2: select "country" as dimension.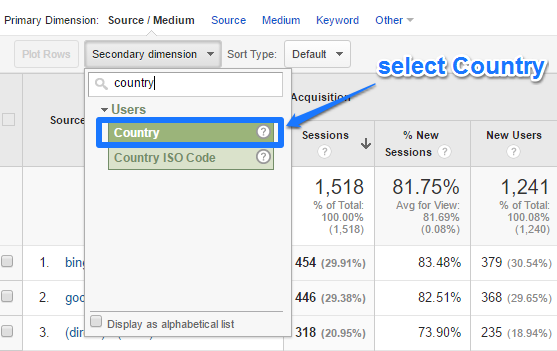 Step 3: investigate your report.

4. Tertiary dimension
The tertiary dimension is based on a trick not many people know about.
It allows you to segment your standard report based on three different dimensions in record time.
Step 1: click on a primary dimension; in this case I click on "bing / organic".

Step 2: change the primary dimension to "country".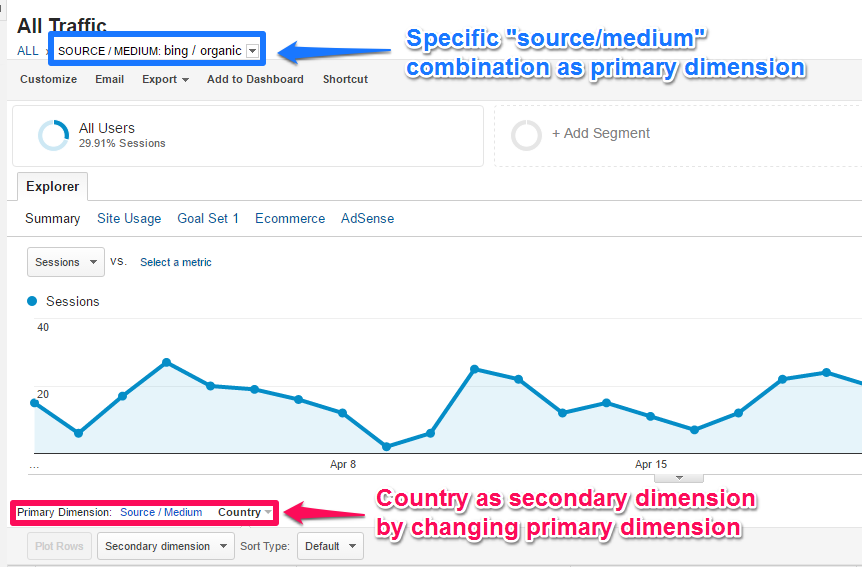 Step 3: use the secondary dimension as a tertiary dimension.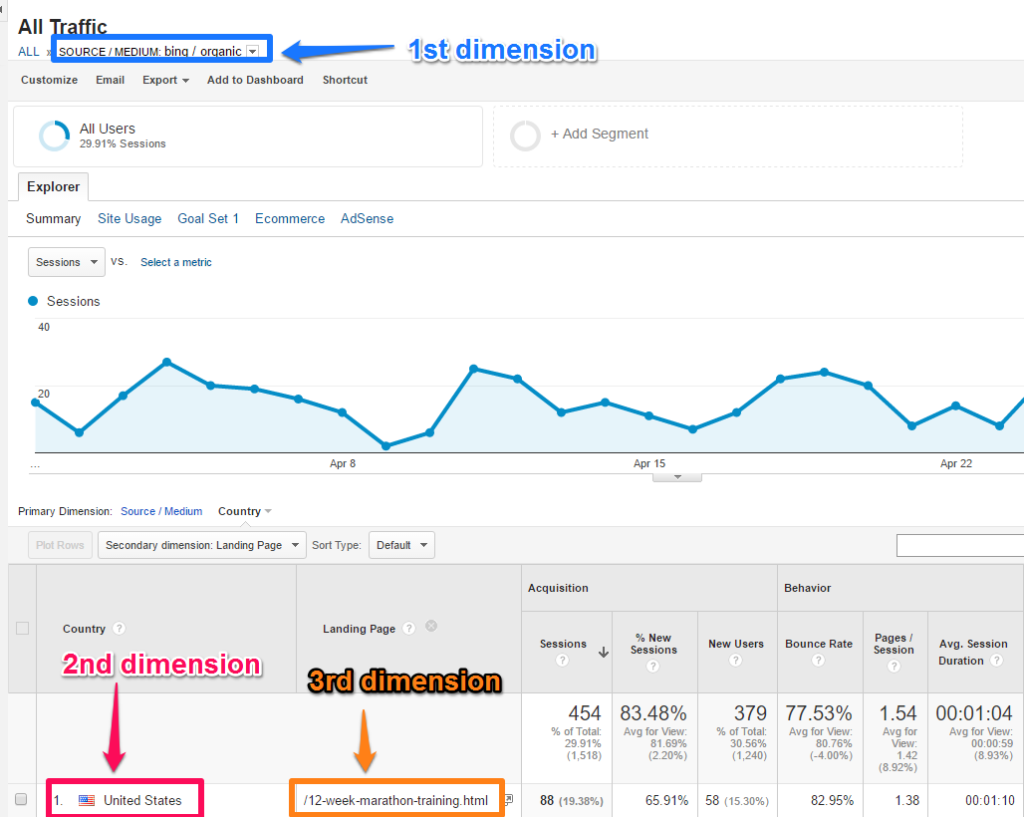 I use two or even three dimensions to quickly understand what's going on on a website in relation to a business question that I defined first.
It literally just takes minutes to segment the data in this way.
However, if you find yourself doing this on a regular basis, make sure to consider using a look like Supermetrics instead! It can save a huge amount of time if you use it in the right way.
Note: by clicking on "source/medium" in the navigation bar on the left you can quickly return to the default report (only a primary dimension selected).
5. Basic table filters
Another good option for segmenting your Google Analytics data are table filters. You have basic and advanced table filters.
Basic table filters allow you to segment on the primary dimension.
Advanced table filters allow you to segment on one or more primary and secondary dimensions including metric conditions.
Let's assume you want to see the organic "source/medium" combinations that drove traffic to your website.
You need to fill in "organic" in the "search filters box" to get the data that you want: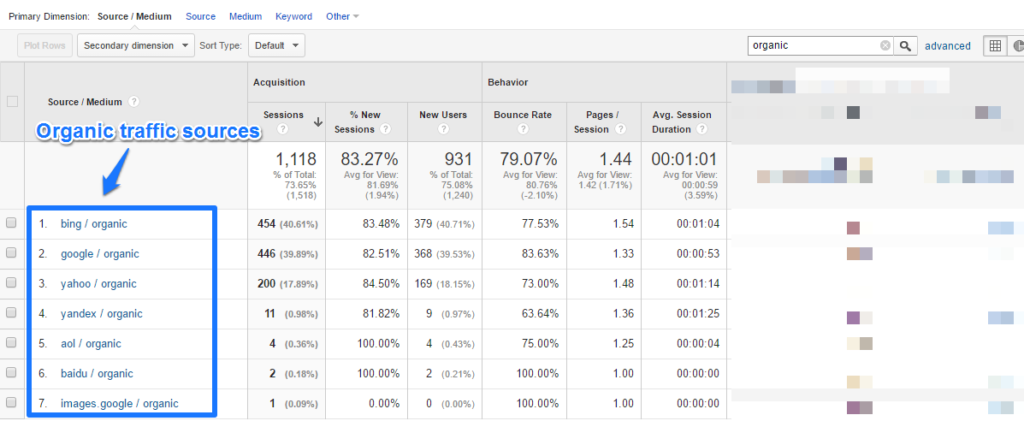 Examples of when this can be useful:
Compare different PPC terms that include one specific word or phrase.
Compare landing pages that include one specific directory.
Compare different banners belonging to the same campaign.
Note: you can fill in both regular expressions as well as plain search phrases in the search filter box.
6. Advanced table filters
Advanced table filters are very useful if you want some more flexibility when segmenting on your data.
Here is an example report setup with a secondary dimension applied:

Now you need to define the information you want to see in your report: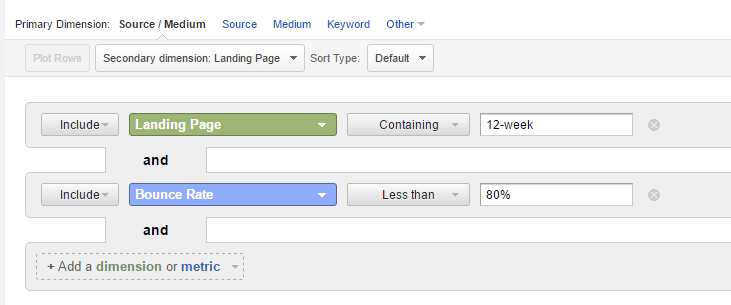 I have included two definitions here:
Landing Pages that contain the phrase "12-week".
Bounce Rate is less than 80%.
Here is the report (hit "apply" first):

It returns the "source/medium" and "landing page" combinations based on the rules that I set before.
In the top right corner of the screenshot you can see "Advanced Filter ON".
Note: by setting up a custom report (which we will discuss later) you can create reports with more dimensions. You can do this by setting up a flat table. This is a static, sortable table that displays data in rows.
7. Plot rows
The "Plot rows" function can be a great help if you want to take a more visual approach in segmenting your data.
Step 1: select the groups of data you like to plot.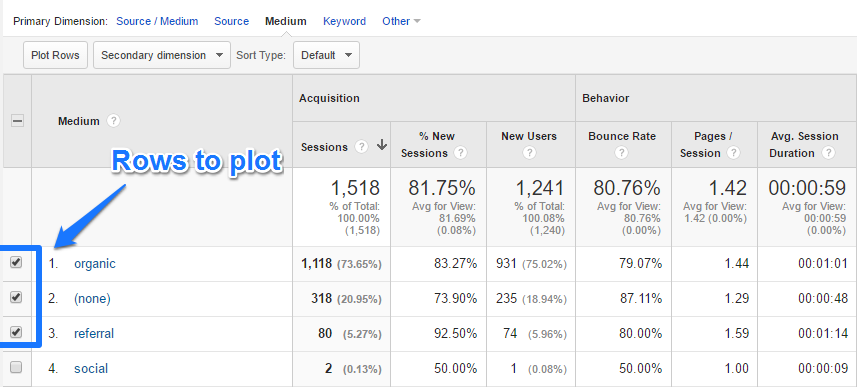 Step 2: select "plot rows".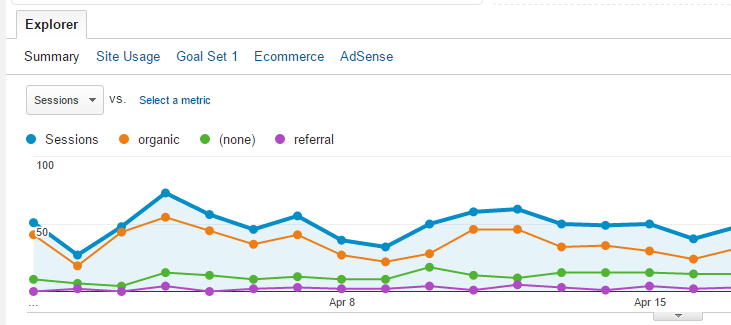 It enables you to visually compare different rows of data in a quick way. In this case you can conclude that the portion of organic traffic to the website doesn't differ much in the selected period.
Best practices:
Make a trend graph over a longer period of time. Day to day numbers don't say much.
Aggregate your data on a monthly basis so you can better judge the trends.
Export your data to better analyze the numbers and take more accurate conclusions.
Use the Google Analytics API and a suitable application to do more advanced analysis.
8. Segments
One of the best ways to segment your data is by using the segments function in Google Analytics. It's a great way to isolate and analyze subsets of your data.
You can work with predefined segments or come up with a unique segment that you create by yourself and perfectly suits your business and the question you want to answer.
Let's assume you want to analyze a few reports for mobile traffic only.
Step 1: click on "add segment" in the reporting interface.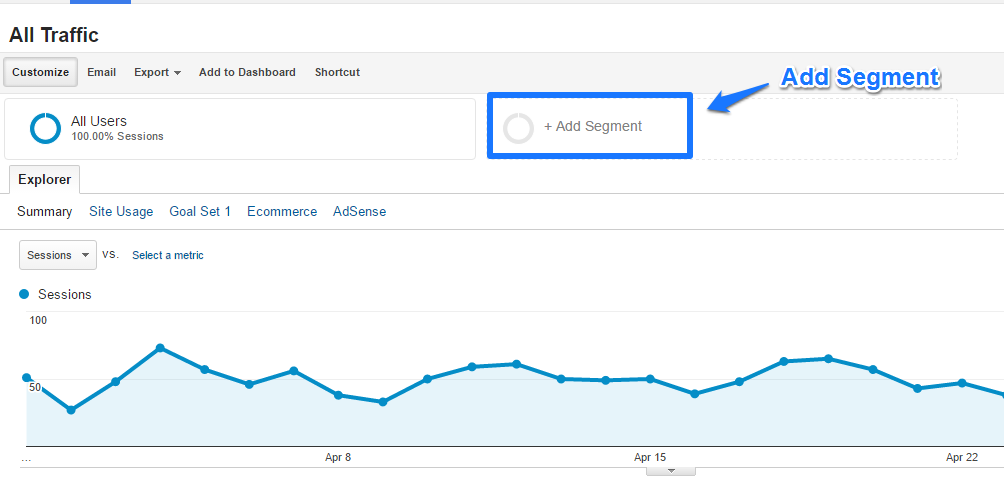 Step 2: select "Mobile Traffic" and deselect "All Users".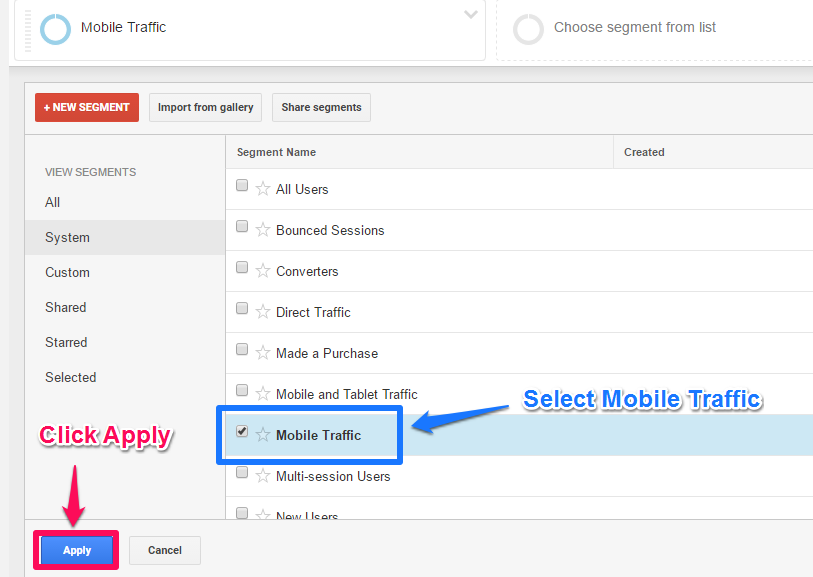 Step 3: investigate your report.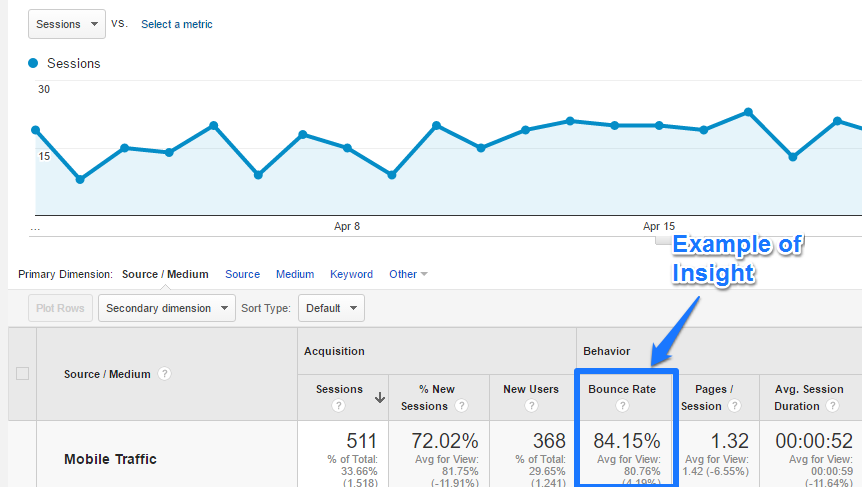 Quick insight: bounce rate "Mobile Traffic" is above website average.
Keep in mind:
There are built-in and custom segments; I recommend to use them both!
Be careful when saving segments; you have the option to add them to one or more views at the same time.
You are allowed to compare up to four different segments at a time.
Make sure you share the segments with your team.
Be aware of data sampling risks.
9. Custom reports
Custom reports are another very powerful feature in Google Analytics.
They help you to create a report that best answers your business question. Simply by selecting the metrics and dimensions that you need.
Without going in all depth, I show you a quick way how you can master custom reports:
"Update existing reports if you are relatively new to this feature."
Step 1: select one report as the template of your choice, e.g. "source/medium" report.
Step 2: click on "Customize" button.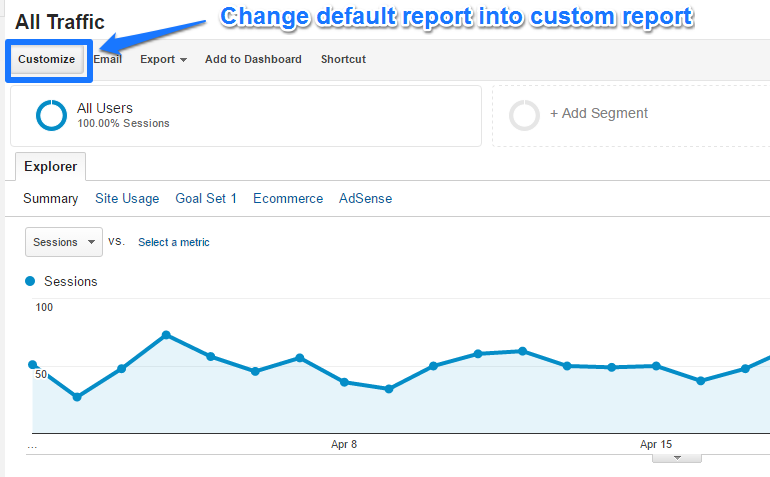 Step 3: click on "Customize" button.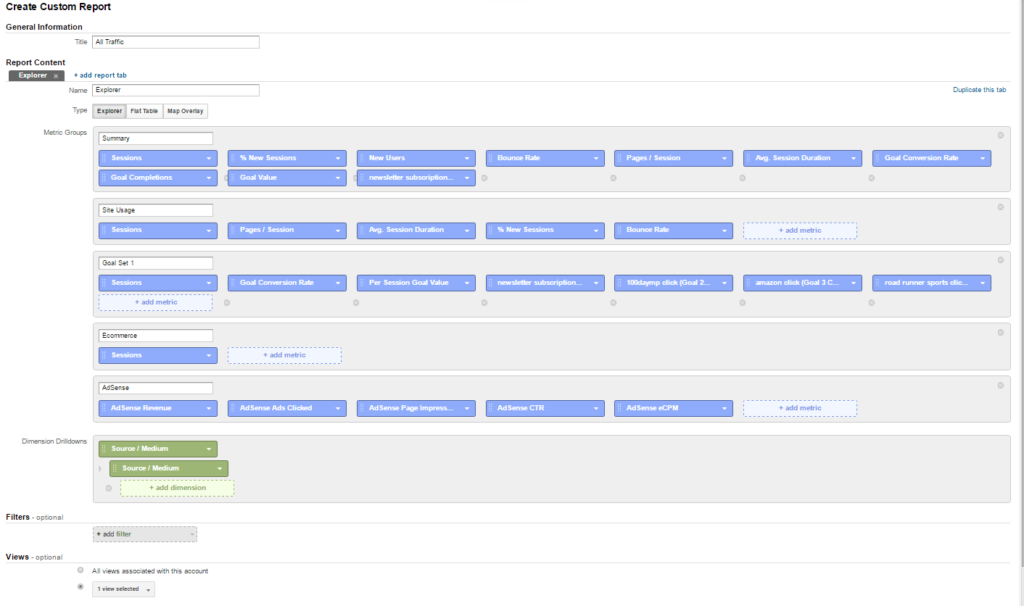 This template helps you to understand how custom reports are built and what options you have if you want to modify them.
In short: select the closest template to your needs and modify it so that it exactly shows the data that you need.
Note: you can also build a custom report from scratch or download one from the solutions gallery.
10. Admin filters
The first nine segmentation options that I discussed are ok to use for anybody, regardless of your experience with Google Analytics.
However, admin filters are not like that. Filters that you set up in the admin interface modify the Google Analytics data that is collected in your account. And there is no way back.
Three use cases for Google Analytics filters:
Mobile traffic view: you want to set up a view that only includes mobile traffic. High traffic websites (that don't use Google Analytics Premium) might want to do this instead of segmenting their data in the reporting interface.
Testing view: you need to test the implementation before it goes live. In order to do that, you want to create a separate view that only includes your IP address.
Target market view: you do business in Finland, Denmark and Sweden. You want to get accurate numbers for your target market so you set up a filter that ensures the data collected only includes traffic from these countries. This will give you the best conversion rate numbers to work with.
These are just a few examples of how powerful filters are if you want to segment your data.
As a general rule I recommend to start with segments. If you find yourself using a segment over and over again, think about creating a separate view with filters.
Google Analytics filters is a very advanced topic. Check out this in-depth guide on filters if you want to learn more about it.
This is it from my side. I hope you have enjoyed reading this article!
What are your key strategies to segment data for greater insights? I am happy to hear your thoughts.
About Paul Koks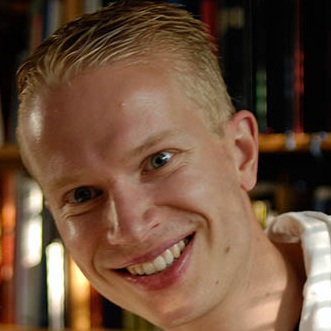 Paul Koks is an Analytics Advocate at Online Metrics and a guest writer for Supermetrics. He is a contributor to industry leading blogs including Kissmetrics, SEMRush, Web Analytics World and Online Behavior and the author of Google Analytics Health Check. Paul helps companies to capture valuable insights from simple data. You can find him on Twitter or LinkedIn.