9-MINUTE READ · By Paul Koks on June 30 2016
What steps do you take to master Google Analytics? Relying on one strategy is not your best choice. Take a structured, well-balanced approach to boost your Google Analytics skills.
Google Analytics is a tool that is used by the majority of online businesses worldwide.
What if you would find a way to improve your skills so that you go from beginner to intermediate user? Or even from intermediate user to expert?
In this post I will reveal a well-thought-out framework that will help you to improve your Google Analytics skills in a quick way.
And the good thing is, you can apply the strategies to other areas as well.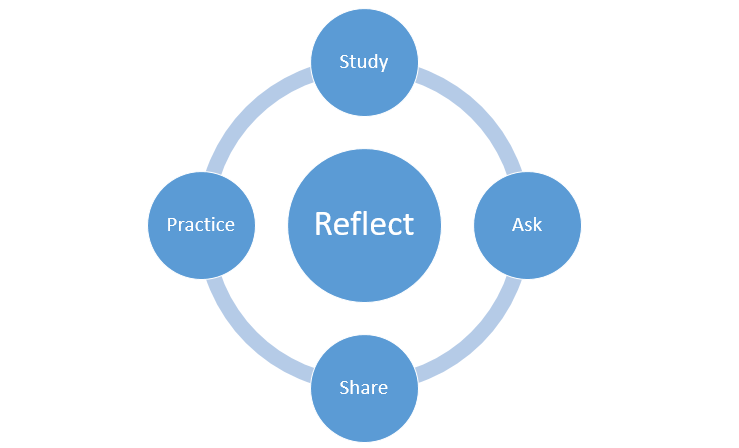 Study: read, watch listen to Google Analytics learning material.
Ask: ask questions to improve your understanding of Google Analytics related topics.
Share: share your knowledge with others.
Practice: theoretical knowledge is one thing, practical experience is even more important.
Reflect: reflect on what you have learned and whether your approach works or not.
From this point on I will share more details on each of the topics above.
1. Study
Reading from and listening to other experts is one of the best ways to start if you want to enhance your skills.
There are many great resources out there that can fasten your learning curve.
Blogs
I recommend to add these blogs to your reading list if you prefer reading over listening:
And of course you should read the Supermetrics blog as well. 🙂
Books
There are dozens of Analytics books out there.
Here is a list of five books to start with:
Note: I love to read books every now and then, the only disadvantage is that they can easily get outdated because of rapid developments in the (Google) Analytics industry. However, most foundational processes stay nearly the same.
Videos
There are people that love reading, but maybe you belong to the category that likes to listen and/or watch.
If that's the case, I recommend checking out the following resources:
Google Analytics Academy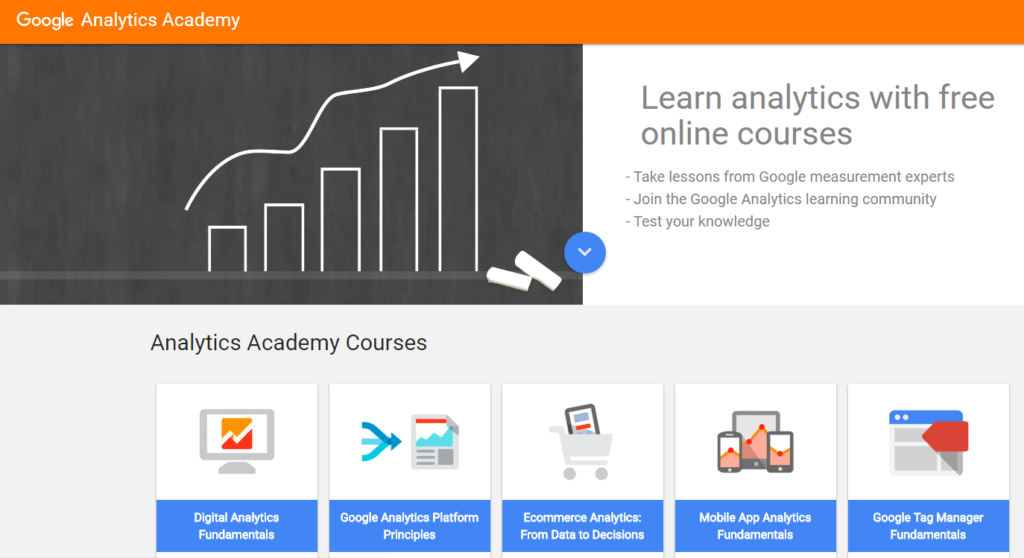 Resource link: https://analyticsacademy.withgoogle.com/.
YouTube
Here you can find tons of interesting videos on Google Analytics.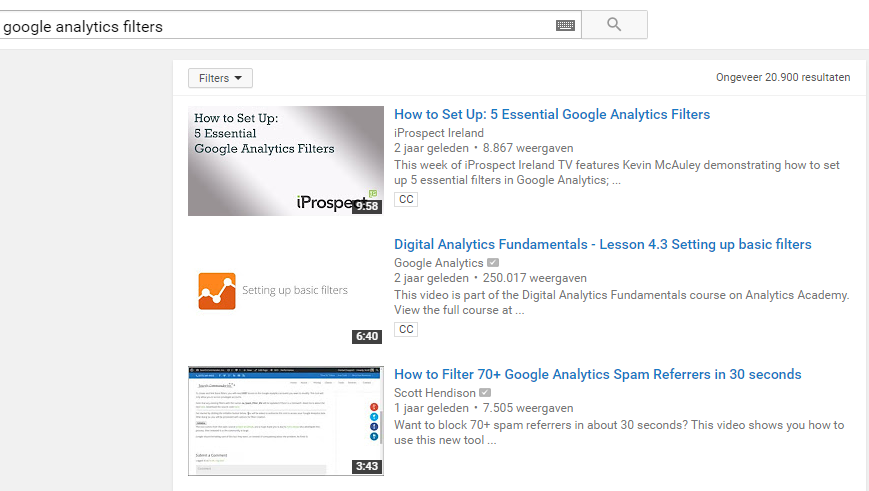 Make sure to use a longtail search term (and not just "Google Analytics") if you want to learn more about a specific topic.
Analytics Course by Jeffalytics
In my opinion, one of the greatest courses currently out there is offered by Jeff Sauer. His course is very in-depth and covers beginners, intermediate as well as advanced topics.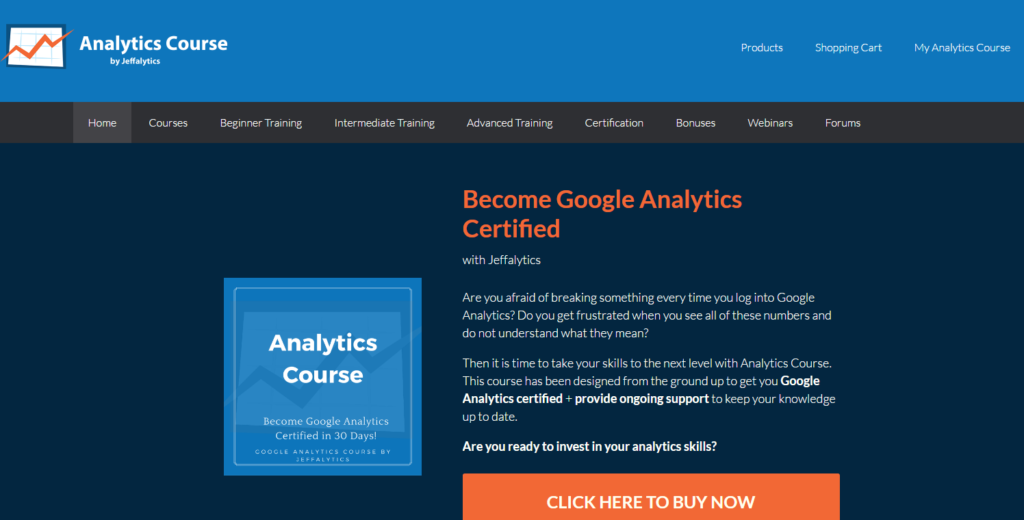 Resource link: https://www.analyticscourse.net/.
Measure School
Another great resource you definitely want to check out is Measureschool.com.

The founder of this website is Julian Juenemann.
At Measure School you can take both beginners as well as advanced courses on Google Analytics and Google Tag Manager.
Further I recommend to check out his YouTube channel as well. It's fully packed with useful resources on GTM.
Market Motive
If you want to educate yourself and be guided by the brightest minds in the field, I recommend to visit the website of Market Motive.
They offer both guides course as well as self-paced courses on a wide range of digital marketing topics.
The faculty includes big names as Avinash Kaushik (Web Analytics) and Brad Geddes (PPC).
In addition, I recommend to visit events, attend workshops or even go to one of the larger (international) conferences out there.
Meeting peers is a great way to strengthen your network, learn a lot of new things and have fun!
Note: don't forget to concentrate on enhancing your skills in related areas as well. It's not just about Google Analytics. That's a tool and even more important is your general understanding of doing analysis and optimizing website outcomes based on data.
2. Ask
You don't want to do it all on your own, do you?
There are numerous ways to get Google Analytics support for your query.
It's all about giving and taking. Help others and you will receive support back. If you are relatively new it's very logical that you ask more than the help you can offer. Later on you will be on the other side.
Here are five resources I like to share to get an answer to any questions you might have:
In addition, you can ask questions via Twitter, Facebook or any other platform you use.
Getting an answer to your question is not that difficult. Just reach out to others in a friendly way and they will help.
3. Share
One of the greatest ways to thank others, is by paying back to the community.
I started my own blog back in december 2012. And was involved with digital analytics for over five years at that time.
A long story short, I have written over 100 posts on digital analytics and Google Analytics on my blog and other industry leading blogs in the last three years. It's so rewarding when you can help others on their journey.
And something very important to understand:
The best way to improve your Google Analytics skills is by teaching it.
I really believe that the key in learning something new or from going from intermediate to advancer user is by actually teaching it. So it doesn't matter whether you want to learn Google Analytics or Google AdWords or anything else. When you start teaching others you will learn faster. Try it and let me know how it goes!
A lot of people do make YouTube videos to help others AND themselves. By simply putting together a YouTube video they can more quickly enhance their skills.
You don't have to start your own blog, but simply helping others whenever you can, is already a great thing to do. And the digital industry will benefit from your efforts as well!
4. Practice
You can read tons of books, listen to podcasts every day and ask questions on a regular basis, but if you don't put things in practice, you won't improve your Google Analytics skills that quickly.
When you learn something, you need to apply it to really master it.
Back in school you had to prepare or answer questions via case studies. And now you need to do something similar.
Consultant or analyst in-company
You might be working for a company or are outsourced as a consultant.
In both cases, if you learn something new and want to master it, apply it!
Example: you find out how to automatically export data via the Google Analytics API. Don't stop here, because you can do something more.
Ask yourself how you can make the data export more useful.
Maybe you can build a dashboard in line with the KPIs and online objectives of the company you are employed.
Or maybe you can teach your colleagues the same set of skills so that they can master it as well.
This is the most easy way. You have already and direct access to an environment where you can put your skills in practice.
Start an e-commerce business
Is there a particular product you want to sell? You could think about starting a small e-commerce business.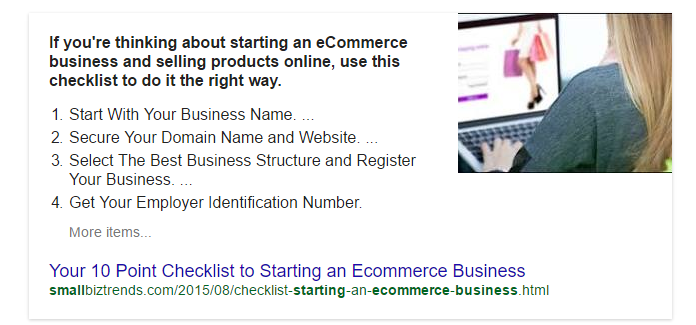 This 10-points checklist will definitely help you out.
Starting a small business is a fantastic method to boost your Google Analytics skills.
Your data delivers great input on how things are going and whether you need to change your strategy, modify your product assortment or in general, where you should focus on.
Volunteer
I assume you don't have your dream job yet, but you want to put your knowledge in practice. There are quite a few (non-profit) organizations out there seeking help from someone like you.
Here is an example: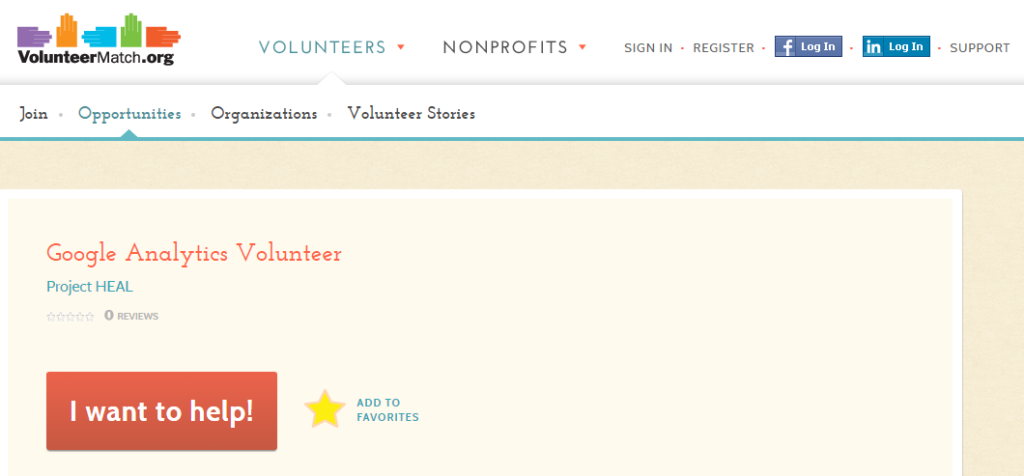 Or maybe one of the people you know runs a small business, but doesn't know anything about digital marketing or digital analytics. Offer your help, it will be greatly appreciated and you will fasten your learning curve.
There are a lot of opportunities out there. Reach out and you will find dozens of ways to actively works on your skillset.
5. Reflect
If you find out that something works, great and keep going. However, make any necessary changes if you find out that something doesn't work.
It's the same with starting a business. You will invest more money in products that do sell than in products that only cost you money.
I recommend you to reflect as least one time per month on how things are going.
Answer the following questions:
What method worked well in the last month?
What method didn't work as expected in the last month?
What activities do I like most and work the best for me?
What activities don't feel good to me?
How can I improve and learn and share more in a better way?
This is how to turn yourself into a Google Analytics master in record time! And as a bonus, you can apply these tips to other areas in life as well.
This is it from my side. I hope you have enjoyed reading this article!
Any questions or thoughts? I am happy to read and answer them in the comments section.
About Paul Koks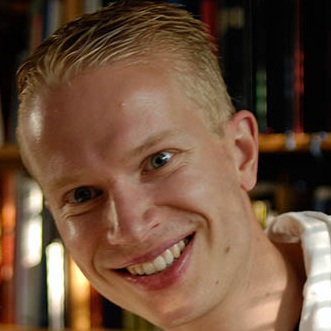 Paul Koks is an Analytics Advocate at Online Metrics and a guest writer for Supermetrics. He is a contributor to industry leading blogs including Kissmetrics, SEMRush, Web Analytics World and Online Behavior and the author of Google Analytics Health Check. Paul helps companies to capture valuable insights from simple data. You can find him on Twitter or LinkedIn.