You have your data across advertising platforms—Facebook, Google, or LinkedIn. And you have your marketing tasks and workflows on monday.com.
Wouldn't it be cool to get your paid ad data into your project management tool so you and your team can adjust your actions based on the campaign results?
In this post, we'll show you how to integrate marketing reporting into your existing monday.com workflows using Supermetrics.
Skip ahead >>
What's monday.com?
monday.com is an online collaboration platform that helps teams manage their workflows and processes.
Whether you're in marketing, sales, HR, etc., monday.com helps you and your team be more efficient and productive.
Depending on your needs, monday.com offers five different industry-specific products, including:
The monday marketer product helps marketers collaborate, keep everyone aligned on campaign progress and highlight the marketing's results. monday.com's codeless building blocks help you customize boards and create workflows that suit your needs.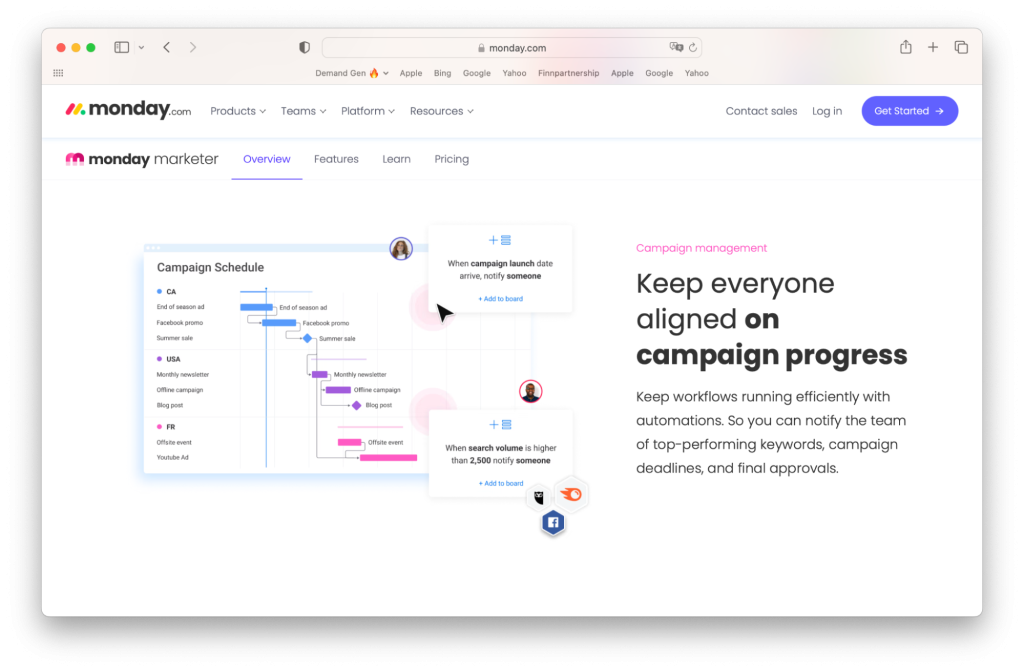 The benefits of monday.com
Compared to similar platforms, monday.com has a wider range of tools and integrations to support your day-to-day workflow.
From creating creative briefs to monitoring content calendars, you can use suitable integrations to improve collaboration within your organization.
For example, at Supermetrics, we use the monday.com and Slack integration to notify the copy team whenever someone submits a request for a copy or content check.
What's Supermetrics for monday.com?
Supermetrics for monday.com is a reporting tool designed specifically for the monday.com platform.
You can easily monitor your performance metrics directly from your monday.com board and eliminate tedious administrative work. This integration complements your planning and reporting processes and provides an easy way to share insights with key stakeholders.
With Supemetrics for monday.com, you'll:
Bring paid ad data into your favorite project management tool.
Pull the most common metrics, such as cost, clicks, impressions, CTR, etc., into the 'Main table' where you plan and keep track of your campaign progress.
Find a ready-made reporting dashboard with scorecards and charts to help you monitor your campaign performance, including total costs, impressions, top-performing campaigns, etc.
Get automatic daily data refresh to ensure your results are current.
Increase efficiency and reduce the time spent on admin tasks.
What advertising data can I pull directly into monday.com with Supermetrics?
With Supermetrics, you can get data from the most popular ad platforms into monday.com, including:
Google Ads
Facebook Ads
LinkedIn Ads
Microsoft Ads
Twitter Ads
TikTok Ads
The Supermetrics for monday.com integration refreshes all your marketing data daily. This helps you stay up to date on the metrics that matter. Feel free to check which data sources and metrics Supermetrics supports for monday.com.
How to buy Supermetrics for monday.com
You can buy Supermetrics for monday.com directly from our website at 19€/19$/user/month. With this price, you'll get:
One data source category.
10 accounts per data source.
Daily automatic data refreshes.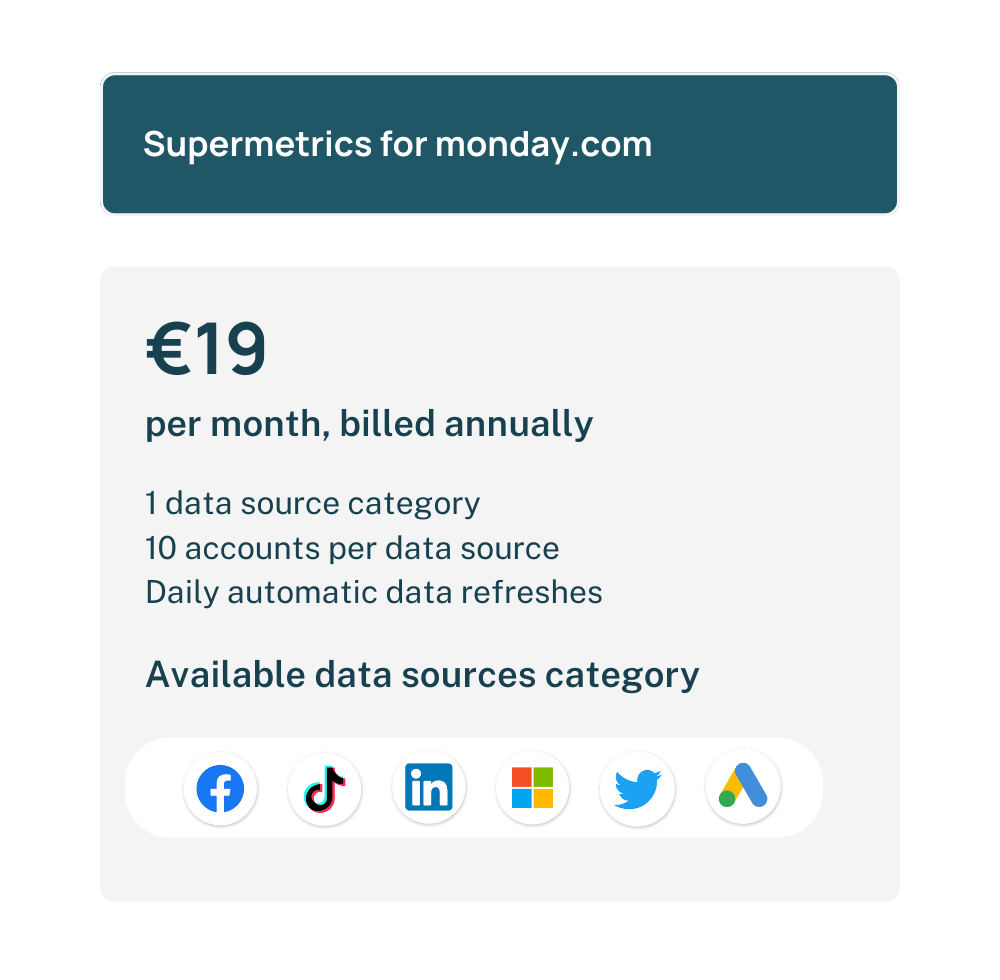 Helping teams make better decisions by bringing marketing data into monday.com
Data is a crucial part of marketing. It helps you make better decisions and guide your marketing strategy.
Supermetrics for monday.com help marketers like you plan, collaborate, and monitor your campaigns.
For example, the Supermetrics dashboard has multiple widgets to help aggregate all your data into a single report.
Let's look at what you can do with Supermetrics for monday.com.
Easily plan, collaborate, and track your campaign results in one place
Instead of jumping between platforms to combine campaign results with action points, you can bring your paid ad data into monday.com using Supermetrics.
Sofie Segercrantz, Performance Marketing Lead at Supermetrics, shares
"Using Supermetrics for monday.com has greatly improved our ability to collaborate with our team members and agency partners, ensuring everyone is on the same page."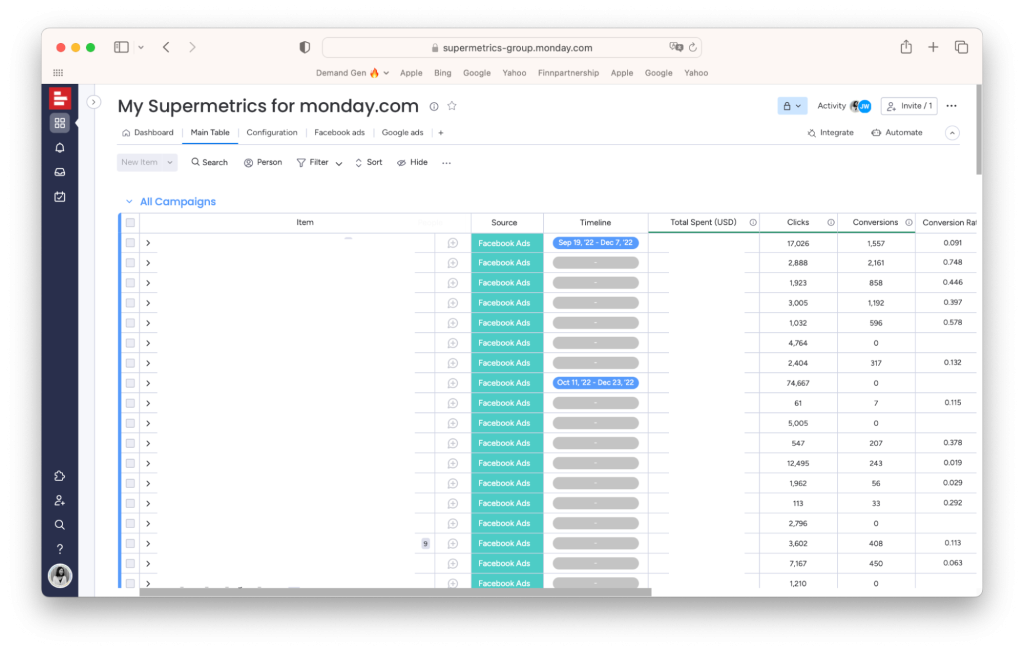 Turn your marketing data into action
Marketers need data to guide their decisions. It helps you put together a more cohesive strategy. In fact, some reports show that using data can increase productivity and profitability by 5-6%.
Data can tell you where your users are coming from and how they're engaging with your services or products. Data points help to drive home the importance of all your marketing activities. It also helps you understand if you're focusing your efforts in the right place.
Track and compare campaigns across different channels
Marketing reporting helps you highlight your performance results and show the impact of your marketing initiatives. Using the apps and widgets within monday.com, you can build a custom report that tracks the data that matters to you and your team.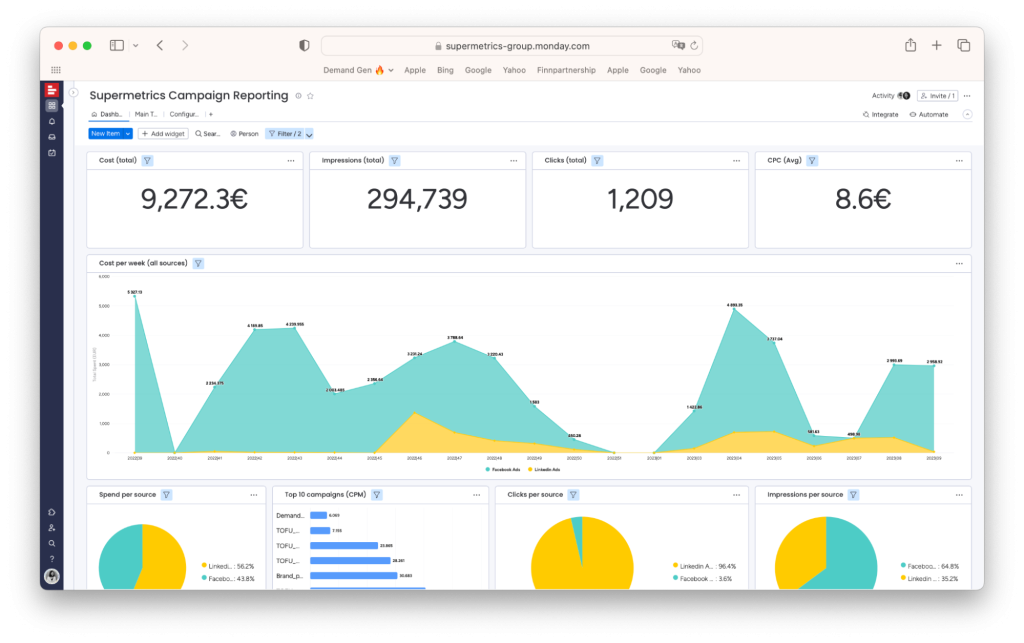 Spend less time gathering your data and more time analyzing it
Gathering data for reporting takes a lot of time. From Facebook to Google, it can be challenging to make time in your busy schedule to find the data and insights you need.
Instead of spending half your week searching for the data points you need, automate it with Supermetrics. This way, your data is ready to be analyzed with your morning cup of coffee.
3 steps to automating your monday.com reporting with Supermetrics
Here's how to get your ad data into your monday.com board with Supermetrics.
Step 1: Installing the Supermetrics integration
You can install the Supermetrics for monday.com from the monday.com app marketplace.
Click 'Add to your account'.
Select the workspaces to install the app.
Click 'Install'.
Select the 'Campaign reporting workspace template', and click 'Next'.
Select a workspace and click 'Add'.
Review the app permissions and click 'Authorize'.
For more detailed instructions, read our support article.
Step 2: Connect your data sources to your monday.com board
Once you install Supermetrics, the next step is to connect your data sources to your board.
To start, click the Supermetrics configuration widget (in your browser) and log in to your Supermetrics account. See instructions in our article on how to set up the Supermetrics app.
Step 3: Collaborate with your team directly on the campaign
Communicating sudden changes and deciding action points with your team can be tedious if you manage multiple ad accounts. For example, you have to share screenshots of the campaign on Slack, discuss the actions, and then create action points on monday.com. With Supermetrics for monday.com, you can easily discuss the campaign results and next steps in one place.
Let's say you build a campaign tracker on monday.com and use Supermetrics to automatically bring cost-per-click data into your board. You may set up a rule-based alert so that whenever your CPC goes above a certain threshold, you and your team can discuss what to do to improve your CPC.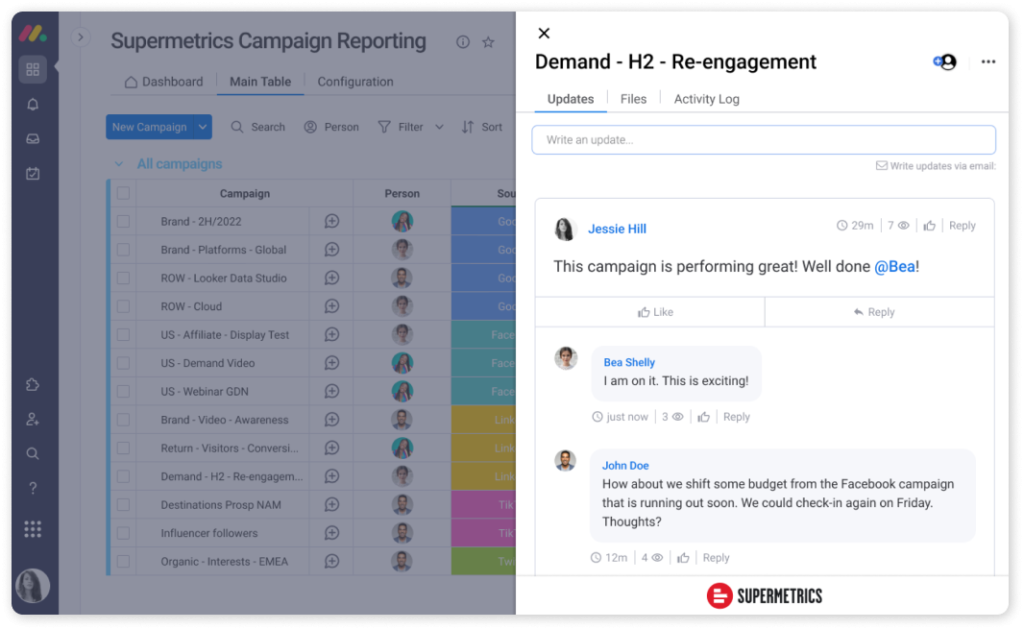 This makes things simpler and helps everyone work better together. You save time, and ensuring everyone is on the same page is easier. Plus, having all the communication in one place means you can track what's going on and how the campaign is doing.
How to turn your marketing data into action
Once your data is available in your monday.com board, you can use different rules and automation to enhance your workflows. Let's look at some examples.
Adding monday.com automation
The automation view lets you set up notifications according to your predefined rule. To find the monday.com automation setup, click 'Automate' at the top of your main table view.
For example, if you want to get a notification whenever your campaign CPC is high, simply set up a threshold and required action.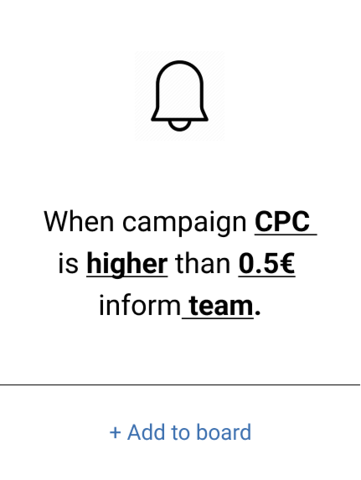 Using conditional coloring
Conditional coloring is another way to visually distinguish different campaigns. To find the conditional coloring configuration, click 'Conditional coloring' at the top of your main table view. Depending on your screen resolution, this may be hidden under the three-dot menu.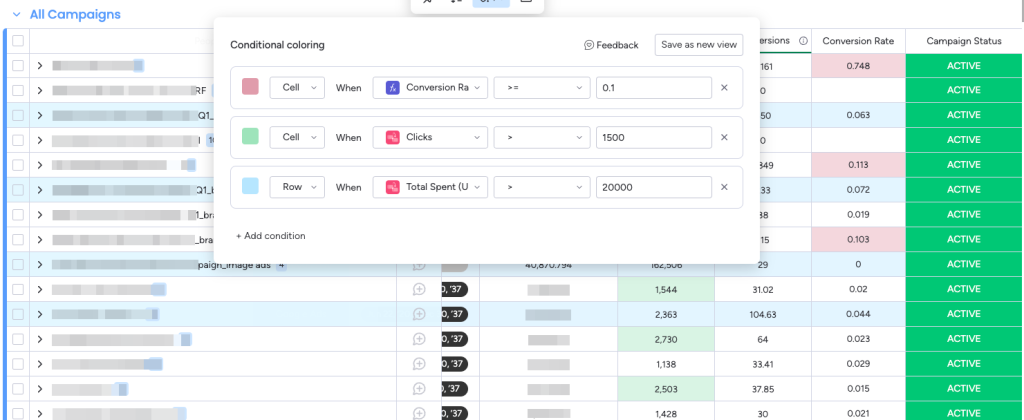 Some popular conditional coloring rules in the Supermetrics templates are:
Highlight cell red when the conversion rate is above X
Highlight cell green when click is below Y
Highlight row blue when total spent is above Z
Wrapping up
monday.com is a great tool for collaborating with your team on projects. With Supermetrics, you can bring paid ad data into your board and use different features to keep your team aligned and informed of any changes.

If you'd like to take Supermetrics for a spin, start your 14-day free trial of Supermetrics for monday.com.
Take your monday.com workflow to the next level
Bring marketing data into your existing monday.com workflows
Start free trial
Turn your marketing data into opportunity
We streamline your marketing data so you can focus on the insights.